100,000+ People Attend Event For Pres. Trump and FLOTUS' Visit 2 India
Video @ link.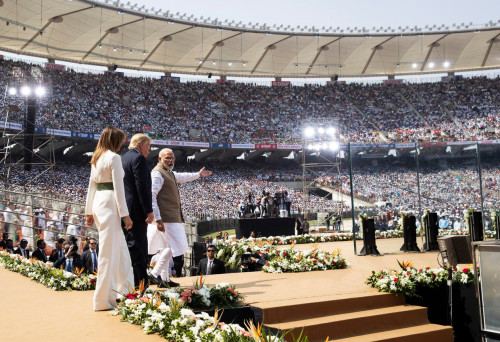 Ahmedabad, India — India poured on the pageantry with a joyful, colorful welcome for President Trump Monday that kicked off a whirlwind 36-hour visit meant to reaffirm U.S.-India ties while providing enviable overseas imagery for a president in a re-election year. But the trip comes at time of rising trade tensions between the two nations.

More than 100,000 people packed into the world's largest cricket stadium, giving Mr. Trump the biggest rally crowd of his political career, for the pinnacle of the day's trio of presidential photo-ops. He and first lady Melania Trump first visited a former home of independence leader Mohandas Gandhi. They also toured the famed Taj Mahal.
Nearly everyone in the newly constructed stadium in Ahmedabad in western India sported a white cap with the name of the event, "Namaste, Trump" — meaning, in essence, a reverential welcome to the president — and roared for the introductions of both Mr. Trump and Indian Prime Minister Narendra Modi.

The boisterous scene featured soldiers on camels, a mix of songs from Bollywood hits and the Trump campaign rally playlist, including an Elton John hit that seemed to puzzle most of the crowd.

Full:
https://www.cbsnews.com/news/trump-india-whirlwind-visit-today-02-24-20/