Kitchen Layout help
So, I need help.
At first I had considered to use the dining room as an extra room. And use my small kitchen as a DIK.
The issues with that is that I would not be able to access the main bedroom if I close it up.
Now I am thinking of really allowing me to use the kitchen to it's full extent and even have an Island (dream of mine). Use the dining room as a dining room. If I do use the other room as something else like an office place or even a play are I wouldn't have to close it off. I would then move the small dining table we need in to the living room or even use the island, depending on how we feel.
I can not change walls or take any down. We are in Los Angeles and with high rents, expensive houses we want to be able to work with what we have and if anything perhaps rent and move to a bigger house if this is too small.
What do you guys think? Make it into a small DIK and an extra space? We have 2 kids a boy(5) and a girl(<1). They are going to share until it is possible and then we will see what we do. This place NEEDS to be remodeled and we are adding a ADU, It's a small house but it is what we can afford and what we feel comfortable paying.
This is the plan with using the kitchen and then using the dining room as a dining room.
Or use the kitchen as a kitchen only and move the table to the living room and then use the dining room as a play area etc.
Any helps is appreciated. Submitting the last of the plans for our permits. Starting to look for a contractor and hopefully we start in a month.
Or Make it into a DIK and use the dining as an extra room.? What would be better for resale or renting?


Top opening in B wall is the way to restroom and 2nd bedroom
the bottom L shape opening is the way to the livingroom
Wall A is where the dinning room is and the door to the main bedrrom.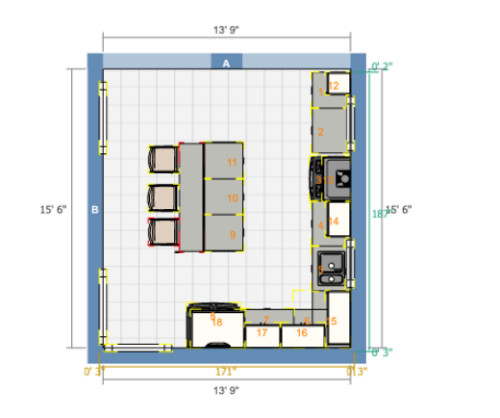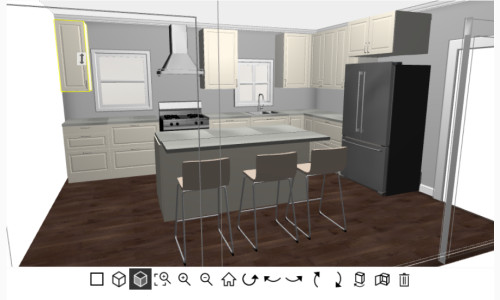 This is if we use it as a DIK
Wall A is where the Dining room is.