Editor of Post-Star in NY#21 Calls Out Elise Stefanik
This was a good one.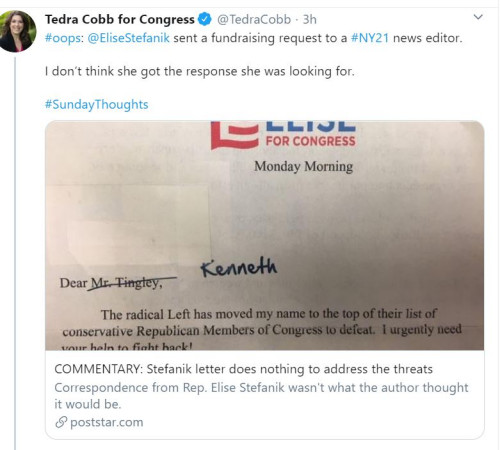 On Oct. 10, I sent a message to Rep. Elise Stefanik.

It wasn't a formal letter, but it was a direct message to her after she showed support for a local man who shouted threats against the newspaper at a public rally in Glens Falls.

I explained to her in the message that the threats against the newspaper had made many of the men and women who work at our newspaper – from the receptionist and obituary clerks to those in our advertising department – nervous about their safety.

I asked her to denounce the actions of this man, who was a vocal supporter of hers, and I urged her to visit the newspaper to explain to the regular workers with families why she had put them in danger.

She held a town hall meeting in Kingsbury that day, but she did not stop by the newspaper.

She did not respond to my message at all.

Until Friday of this week – Valentine's Day—when I opened my mailbox to find a letter personally addressed to me from Elise.

"Dear Mr. Tingley" it started, but "Mr. Tingley" was crossed out and "Kenneth" was written in what appeared to be blue sharpie.

We were back on a first-name basis.

I wanted to yell out, "Call me Ken."


Finally, Elise – I can assume I can her Elise now, right?—had seen the light.

I hoped she was responding to my concerns about the safety of our newspaper staff and her ill-advised support of people who threaten us.

Those hopes were quickly dashed.

Elise wanted me to help her fight back against the radical left.

She wanted me to help her save the country from Adam Schiff.

And she wanted to me to pledge $50, $100, $250, $500, or even $1,000. Didn't she just finish raising $3 million in the last three months of the year?

She wrote about taking on Nancy Pelosi and Jerry Nadler for citizens in the 21st Congressional District. I don't recall seeing either of them at the Civic Center or walking around Lake George, but Elise says they are our enemies in upstate New York.

As I continued to read the letter, I wondered if the congresswoman was a little star struck after all the attention she had gotten from President Trump.

She explained that the Democrats fear "dedicated, articulate Republican leaders like me."

Sounded like, she was a little full of herself.

I was hoping she might mention something about bringing us together, condemning violence and telling the truth.

At the very least, some of her most important accomplishments as our representative.

Instead, Elise sounded like she was going to war.

Then – after hitting me up for a donation to her campaign – she said this:

"Of course, we cannot count on the biased media to expose the Democrats' horrible abuses of power, their flawed accusations, or their partisan motivations. The smug media elitists have become little more than the PR division of the Democratic Party."

How rude, I thought, especially since we were on a first name basis.

I thought about the "elite" media in our newsroom who cover late-night fires, dutifully sit through long and often tedious town and county meetings and report the stories of unscrupulous landlords to save some of our citizens a few hundred dollars while they struggle to pay their own bills. All the while, Elise cheers on those that threaten us.

I thought it odd that she is the one who went to the fancy Ivy League school in Boston, while I, the son of a machinist, got by at a couple of state schools.

Elise Stefanik can only hope to someday have the type of impact that local reporters like ours have on this community.

If writing that is what makes me "smug" and "elite" in Stefanik's eyes, I can accept that.

But she ain't getting a check from me.