Impeachment is a "Coup" -- That's Pants on Fire
The key element of a coup is that it is carried out beyond the bounds of legality.
Yet impeachment is explicitly described in the Constitution as the way to remove a president.
Also, if the president is removed from office, his duly elected vice president would take over -- not the opposition party.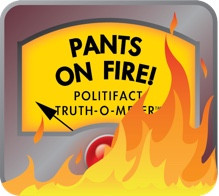 _________________________________
Amid the pressure of a House impeachment inquiry, President Donald Trump has continued to stoke the idea that he's the victim of a coup — shorthand for "coup d'etat," a French term that means the overthrow of the government.

"As I learn more and more each day, I am coming to the conclusion that what is taking place is not an impeachment, it is a COUP, intended to take away the Power of the........People, their VOTE, their Freedoms, their Second Amendment, Religion, Military, Border Wall, and their God-given rights as a Citizen of The United States of America!", Trump tweeted on Oct. 1.

The following day, Trump's campaign unveiled a new ad that said, "It's nothing short of a coup, and it must be stopped."

On several subsequent occasions he's shared his allies' uses of the word on Twitter. He retweeted "coup" comments by Rep. Louie Gohmert, R-Texas, on Oct. 3; former House speaker Newt Gingrich on Oct. 10; conservative broadcaster Mark Levin on Oct. 14; Tom Fitton of Judicial Watch on Oct. 19; and Rep. Paul Gosar, R-Ariz., on Oct. 24. Earlier in the year, Trump referred to the special counsel report headed by Robert Mueller as a coup.

However, his use of the word "coup" to describe impeachment, a constitutionally defined process, is not accurate, even as a figure of speech.

https://www.politifact.com/factchecks/2019/oct/25/donald-trump/donald-trump-says-impeachment-coup-s-pants-fire/