Poll: Capitalism vs. Socialism
Finally, the NBC/WSJ poll finds differing public attitudes about capitalism and socialism, especially with Sanders running for president in 2020 as a democratic socialist.
Fifty-two percent of all voters say they have a positive view of capitalism, versus 18 percent who have a negative opinion.
The numbers are reversed for socialism, with 53 percent having a negative view and 19 percent a positive one.
Yet there's a striking difference by party and age.
Democratic primary voters have a net-positive impression of socialism (40 percent positive, 23 percent negative), and Dem voters ages 18-34 view it even more favorably (51 percent to 14 percent).
But key general-election groups like independents (-45 net rating), suburban voters and swing-state voters have a much more negative impression of socialism.
The NBC News/Wall Street Journal poll was conducted Jan. 26-29 of 1,000 registered voters — more than half of whom were reached by cell phone — and it has an overall margin of error of plus-minus 3.1 percentage points.

Garry Kasparov✔@Kasparov63Reports of the death of American common sense are greatly exaggerated. 19% still too high. https://twitter.com/mmurraypolitics/status/1223971036867239936 …
Mark Murray✔@mmurraypoliticsThe NBC/WSJ poll also looks at views of capitalism and socialism:

Capitalism: 52% positive, 18% negative (+34)

Socialism: 19% positive, 53% negative (-34)

Jan 26-29, reg voters, MOE +/- 3.1% https://www.nbcnews.com/politics/meet-the-press/nbc-wsj-poll-country-remains-divided-over-trump-s-impeachment-n1128326 …5519:20 AM - Feb 2, 2020Twitter Ads info and privacy
217 people are talking about this

I know...but...Bernie's not a socialist. Here, let me share his gaslighting talking points!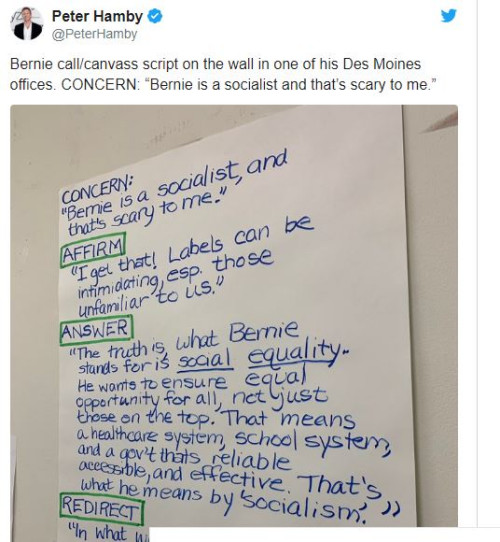 " If you're born in capitalist America, racist America, fascist America, then you're born in sin. But if you're born in socialism, you're not born in sin."
~Jim Jones

Don't be fooled. We know what socialism is and what it looks like. Modifying the word "socialism" with the word "Democratic" is like modifying "pregnant" with "a little bit".