A birthday cake...or is it just candy?
Yes, Madison is 8, time is flying. Ashley called me Wednesday to tell me there would be a small family party Friday night and yes, we need a cake. Yeah, give me 48 hours notice. (sigh) In my small town there are no cake decorating shops and the bakery doesn't sell cake decorations, so I was stuck with what I could find at JoAnn Fabric and Meijer, it was even too late for Amazon Prime.

Think, think, think. Do we have a "theme"? Nope, it's just a party. What does she like better than anything else? KitKat bars, LOL. I can work with that. Oh and we need chocolate cake for the birthday girl but her Dad's side of the family "only eats white cake". Strange, I know, but whatever...

Baked two layers of my favorite chocolate cake, right off the back of the Hershey's cocoa box and made vanilla cupcakes. The cake got frosted and filled with chocolate and then came the KitKat "fence". Yeah, I still have about an inch of space, that'll get filled with chocolate too.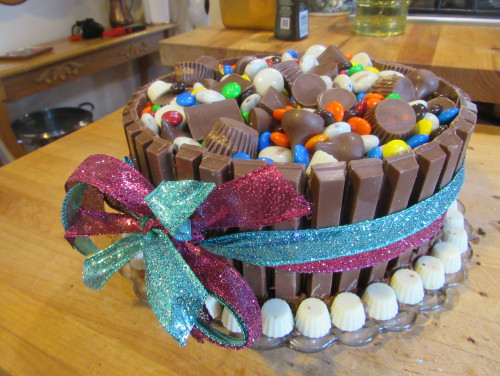 Yes, I got my revenge for the late notice, I went to the party and fed all the kids a ton of sugar, then I went home. Madison told me it was the "best cake EVER", Ashley just shook her head at me. Ha!

Annie