Giuliani: Ukraine quid pro quo intended to benefit Trump personally
Giuliani is the gift that keeps on giving. He incriminated Trump with a Tweet.

This opinion piece was published in the Washington Examiner, a RW media source often quoted by Trumpers.
After the White House released the transcript of the July 25 call between President Trump and Ukrainian President Volodymyr Zelensky, Trump had a defense. He could argue that his mention of the $400 million aid package for Ukraine, and his suggestion that Ukraine investigate Joe and Hunter Biden and Burisma Holdings, did not make the former contingent on the latter.
But Ambassador William Taylor's opening statement to the impeachment proceedings indicated that the aid was indeed being made conditional upon the announcement of an investigation. And so Trump's best defense at that point was that they were only linked insofar as Trump cared about investigating Ukrainian corruption, including Biden.
Then, after the House Intelligence Committee released Ambassador Gordon Sondland's addendum to his testimony yesterday, Trump's best defense was to claim that Sondland went rogue when he specifically demanded a "statement" committing to a Biden investigation rather than just an investigation.
At every point, the core argument Trump has needed to make is that presidents initiate quid pro quos all the time, not for their personal political interests, but for that of the people they're elected to serve.
But Rudy Giuliani might have just blown up whatever remains of that defense.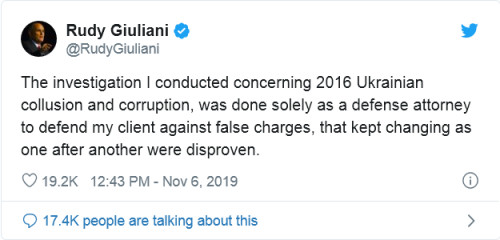 Here, the president's personal attorney has conceded that he used formal diplomatic channels and the powers of the Oval Office to prioritize Trump's personal gain over that of the people.
Trump's only option at this point is to throw Giuliani and his back-channel under the bus.
It's evident that Burisma only hired Hunter Biden for access to his father, even though it's unclear that the vice president ever allowed the oil company or his son to exploit that connection. Furthermore, we know for a fact that Ukraine favored Hillary Clinton in the 2016 election. But we have diplomatic channels and strategies to combat legitimate corruption and investigate malfeasance. Furthermore, Trump's personal legal defense should not involve using the powers of the presidency — potentially without the property security clearances — to gain exculpatory evidence.
For a personal attorney to use congressionally approved aid to advance a president's personal interests over national interests is unconscionable. If Trump signed off on that, then yes, it's clearly an impeachable abuse of power that proves he's willing to illicitly interfere with the 2020 election.
https://www.washingtonexaminer.com/opinion/giuliani-ukraine-quid-pro-quo-intended-to-benefit-trump-personally