WSJ poll: Senior Voters, Some Wavering on Trump, Figure to Shape 2020
The fastest-growing segment of the U.S. electorate is seniors. They supported President Trump in 2016 but aren't squarely in his camp as the 2020 campaign picks up.
In 2016, despite polling showing an advantage for Democrat Hillary Clinton, voters over 65 backed Mr. Trump in the presidential election by a 52%-45% margin, according to exit polls. With still more than a year before next year's election, 41% of seniors in a Wall Street Journal/NBC News poll in June said they would prefer to see Mr. Trump re-elected, while 48% favored a generic Democrat to win in 2020. That comes as 46% of seniors said they approve of Mr. Trump's performance in office, slightly higher than his 44% overall approval rating.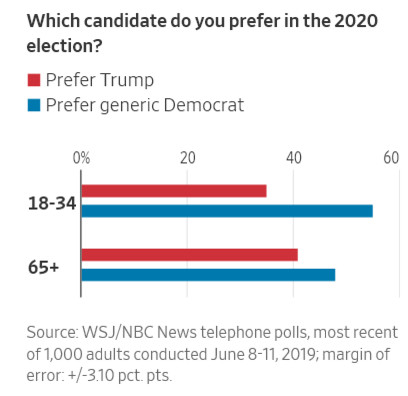 Among 18-to-34 year-olds, Mr. Trump's approval rating is just 33%, the Wall Street Journal/NBC poll shows, and Democratic candidates have paid great attention to young voters this cycle, announcing support for plans like student-debt forgiveness. But the fastest-growing generation of voters isn't millennials, it is seniors. Voters over age 65 are projected to make up nearly a quarter of the electorate in 2020, the highest such share since 1970, according to the Pew Research Center.
"Given the antipathy that younger voters have toward [Trump], he really needs support among seniors to reach at least the support he received in 2016," said Jeff Horwitt, a Democratic pollster with Hart Research Associates who helps conduct Wall Street Journal/NBC News polls.
Seniors are the likeliest to actually cast ballots, with two-thirds of them voting in the 2018 midterms compared with 53% of the overall voting-age population. While the electorate in presidential years skews younger than in midterm ones, no Democratic presidential candidate has won seniors since Al Gore in 2000, and for the past five presidential-election cycles, every Republican nominee has won a larger share of seniors than his predecessor.
Now, some voters who cast ballots for Mr. Trump in 2016 are put off by the president's brash tweets and his lashing out at lawmakers who criticized him or opposed his actions.
"He's trying to trumpet himself to the public to make them feel as good about him as he does," said David Smith, a 69-year-old retired firefighter union president in Lancaster, Calif. "What I would like to see him do is shut his mouth." Mr. Smith said he still would consider voting for Mr. Trump.
In a July Wall Street Journal/NBC News poll, Mr. Trump trailed former Vice President Joe Biden among seniors in a theoretical head-to-head contest, 55% to 43%. Voters over 65 also favored Vermont Sen. Bernie Sanders and Massachusetts Sen. Elizabeth Warren over Mr. Trump by 7 and 8 percentage points, respectively.
"Right now, I'm a Biden man, but the only reason I am is because, according to all the polls, he could beat Trump," said David Freund, a 65-year-old truck driver in Fort Wayne, Ind. Mr. Freund said he has voted for both Democrats and Republicans but is put off by Mr. Trump's attitude.
Some voters expressed enthusiasm about the Democratic alternatives. Nicki Bing, an 86-year-old retired office manager for Habitat for Humanity in Nacogdoches, Texas, wasn't a fan of Mrs. Clinton but said she admires Mr. Sanders.
"He hasn't ever veered from the fact that he's for the working-class people, and that he fights for the underdog," she said. She is particularly fond of Mr. Sanders's plan to cancel all existing student debt, as two of her three children, all of whom earned bachelor's degrees, are still paying off their loans.
Democrats, too, face a potential hurdle with older voters: Many stances such as calls to decriminalize southern border crossings, or the embrace by some of the "socialist" label, alienate many seniors.
In recent Wall Street Journal/NBC News polling, 42% of seniors said immigration "weakens America's values," compared with 24% of voters under 35. Older voters also have a strong aversion to "socialism," with the label receiving a 37-percentage-point net negative rating, compared with a net negative 17-point rating among voters under 35.
"Seniors are particularly resistant to some of those more leftward lurches," said Nicole McCleskey, a partner at Public Opinion Strategies, a polling firm that works frequently with Republican candidates.
The hesitation surrounding specific Democratic candidates might indicate that, though seniors say they would pick a Democrat over re-electing Mr. Trump, the president could win back support once his Democratic rival emerges.
The Democratic candidates have begun making pitches to their older constituents in recent weeks, with Mr. Biden, Minnesota Sen. Amy Klobuchar and others releasing policy plans targeted at seniors that address high prescription-drug costs, Medicare solvency, long-term care and other issues.
Three-quarters of the candidates addressed older voters at AARP-sponsored events last month in Iowa, where more than half of attendees at the state's caucuses early next year are expected to be older than 50.
Still, John Hishta, AARP's senior vice president for campaigns, said he would like to see more sustained attention from the Democratic contenders. "Most of them focus on issues and themes at an 80,000-foot level," he said.
Voters still have practical concerns with the Democratic candidates. Despite her affinity for Mr. Sanders, Ms. Bing said, "I'm not sure that any of the Democrats are strong enough or show the ability to battle [Mr. Trump] in the ditches."
The age of some of the candidates could also give members of the older generation pause. Mr. Sanders is 77 years old, while Mr. Biden is 76 and Mr. Trump is 73. "I would probably support Biden if it wasn't for his age, but I can't support somebody who's going to be 80 before their term is over," said Mike Hauxwell, a 66-year-old retired TV reporter in Sault Ste. Marie, Mich.
https://www.wsj.com/articles/senior-voters-some-wavering-on-trump-figure-to-shape-2020-election-11565429401