Busted! "Hot" topic debunked
Last Wednesday we saw this topic on the board:
Trump's 'truly bizarre' visit to Mt. Vernon
https://www.gardenweb.com/discussions/5667246/trumps-truly-bizarre-visit-to-mt-vernon#n=36
For whatever reason (most probably because of its leftist bent), Politico decided to post a fairy tale authored by Eliana Johnson and Daniel Lippman.

From Townhall:

BUSTED: Mount Vernon Debunks Politico's Fake News Story About Trump's Visit To Washington's Estate

"How many times will the liberal media have to endure getting hit in the face with their shoddy reporting about the Trump White House? Seriously, how many stories have been utterly gutted for being straight trash? From the oodles of bombshells that were nothing burgers about Russian collusion to the bust of MLK Jr. being removed from the Oval Office, the list of fake news stories is extensive. So, it shouldn't shock us that Politico was caught red-handed trying to bash Trump for being uninterested in a tour of Mount Vernon when French President Emmanuel Macron visited last April. Supposedly, sources said this tour was "truly bizarre," with Trump being unengaged, asking why George Washington didn't name any real estate after him..."

https://townhall.com/tipsheet/mattvespa/2019/04/10/busted-mount-vernon-debunks-politicos-fake-news-story-about-trumps-visit-to-wa-n2544609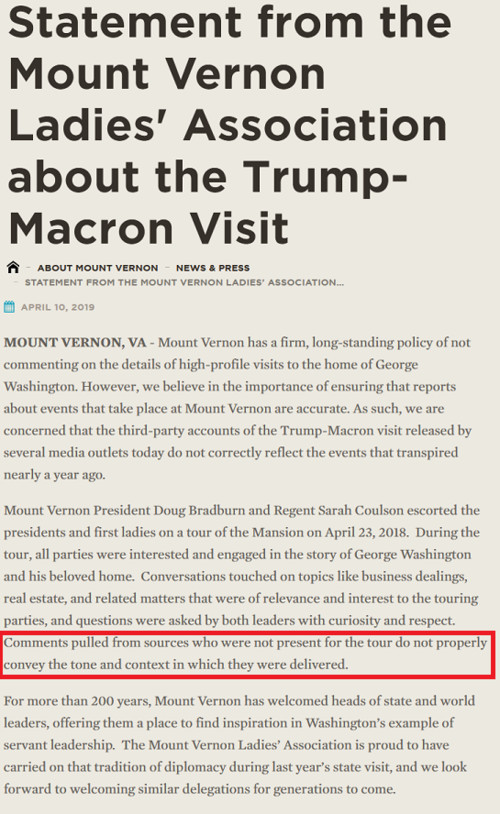 https://www.mountvernon.org/about/news/article/statement-from-the-mount-vernon-ladies-association-about-the-trump-macron-visit/"

I'm so happy I decided to skip what looked to me to be another fake news piece promoted on HT. How many people read that piece and believed it? So many people once again manipulated by a supposed 'reliable source' into believing a lie.
I used to read Politico, thought it trustworthy, but no more.