Outing as a political tactic- When did this become OK?
Wondering how emotional blackmail, extortion and homophobic shaming became accepted by the LGBT community and left-leaning Twitter force? From Joy Reid to Chelsea Handler and now even The Blade.

DC paper slaps Lindsey Graham's photo on most eligible LGBT singles article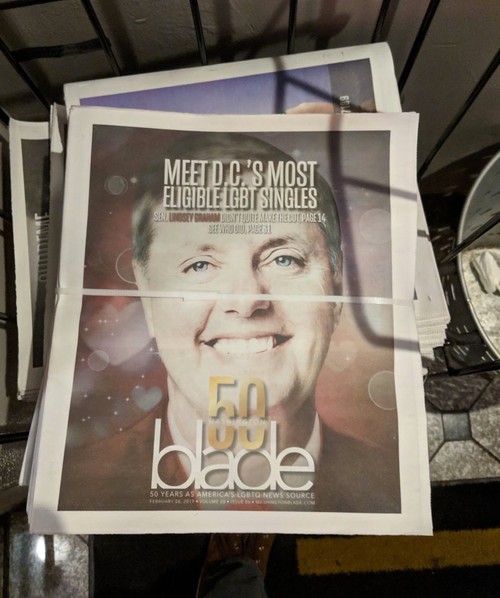 The article goes on to say:

" Emblazoned in bold letters across Graham's forehead was the title, "Meet D.C.'s Most Eligible LGBT Singles."
Pushing the envelope, a sub-headline read, "Sen. Lindsey Graham didn't quite make the cut."
Never mind that this was all very misleading, as mentioned before, Graham appears nowhere in the article, the subtle message was delivered.
The paper included Graham in a different piece, published on Saturday — titled, "Is It Homophobic To Speculate About A Politician's Sexuality?"
The article discusses whether or not it's ethical to "out" politicians, with author James Wellemeyer seemingly implying that if the individual has "done no harm" to the LGBT community, outing them is not advisable."

So, to be clear, if a prominent, public figure complies with the LGBT agenda and does "no harm", they'll leave you alone. If a public figure say, doesn't go subscribe to all the tenets and agendas, it's game on?

This reminds me of how seriously we were told to take this kind of bullying when Princeton student, Tyler Clementi, committed suicide shortly after his roommate outed him.
Is it gay bashing when gay people are doing the harassing, outing and bullying?