Master bath (and closet) layout help
We are planning to gut our (tiny) master bath and closet this summer and I'm in the process of figuring out a layout. The current situation looks like this (SH indicates current position of showerhead):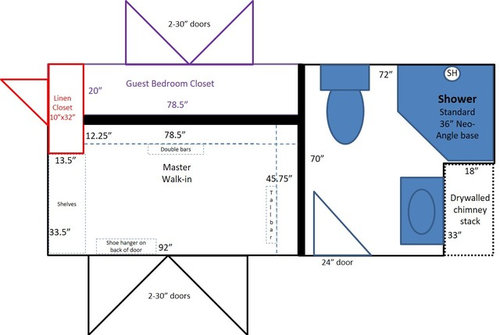 The floorplan for the entire floor is below (accurate except that the notated bathroom window does not exist). I have considered bumping out into the guest bedroom to gain some space, but DH is not at all happy about this idea. I do plan to move the wall between the closet and bath over at least one foot.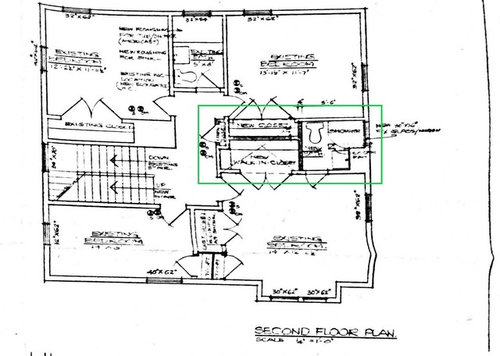 Two potential new layouts are below. FYI, the ceilings are 100". Both involve moving the wall between closet and bath over one foot. We debated removing the chimney (the attached fireplace is not in use), but we have decided that it is not cost-effective given the small amount of space we would gain. We do plan to expose the brick, though, which will give us a couple of extra inches (the side that will be in the shower will be tiled or otherwise waterproofed).
Option 1: 48x36 angled shower. I really hate the size limitations of the current 36x36 angled shower, but I think a 48x36 will allow for enough room that the angled door is less of a problem. This layout would also allow us to keep the current shower plumbing in place.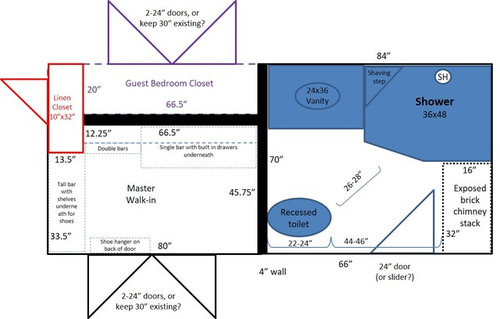 Option 2: 42x36 rectangular shower. In a perfect world I would prefer a rectangular shower, but I fear that this layout creates a pinch point between toilet and shower that will simply be uncomfortable. Turning the toilet 90 degrees would help slightly, but then the space between vanity and toilet could be uncomfortably tight. This layout also requires moving the shower plumbing and creating a wet pony wall between vanity and shower or hiding the plumbing inside the vanity somehow.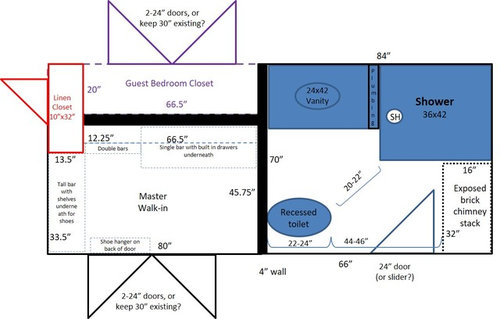 As for the closet, I have marked potential layout ideas for the revamped space, but I am very open to ideas. The current layout gives me far more hanging space than I need, but NO drawers. There is no room in the bedroom for a dresser because the vast majority of our wall space is consumed by closet doors.
Feedback on these layouts (or something potentially better!) would be greatly appreciated. We have started researching contractors and even had one come out to take a look last week, but I think the process will be easier if we find the right layout first. Thanks!