It's Official: Trump Tax Cuts Didn't Pay for Themselves in Year One
More good news from the Trump administration.

Data released this week by the budget office provides the first complete picture of federal revenues for the 2018 calendar year, when the tax cuts were in full effect. (The government's 2018 fiscal year included three months from the end of 2017, when most of the tax cuts were not in effect.)
In the inaugural year of the tax cuts — with economic growth accelerating and the jobless rate falling to an 18-year low — federal revenues from corporate, payroll and personal income taxes actually fell.
That's true whether you adjust revenues and growth for inflation — or not.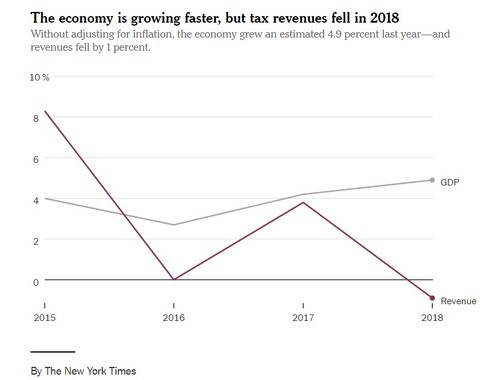 https://www.nytimes.com/2019/01/11/business/trump-tax-cuts-revenue.html?smid=fb-nytimes&smtyp=cur&fbclid=IwAR3l3pY2Y-Sy4AcRP_lS7S4yiMt2R0bqbSjtidz7jlR982rNJ9VL8-ZhmGI