What's For Dinner - #367
So many wonderful meals.
Jasdip, I know you are having some bad days, but I'm so happy that you are still
cooking and posting your meals here.

Neely, I can always tell without looking at the name which posts are yours.
Your food is so visually appealing. Beautiful plating. And great photos.
Really pretty trifle.
Moe would be thrilled with any of your salads. I would like the one with the rice and beans.

2ManyDiversions, Sorry that you are going to have to continue with the Chemo.
I have to tell you that I'm with your husband. I'd be stopping too if we had a local Mexican restaurant. Just one would be good.
Snow is such a beautiful cat. She must bring you a lot of joy.

Annie, as always, you certainly know how to put on a feast. Love the cake.

Cookebook, that Gumbo looks so rich. Great photo. Both the Gumbo and your dog.

Sleevendog, everything in that photo looks amazing. Could you please tell me what is in the top right corner? I don't know what it is but I want it.

Since Matt doesn't eat meat (not sure how that happened), I decided to forego the turkey and went with beef tenderloin. Although we didn't actually have Christmas dinner until Boxing Day. Moe decided that he would be happy with another piece of his Tourtiere. Worked for me.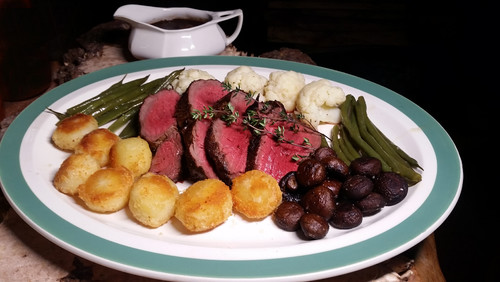 Chateaubriand for Two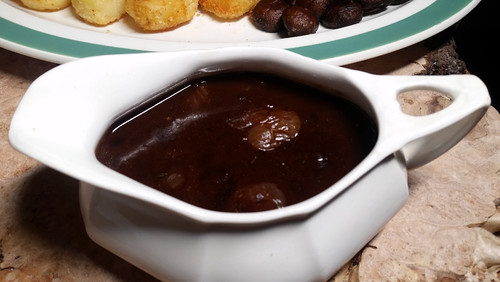 With a Burgundy sauce with braised pearl onions.

New Year's Eve was our traditional Lobster dinner.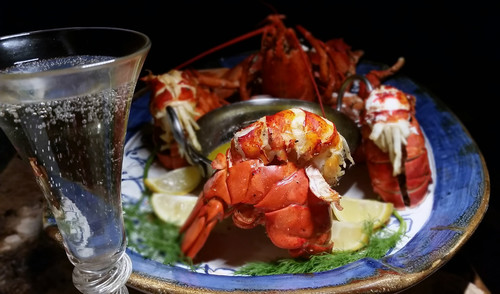 Platter for two.
We shared three 2 pound lobsters.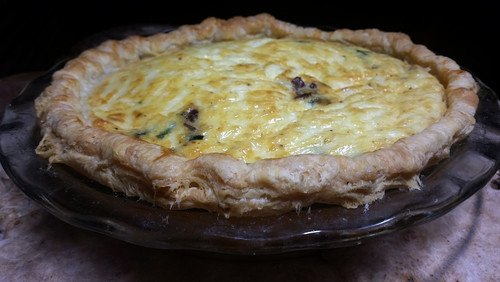 Breakfast/Brunch on New Years day was a Quiche.
All butter crust with bacon, mushroom and spinach and white cheddar cheese.
Served with a small side salad.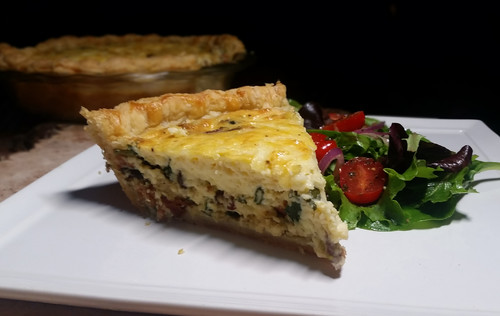 Funny, I never think to make quiche. I probably make one about every 10 years.

I baked bread on New Year's Day. Moe requested a snack to hold him over until dinner.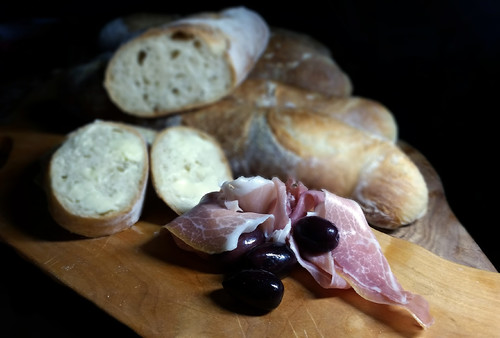 So he had warm baguette with butter and a little prosciutto with some olives.

New Year's Day dinner was Oxtails. We were having dinner next door at our neighbours and I cooked. So no pics.