Vinyl Plank vs. Engineered Hardwood Flooring and Transition Issues
Hello home experts! The search feature on this website and other home websites/youtube/google have helped to some extent, but I have several unanswered questions and feel like this topic is worth a fresh visit as technology and perceptions regarding flooring continue to evolve.

My wife and I are newlywed first time homeowners nearing the end of our renovation process. We have been shopping around for an appropriate floor to install in our home that would best fit our needs. We live in southern Arizona and will only be in the house for about another five years or so. Due to my wife's allergy/asthma situation we wanted to keep hard flooring throughout the house. We were originally planning on having porcelain wood-look plank tile installed throughout our house. However, I do not feel comfortable trying to lay the tile and would have to pay for the installation. We shopped around several places and have been quoted approximately $14,000 for the materials and installation on our 1,600 square foot home. Ouch! This won't be our forever home, so we are considering alternatives.

My sister recently had wood-look vinyl plank installed in her condo in Florida and she absolutely loves it. We started doing some research and thought that the Lifeproof Luxury Vinyl plank flooring would work well in our house with two active dogs. Even with the higher end vinyl at $2.99/sq ft, we would still be saving over $8,000 due to the fact that we will be able to install it ourselves. We like the look and feel, but we are concerned about the negative connotation that comes with vinyl flooring. I feel like the product has improved leaps and bounds over the last decade, but I'm worried it may be hard to shake the stigma when it comes time for resale. What is your opinion regarding resale value of a home with vinyl plank throughout? Having just ripped up the old tile off of the concrete subfloor, I would think telling buyers that they could just install whatever floor they wanted over the vinyl or just pull the floating vinyl up with no issues would make it easy for them to put exactly what they want in the house? I know I certainly don't ever plan on trying to rip tile flooring up off of concrete again in my next house!

We have read that engineered hardwoods are better for resale and it looks like we could also handle that installation no problem. However, would two active dogs tear those to shreds in the next five years?

What would y'all do?

I've watched countless hours of videos regarding the installation of these click in flooring planks and it all seems pretty straightforward regarding the installation. However, not many videos like to cover the finishing touches which can get a little tricky given the 1/4" gap you have to leave for expansion. Our kitchen cabinets and island are already installed, so we're going to have to put some form of molding around the gap. We were thinking shoe molding painted the same color as our cabinets/island pictured below. Would any of y'all recommend any other types of molding instead? I was also thinking about running a trim piece the same width as the gap from the top of the floor to the bottom of the cabinets all the way around the sides and island?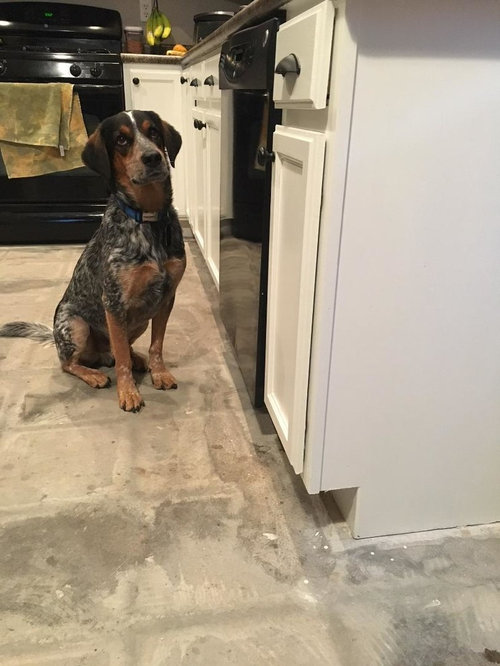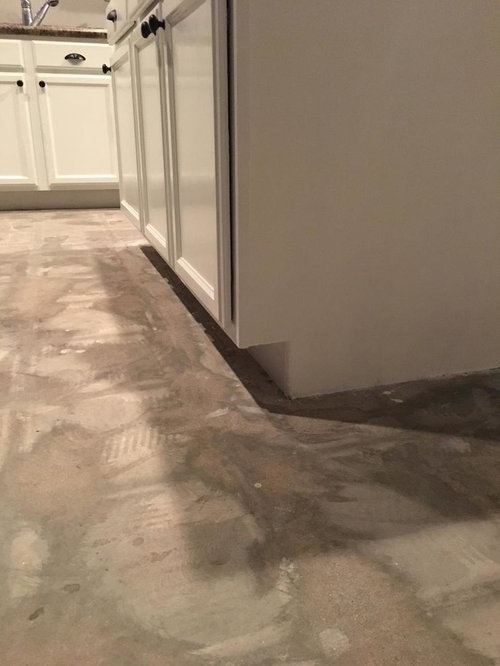 My biggest question would be what I should do with our fireplace? We just have some 1x2" trim going around the outside of our marble which is painted dark gray to match the accent wall. I was thinking about another piece of shoe molding painted the same dark gray color to run along the bottom of the fireplace? Maybe another piece of 1x2" along the bottom painted dark gray? Not sure what to do. The baseboards we will be installing after the flooring will cover all the other gaps in the main living areas.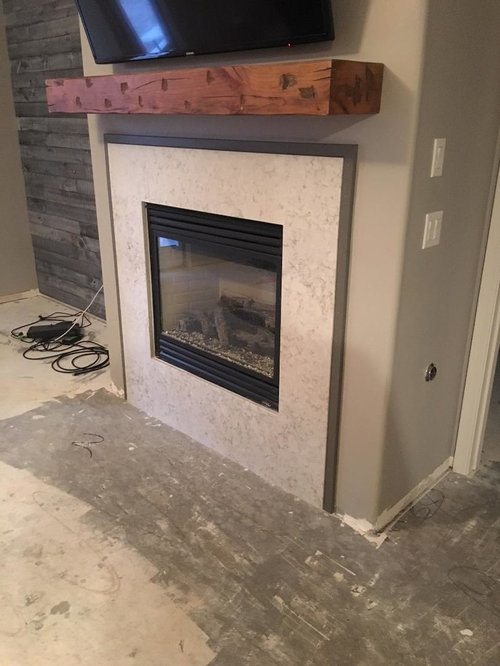 Also going to need to do something underneath the bathroom vanities. I'm thinking just a piece of shoe molding stained to about the same color as the vanity?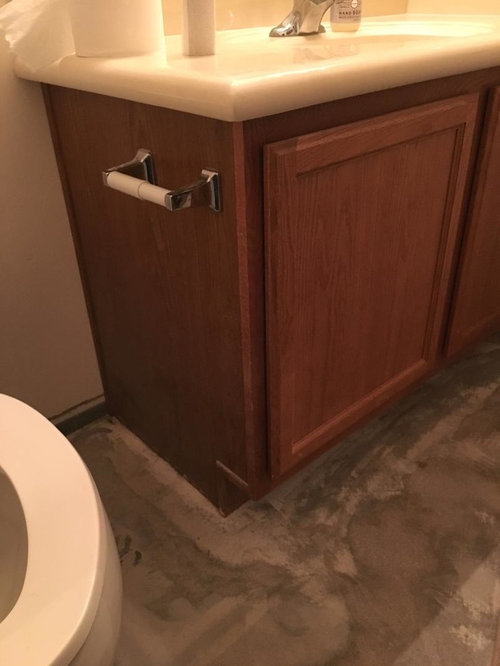 Lastly, it's extremely difficult to find any pictures/videos on what to do about the transition from the front door. I found a good video on what to do with the sliding glass door in the rear, but I'm still clueless on what to do with the front door.

Any and all suggestions would be welcome! Thank you for your time!

Loudoun County's Trusted Kitchen & Bath Designers | Best of Houzz