Fox News host mocks Parkland survivor for college rejections Stay clas
Fox News host mocks Parkland survivor for college rejections
Stay classy.

Aaron Rupar Mar 28, 2018, 1:52 pm
On Wednesday, Laura Ingraham, host of the primetime Fox News show Ingraham Angle, mocked 17-year-old Parkland school shooting survivor David Hogg for getting rejected by four colleges.
"David Hogg Rejected By Four Colleges To Which He Applied and whines
about it," Ingraham tweeted. "(Dinged by UCLA with a 4.1 GPA…totally
predictable given acceptance rates.)"
Ingraham's tweet links to a Daily Wire aggregation of an interview Hogg did with TMZ in which he discussed getting rejected from four University of California schools.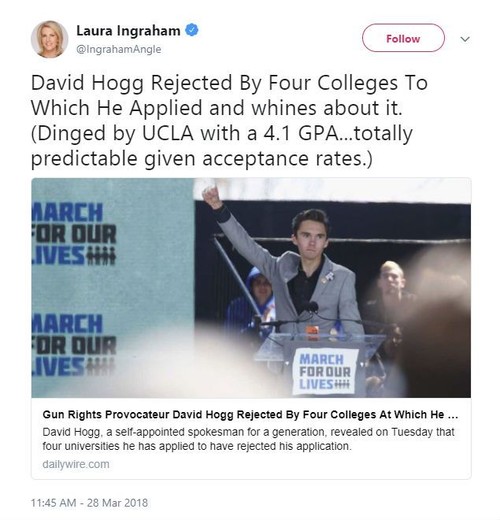 "It's not been too great for me and some of the other members of the
movement, like Ryan Deitsch," Hogg said, alluding to how his application
process is going after 17 of his classmates were killed in the shooting
on February 14. "It's been kind of annoying having to deal with that
and everything else that's been going on but at this point, you know,
we're changing the world. We're too busy. Right now it's hard to focus
on that."
In the six weeks since the shooting, Hogg has emerged as a leading
student voice for gun control. As ThinkProgress has detailed, his
efforts have sparked a smear campaign against him that started on the
fringes of the internet but has become more mainstream, with right-wing
voices going as far as to portray him as an aspiring fascist who sends
secret messages to followers.
Desperate right-wing smear campaign tries to compare Parkland survivor to Nazis
Ingraham's tweet isn't the first time Fox News has smeared Parkland survivors. Last month, The Five host Greg Gutfeld amplified a conspiracy theory about Hogg and his fellow students being puppets of larger, nefarious forces that originated with Gateway Pundit.
It also isn't the first time Ingraham has attacked Hogg personally.
The day before Hogg spoke at the March For Our Lives, Ingraham mocked
him for using profanity in a video interview in which he called
politicians who refuse to consider gun control "sick fuckers."
And on March 15, Ingraham posted a condescending tweet about Hogg's grammar and suggested his "15 Minutes" of fame had expired.