Need a bit of help SW main house colors ASAP :-)
Aloha
Ok sure wish I found this site months ago before I picked my new home options and shame on my builder "designer" for not suggesting I take a look at this site, I just heard about it 6 weeks ago :-( - but that that's a different story.
I have my flooring in and put in a high upgraded carpet and also some flooring down in the bathrooms that I can't afford at this moment to take out, so will not be changing that out, that being said, I did pick all brown and neutral tones. However since peeking around on this site, I am much more partial to gray and coastal tones. For example the master I am painting Tidewater. While this color is reasonable with my carpet, its not ideal but it will work.
That being said, I can't seem to find the right overall color for the stairs and main hallway. At this point I am looking at Gossamer Veil, and it's complimentary of the carpet but honestly kind of boring. Which someone else in a previous post has mentioned. From the grays and tans it seems to be the best I can find in those neutral colors. I am not afraid of color by any means, see picture below for my color ideas for the time being.
The downstairs is fairly simple since there is no carpet and the tile works with the colors I have selected - the cabinets will be painted as well (yes this is NEW construction) the island is Magnetic Gray and the adjacent will be a colored called Fife I think from BM - nearly white but gray undertones. The rest of the downstairs will be Sea Salt - with one wall 50% of Halcyon (our new sofas are similar to this color) the granite is a leathered Costa Esmeralda. The laundry room downstairs and tiny powder bath will also be Tidewater with white wainscotting.
So, the space is only 1300 sq ft overall, and the issue I am having is starting up the stairs where the carpet begins. Both upstairs bathrooms have the same flooring, DH River Marble RM91 Sandy Flats, and I can't take this out, so now I have to work around this brown and tan tones that does match the carpet.
I have tried nearly all gray that I like and tried it in the hallway, stairs, and bedrooms, and just keep falling back to the Gossamer Veil but again very plain. I'd be interested to see any suggestions for blue? Possibly even green, but truthfully do not want an entire green town home. The sea salt is so pretty but for sure pulls the green undertones and next to the carpet looks a bit odd, although better than any gray I have found so far.
So figured I'll put this out here to ask any suggestions, I have to make my decision by Tuesday - so a bit of a rush - and I'd hire a professional, however given my changes to the already $$ in upgrades I spent with the developer (which I am ripping out bc I hated them) and what I paying to change cabinets and counter tops already, its just not in my budget anymore.
Pictures of the bathroom, you can see the flooring, that is staying, the cabinets are also being painted (was going to be the Gossamer Veil but if I paint the rest of hte house then I will have to change the cabinet color in the bathrooms too **sigh**) but you can see how my "designer" failed to offer any sort of insight or coordination (the developer offered only three colors of granite and I did not care for the quartz so I picked the best granite and now hate that too) both bathrooms are now getting Taj Mahal quarzite on the counter tops. so everything but the floor is changing in the bathrooms.
All ideas are welcome - thanks - also the property is on a golf course, so the view colors are amazing blue sky and green green course etc, trying to keep this bright. Suggestions for blues maybe? I do also know I have some bold stones, so maybe boring walls is ok.....
Please help me to save some $$ on paint samples and waste, and possibly my relationship, thanks!!!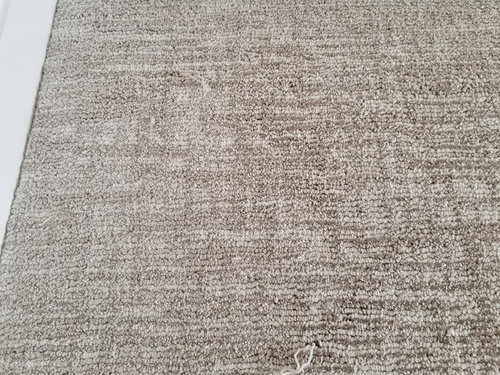 This is the carpet that is upstairs and in all rooms - this is Masland Private Collection #207 (they fixed the loop pull)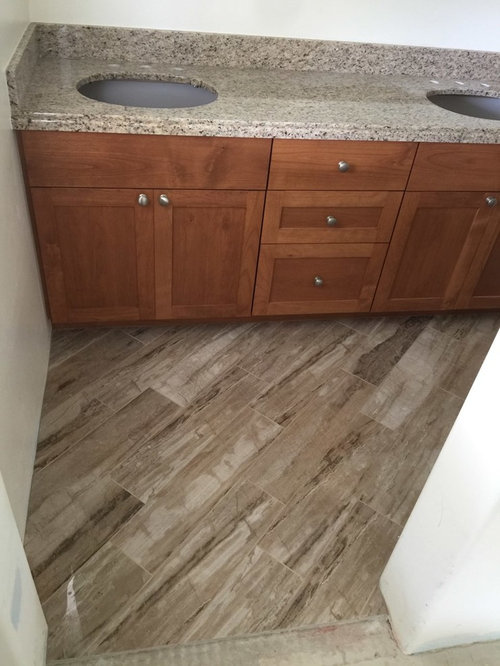 This is the bathroom tile that is staying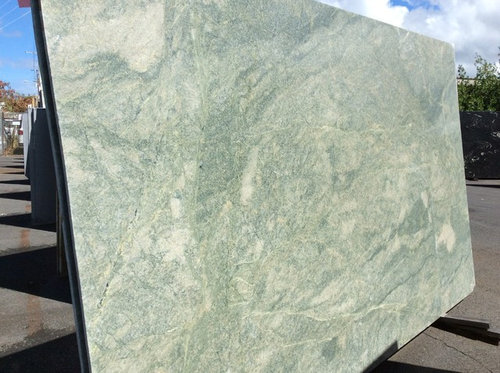 Kitchen counters (with white backslash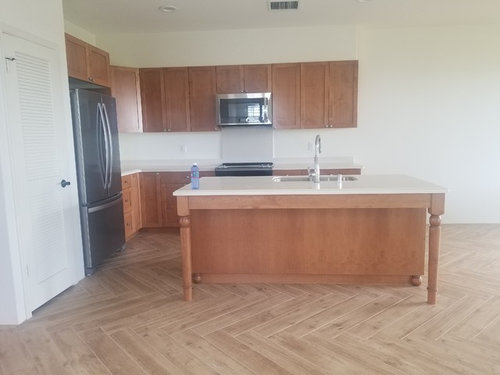 downstairs flooring - those cabinets are all being painted and counter taken out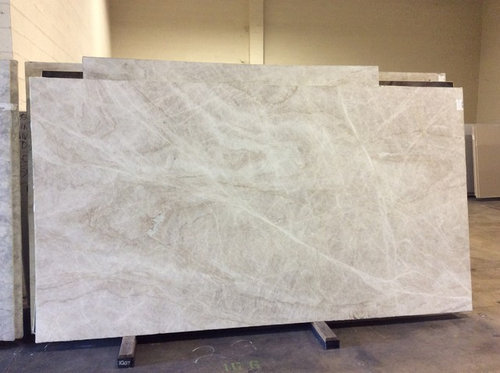 New slab for the bathroom counter tops - yes I know will compete with floors, but I really do NOT want quartz and this was as good I was going to get without quartz - its very a beautiful slab.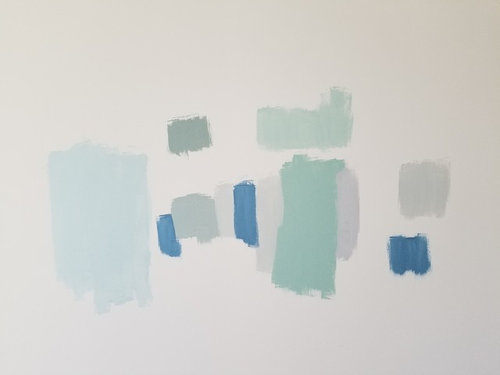 Several of the downstairs colors I have considered - going love all of these hues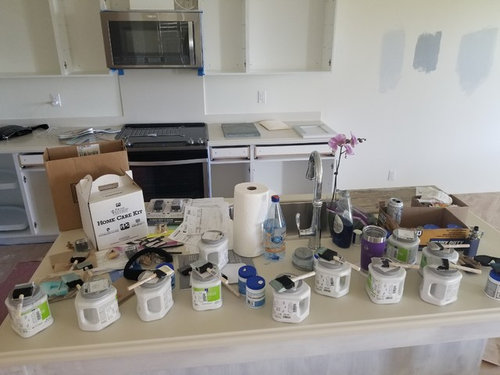 PLEASE help me to stop buying paint samples PLEASE!!!! BTW colors I have tried include; Balanced Beige (way too dark and coppery), Repose Gray, Opaline, Zircon, Big Chill, Dorian Gray, Silver Star, Worldly Gray (that was next choice to Gossamer Veil) and a few others I can't remember at the moment - but no light blues....