Replacing flooring turns into dilemma: Re-carpet, Tile, or Wood
Hi, replacing my old carpet has me going in circles. I live with my 84 year old husband and 98 year old mother in hot Florida on a one level house. Both have falling issues. So I lean to re-carpet but I also like current modern looks with some bling using neutrals for classy appeal. Ive been a singer for over 20 years and have a degree as a fashion designer and graphic artist so I love artsy and dramatic too. But Im a caregiver now with not too much time on my hands to be creative. My carpeting is old and needs to be changed currently in all rooms except the kitchen which has white 17" tiles on the floor and is between the front living room/dining room and family room. My kitchen/family room colors are neutral: Oak kitchen cabinets, round bone glass top table w black accent at bottom and my counter tops are white. In the adjacent family room I have a bone color leather sectional and leather look dark brown ottoman. Also a glass sofa table with chrome and matching square glass table for lamp. Dark wood TV cabinet with black granite top and a black recliner for mom. My walls are also cream color or bone. The carpet to be replaced is light beige (which is old and 100% nylon plush) .
The dilemma is : Replace the old carpet with tile and what tile would be good or use wood like the current trend but don't like dark wood. Or should I re-carpet with the same beige or different color?
My overall house decor looks modern with contemporary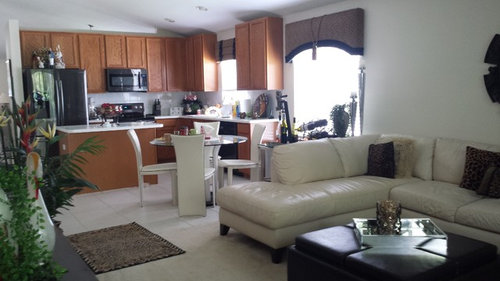 window treatments. I'm stuck with what to do with the flooring? Tile, wood-look tile, wood, or re-carpet? below is the pattern of the kitchen valences so you know what colors to work with that I currently have. I'm wondering if the trendy grey might work somehow with carpet or if I should use a white marble look tile on the floor w area rug? or trendy wood? Would a pop of color help? My appliances are grey looking but are stainless steel black diamond samsung.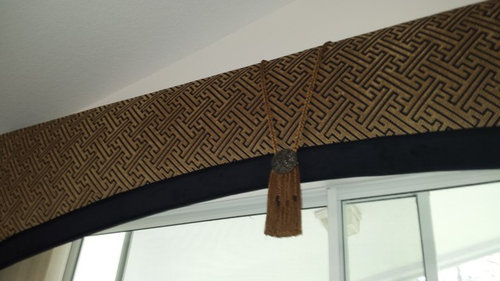 My front room has taupe couches with bronze and gold window treatment w black accent.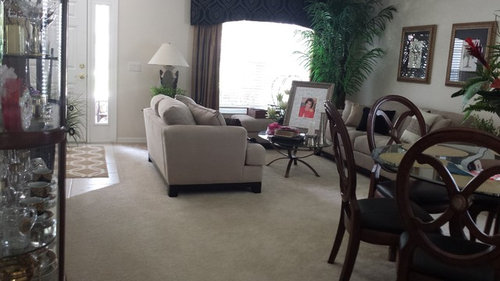 It also has a tile entrance cutout. The beige carpet was chewed by my dog in the cutout area but its also due for a change because it's 12 years old. what color can replace this and with what ?
My bedroom is basically brown walnut furniture but black and taupe window treatments also beige carpet needs replacing already matted.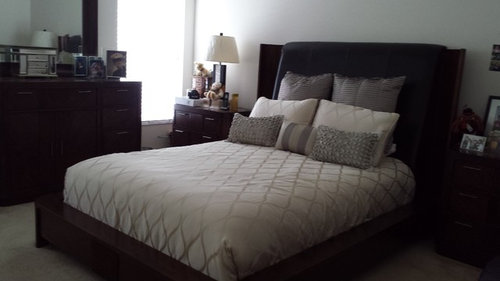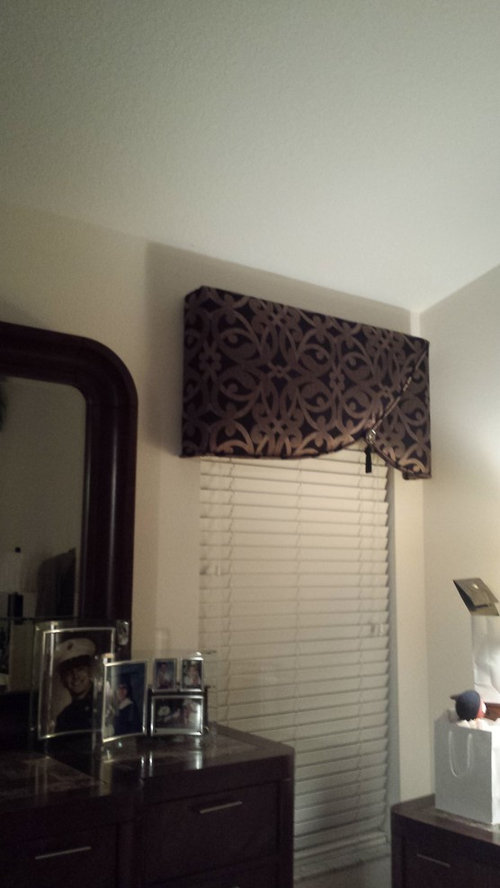 moms room below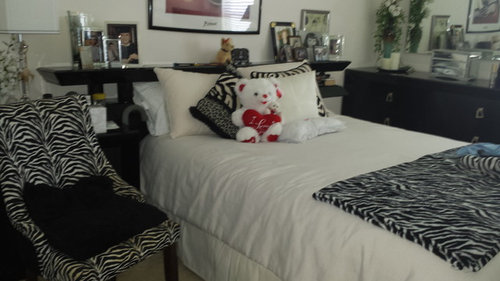 This is my Mom's room. Its Black and white. I replaced the chair with a white leather and grommets to update it. She also has the same beige carpet that came with the house when we bought it. I thought of maybe a light grey carpet for her? Or the patterned carpets but I think they might be too flat. Better over wood or tile, but what say you?.
I'm looking to redo the floors that have carpet with new carpet , wood or tile. I love tile but wood brings the value of the house up and new carpet might be best for my elderly family members especially for the bedrooms. What can you suggest to me since I'm torn between one and the other and the safety of my husband and mom falling factor. My walls are cream but look white because of the light taking the pics. Id appreciate some advice since I must do this by mid March, my moms birthday. H-E-L-P
VA's Foremost Professional Roofing & Siding Craftsmen