My little socal Spanish kitchen remodel - before
I bought my first (and maybe last!) home last year. It's a cute 1930's Spanish style home and is mostly in original condition however the kitchen got a bad makeover in the 90's. The previous owner, who is a sweet man, said to me "we redid it for $1200 about 20 years ago - before then it was this awful 1950's thing!" and I just about died. I probably would have loved a grandma-y 1950's kitchen. Luckily the bathroom is still original black and pink tile.
Anyhoo, as you can see in attached pictures the kitchen is quite small. There is an attached nook which I love and also a mudroom which leads to the backyard from which I typically enter the house. This keeps it from feeling cramped for me. The kitchen area itself is about 8.5' x 9.5', not counting the passageway between the mudroom-kitchen-living room door which won't be touched. The cabinet boxes seem to be original (at least to the 1950's if not the 30's - I can see where the long-lost doors used to be inset). but have been refaced with some sort of stick on vinyl that is peeling. The added overlay doors and equally bad. White tile countertops and perma-filthy linoleum. Also, strangely, the cabinets are super long, about 51", leaving less than 12" of clearance from the bottom of the cabinet to the countertop which greatly restricts already limited counter space.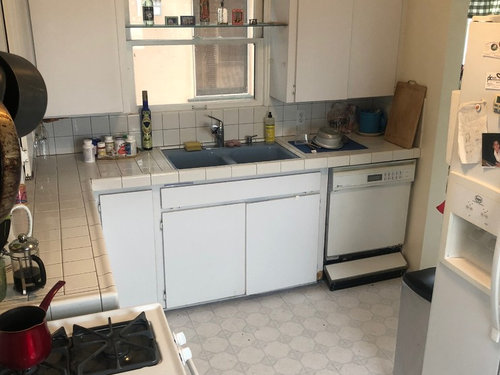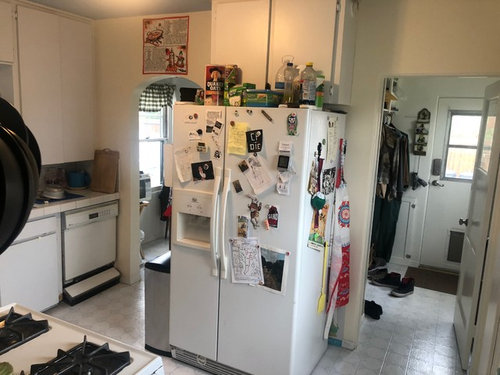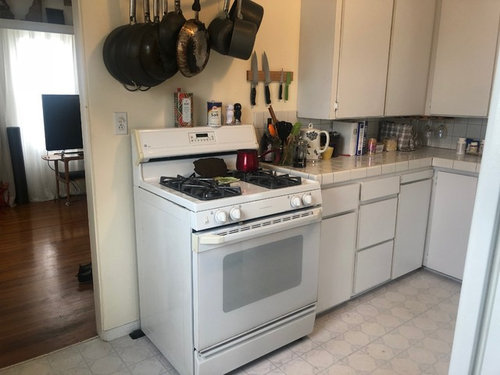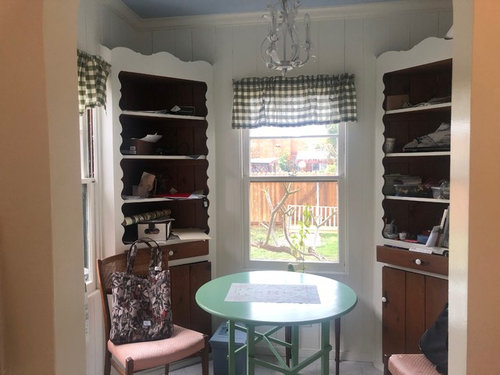 The plan: Replace cabinets, countertop, floors, and dishwasher. Layout and everything else to stay the same as I find it all very functional. Budget: 15-20k. Seems high for what I see some of you remodeling a lot more for! But has been confirmed by local contractors to be reasonable for the area and my scope. I've got a great contractor I've chosen out of many consultations and I'm looking forward to working with him.
Floors: This is what I'm splurging on. Custom cement tile in green with small cream/yellow detail. I want to reference 1930's kitchen which usually had a colorful vinyl floor of some sort. The floors will also cover mudroom and nook - less than 200 sq ft total. See picture of color chips.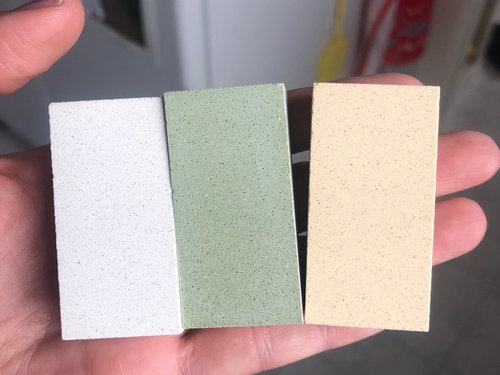 Cabinets: I want to go with a shaker style or something similar to the original mudroom cabinets, either light-medium maple or painted white (see photo of removed door). I wish I had the budget for matching inset doors! I explored resurfacing and having new doors made for the existing ones but the price was absurd. And it will be nice to have more reasonable countertop clearance.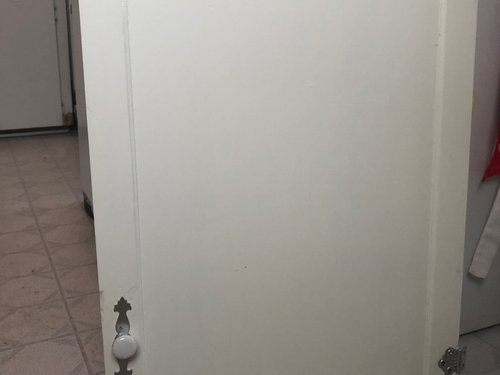 Countertops: Every contractor mentioned quartz - maybe thats the new thing in my area? I think I'll go with a light whitish quartz, possible quartzite. I'll run the backsplash up with the same material to cabinets. Going to browse stoneyards today!
Appliances: Adding a vent hood above stove and replace the corroding dishwasher for now. The stove works fine and I'll probably downsize the huge fridge eventually. I want to keep the blue sink if possible! I think it's cute and I like how the ceiling matches. I'll just add a new faucet.

I'm still waffling on a lot of design details, particularly color. I want the kithcen to fit with the character of the house and integrate with the existing mudroom and nook character and colors (though I've got to fix those nook window treatments). Green floors will be quite a statement on their own and I'm not sure whether to stay white/neutral everywhere else, especially with the blue accents of sink and ceiling. On the other hand a light wood tone would be pretty, or maybe even coordinating with the wood doors on the nook built ins. Or go all out and paint cabinets with a bright complementary color? I imagine some will say I should hire a KD or color consultant but so far I can't find anyone who understands my tastes. Everyone wants to go modern or mid-century or transitional. I need someone who also admires the kitsch of an old-lady house. :)

Any advice or tips welcome! I just thought I'd share my project and will update as the reno progresses.