Nikki Haley denies any Trump Tryst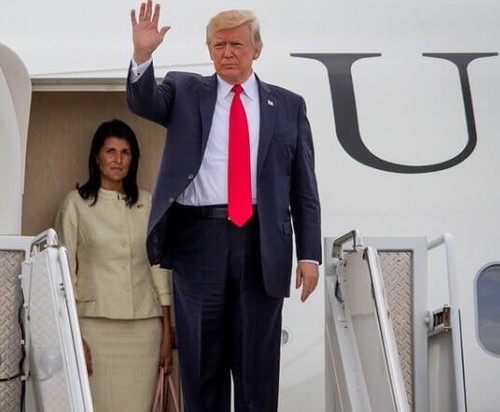 Author Wolff did not actually accuse Haley of a tryst with Trump.
From "Fire and Fury"
"By October, many on the president's staff took particular notice of one
of the few remaining Trump opportunists: Nikki Haley, the UN
ambassador. Haley — 'as ambitious as Lucifer' in the characterization of
one member of the senior staff — had concluded that Trump's tenure
would last, at best, a single term, and that she, with requisite
submission, could be his heir apparent. Haley had courted and befriended
Ivanka, and Ivanka had brought her into the family circle, where she
had become a particular focus of Trump's attention, and he of hers.
The president had been spending a notable amount of private time with
Haley on Air Force One, the presidential airplane, and was seen to be
grooming her for a national political future. Haley, who was much more
of a traditional Republican, one with a pronounced moderate streak — a
type increasingly known as a Jarvanka (Jared-Ivanka) Republican — was,
evident to many, being mentored in Trumpian ways. The danger here,
offered one senior Trumper, 'is that she is so much smarter than him.'"
==========================================
So Haley responds to speculation that some had that the she might have had some sexual encounter with Trump as follows:
"It is absolutely not true," Haley said
in an interview with Politico, regarding speculation that Wolff was
referring to her when describing the US president's alleged lover.
She said Wolff had made a basic factual error in his book, when he
wrote that "the president had been spending a notable amount of private
time with Haley on Air Force One". "I have literally been on Air Force One once and there were several people in the room when I was there," Haley said.
=======
Wolff, when interviewed last night by Lawrence O'Donnell, made it clear that he was not accusing Haley or anyone by name, and that he stands by what is in his book. As far as Haley's comments, they are too easy to pick apart which makes me start to think, maybe there is something to the rumor. She was only on Air Force One once and there were people in the room ? Once is enough to get initiated into Trump's mile high club and not enough to dispel the assertion that she was growing close to tRump. But anyway, I doubt tRump would be interested in her.... not nearly young enough or attractive enough for his taste.