Painting partial exterior of house, colors
Lars
last modified:
6 years ago
I added this to my project book here and got some good information on colors - it identified the color I chose as BM "Gentleman's Gray", but I may use a different brand. Anyway, here are some photos to show my existing house color and the color I chose for the existing white woodwork: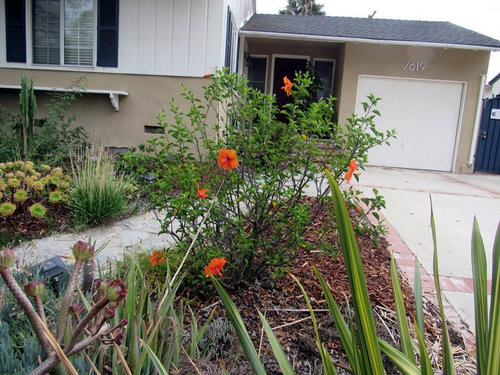 This is a before photo, showing the white color; old photo before we replaced the gutters.
Proposed color: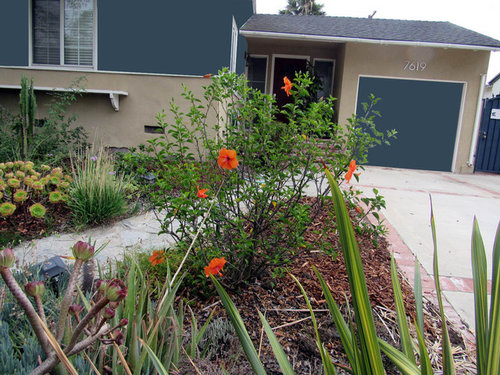 Same photo with "teal" color added.
Another before photo: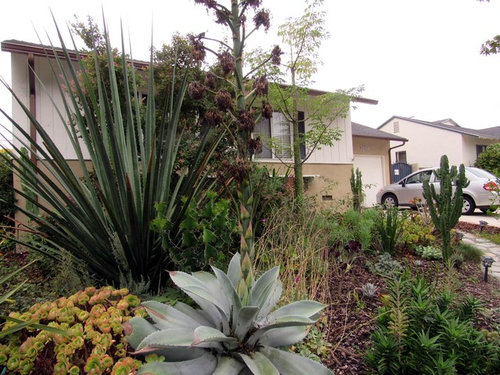 And another proposed photo: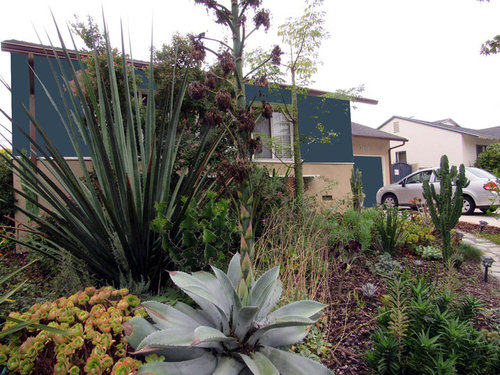 Here's another before photo showing how the woodwork wraps around the left side: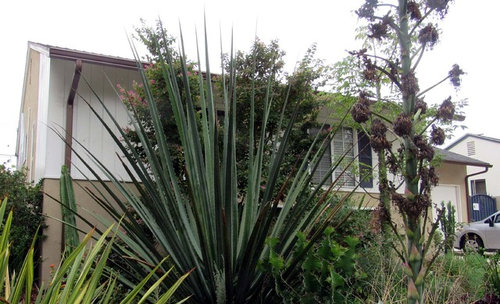 As you can see, it does not extend very far towards the back of the house - only a foot or two. I have not Photoshopped this photo, as I though the previous two were sufficient. [Note: It is difficult to photograph this view of the house because it faces north and is normally backlit with a bad glare, except on cloudy days.)
My brother and I have already removed the shelf that was under the windows, as we never used it. However, we discovered that it was probably original to the house, built in 1950, as it is solid redwood and quite heavy. We will be using this wood for another project, possibly a bench. We will also be getting rid of the faux shutters, which we never liked, and I think painting the wood a dark color and leaving the trim white will make up for the loss of contrast. My brother originally wanted to leave the garage door white, but I talked him out of that. We'll also paint the gate to match - it is already a dark color but needs to be repainted also.
Now my brother is talking about painting the stucco part of the house, but it does not need it, and we have plenty of paint to maintain it as it is. It is not one of my favorite colors, but I think it looks okay with the teal color and even Houzz recommended an almost identical color as a companion color for the teal.
I am wondering if we should add more framing around the front windows - there are two on the front and one on the side next to the entrance. I guess we could do this later, but if it's not necessary, I would rather not bother.
My other issue is that I have not seen examples of houses that are stucco at the bottom with vertically planked wood at the top where the wood is painted a darker color than the bottom. Should I be concerned about this? I did not put the grooves of the planking back in the photos when I added the teal color, and I think this will also add more interest. Also, I did not compensate for shadows from the eaves. BTW, I will be keeping the eaves white and only the vertical portion of the facade will change color.
If I'm making any glaring mistakes, please let me know! I did finally get a bid from a local painter, but he has not confirmed a date for me. When I asked for a bid from him, he was working on a house a down the street from, about ten doors down, and so I've been able to inspect his work. The woman who owns this house has lived in this neighborhood for decades (Her husband is a pilot for AA), but they have moved to another house and they are renting the house on my street. I did get to meet her last Sunday, and she knows everyone in the neighborhood, including the people on the street behind us.
I would be interested in seeing any examples of houses with stucco bottoms with painted wood above (not natural or stained wood, which I have been able to find). I am curious what other people do in my situation. I might consider painting the stucco a different color sometime in the future.