I Need Some Landscaping Ideas
A W
last modified:
6 years ago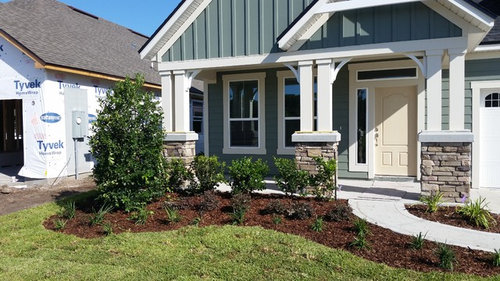 I'm in NE FL just south of Jacksonville. My zone is 9A and the front of our house faces South.
We moved into our new home back in July of 2016. The builder put in the minimum required plants, but I didn't love them and I would like for my house to look at least a little different from everyone else's (new construction - the landscaping is almost identical for each house). I'm looking to change the landscaping in the front of the house and also potentially run the landscaping down both sides until it hits the fence. The front landscaping is currently some ligustrums (I believe), some purple plants that have become very thin (they get little pink flowers on them), numerous small grasses, and a holly tree. I like the tree and I like the idea of layering. We have a rail around our front porch so I don't want something that is going to cover that up which the ligustrums currently do.
Ideally I would like to find plants that fit the following:
In front of the rail and down the sides of the house: a plant/shrub that is both hot/cold hardy, doesn't need to be covered, and can tolerate sun and shade; grows pretty uniformly, dense, and easy to maintain/trim. If it flowers, that would be great, but not a must have. I've had viburnum in the past/present and I wouldn't completely rule it out, but it would not be at the top of my list. I had a bunch of podocarpus put in the backyard so that would also probably be low on the list. I would also like to maintain it at a medium to low height so that I don't block the rail (like the ligustrum does now).
Layer 2 (In front of the previous plant, but only in the front, not running down the sides of the house) - something that meets all of the criteria above, but provides a contrast in color and can be maintained at an even lower height.
Layer 3 (In front of plant 2, but only in the front, not running down the sides of the house) - This one I would want to flower. I'm not opposed to the idea of changing these out a few times a year to provide different colors based on what's in season, but I'm also not opposed to something that I can plant once and be done. This would take the place of the grasses which I don't like. We have 17 grasses planted in this area currently so it could become expensive and time consuming planting several times a year.
I hope all of this makes sense. I will attach a picture from before we moved in. Again this was 6 months ago so everything is bigger now/doesn't look quite the same. Hopefully the picture will give you a better idea of what I am talking about.