Is this house too long? Honest opinions on our elevation, please!
We are trying to finalize the elevations on our home and
would love some candid opinions. Our
designer offered these two elevation options; we gravitated towards Option A
because I love the look of wrapped porches and it the overall look seemed more
welcoming to me. I'm attaching a virtual rendering of how option A
would look so you have a better sense of the dimensions than the 2-D provides. We wonder if things look properly proportioned
to carry off the length of the house (it's 148' long, which is very long and 8'
longer than option B—as you'll see on the floorplan, my designer had to angle
out the master shower so that the porch would have something to wrap into. Fortunately the far left garage bay is set back so most people won't see the full length of the home unless they pull into our culdesac around to that side). At
this point (a year into the design), I have tunnel vision and have gone through
so many versions of the elevation that I don't trust my own judgment of what is
pretty anymore. We started out with white Southern farmhouses and Swedish cottages
as inspiration images for our designer to work with, and it has been an
evolving process from there (seems almost impossible to capture the charm of
our inspiration homes on a house our size—the "cottage" vibe is very difficult
to scale!). While we will stay in the house for the next 20 years, we absolutely
care about resale and want to build something with strong curb appeal.
Option A:

Option B:

3D rendering of Option A: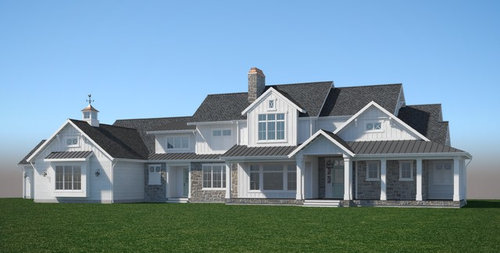 I'm including the floorplan of the main floor (we have a partial
upstairs with 3 beds/2 baths for our six children). My concern is not so much about cutting
square footage (pathetically, when I go room by room, I don't know where I can
cut any space!—as much as I have dreamed of a cozy, intimate cottage, my
husband and I both come from very large families (14 and 7 children) and need
the central areas to be large enough to accommodate family gatherings). The sport-court (goes from basement level up)
is obviously what makes this house so long, but we live in a very cold part of
the country and it will be a well-used feature of our home—everyone we've met
who has one say it was the best money they spent—kept their kids active instead
of gaming, the family built great memories doing fun things in there, and their
house was a magnet for all the kids in the neighborhood. So I'm not sure if there's any way around the
house looking large because it is (we've considered doing a detached
sportcourt, but building it adjoined to the house saves a ton of money, I love
that I can look down on it from my mom's office, and we will use it much more
having it connected to the house, rather than trudging through the snow). My
biggest concern at this point is that the house is too dang long. I hope it
will look better in real life with a charming landscape to blend and balance
things (we're on 3 acres) and make it as inviting a home as possible. I want a classic and welcoming home that passerbys would say, "Oh, what a beautiful, home," rather than, "Holy
hannah, that house is a monstrosity!"
So my questions are: 1) Which do you think is more attractive--Elevation
A or B (or are you not a fan of either and
think we should go back to the drawing board--no need to be polite--I'd prefer honesty because my confidence in my aesthetic eye is really wavering at this point!)? 2) Having seen the 3-D rendering
of A, do you think it is proportioned to pull off the length of the house? 3)
If not, any ideas of how to reduce the overall width of the floorplan/more efficient way to lay things out?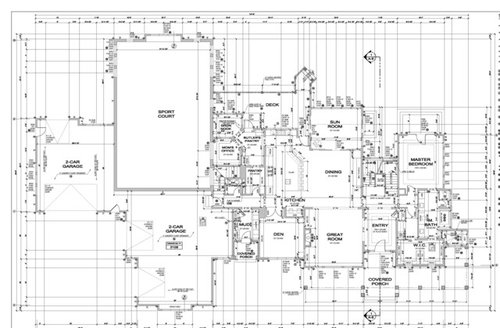 I doubt the dimensions on this will be clear, so here are a few key dimensions (total length 148'):
-Sportcourt 32x50, Den 15x13.5, Great Room 19.5x19.5, Entry 11x14, Master 15x18, Dining 18x15, Sunroom 17x13.5, Kitchen 15x22, Mom's Office 9x9, Garden nook/potting room 7.5x9.5