Remodeling small master bathroom, oodles of questions
Hi everyone!
First of all, wow, I'm weirded out by this change to Houzz. I'm an old-timer garden web user and find this switch to be really odd. I started another thread on what I think must have been the main Houzz page? I got a few replies, but I think this is where I really want to be. Anyway...
So, here's the before of my master bath. I live in a 1964 house and what you see before you reflects the tastes of the original owner, except for the wallpaper which I ripped out on move-in day in 2009. I didn't bother taking off the glue because I knew we'd gut it and no one ever sees this room but my H and I. It's not too bad, but what you can't see is that the shower pan is leaking and the tile is cracking. It's time for it to go. (I actually like the tile, but it won't survive the shower being gutted, because it's also tiled.)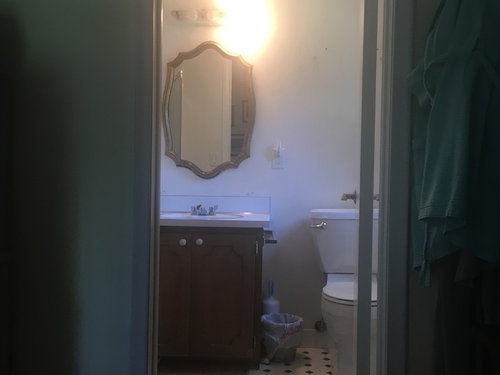 This room is really hard to photograph, but there is a small window on the right that you can't see because I can't really get beyond the door (it won't open beyond the toilet, which is OK-- because it's a nice toilet that we bought to replace the old one with a behemoth tank and also because I want to fit a tower for storage behind the door so I actually don't WANT it to open all the way!). Anyway, so, there is some natural light.

Here are some plans a contractor drew up for a remodel. We are not using this person, but it's not as though there are that many other ways you could do this, so the person we are using will be doing something similar (though not following these plans). Anyway this gives you an idea of what we are going to do-- taking out a closet in an adjoining bedroom, and making a bathtub in place of the tiny shower in this room.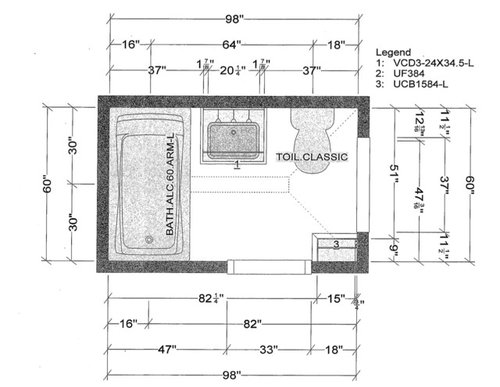 QUESTION 1: What is the largest bathtub that will fit in this space that will also accommodate a shower? I really want a soaking tub, but I know that those are not made to work with showers, for a variety of reasons (thanks to an old thread on GW, among other things). There are so many options for bathtubs that I really don't know where to start. I'm tall, so I'd like something as deep and as long as possible, and I really love to soak in baths. But I also need a shower for regular use.
Also, I'm not sure whether to get cast iron or acrylic--I'd like cast iron because it would hold heat better but this bath is on the second story of the house--would there typically be a need to reinforce floors in a normal build for this era of a house?

Then, I have some design questions. I want a spa-like, modern/minimalist aesthetic in this room, and I want to use an ikea Godmorgon vanity in either glossy white, light stained oak, or dark grey, with some kind of marble penny or hexagon tile and glossy white subway tile. (Color of tile will depend on color of vanity... I just cannot decide on the vanity color, which is my main sticking point.) So, that brings me to Question #2: Can anyone help me make the decision on the vanity color?? I know it just comes down to taste, but are there any pros or cons or questions you guys can ask me that might help me make the decision?
Vanity choices: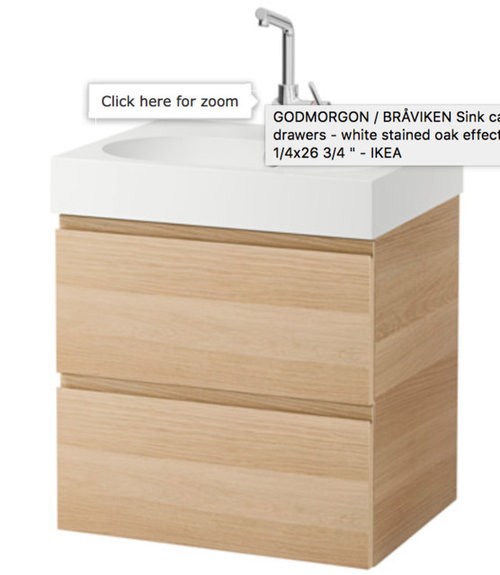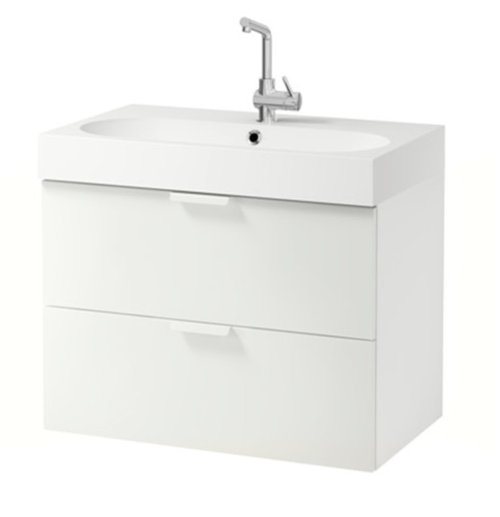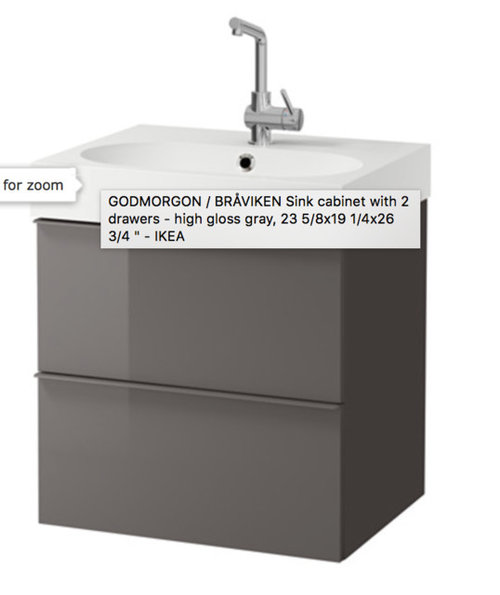 I've looked at a million inspiration rooms. I like all three. Help! Would the dark grey be too dark for such a small room? I only have a small window, but I think it gets decent light.
For the tub surround tile, I'm just going to go for a basic glossy white subway tile.
I guess we'll start there.
Any thoughts on the tub and vanity?