Let's talk about laundry closets
No, not laundry rooms. Closets.
I had a laundry closet in our first house, and it was bad. We didn't have any space for "waiting loads", and because it backed up to the living room, it was LOUD when the machine filled.
Yet here I am considering jumping back into this same situation again. I have an actual laundry room now, and I don't care about it. It's dark and unwelcoming. I always bring clothes out and fold them on the sofa or on the bed.
First, here's the floorplan: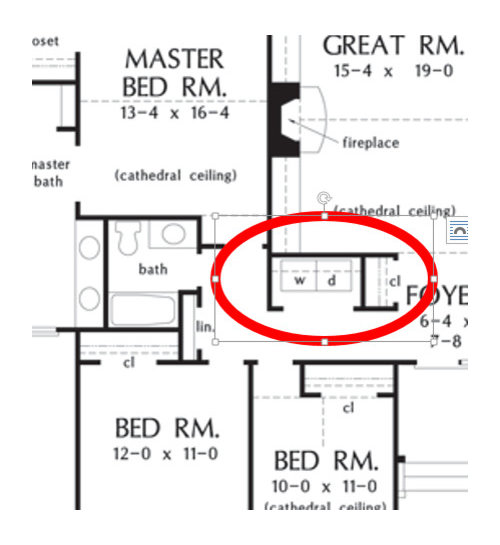 I love the rest of the floorplan, and this is pretty much the only sticking point. I'm thinking that IF we do these things, it would be better than our first-house situation -- I'd appreciate feedback on these thoughts:
- First, the laundry closet is 6'4" x 3'6'
- I'd definitely go with fold-back bifold doors; that is, the doors that can fold flat against the wall rather than blocking the hallway.
- Without doubt, we have to have soundproofing between the laundry closet and the great room.
- We're not looking for a multi-function room. Note that a linen closet is nearby. this'll give us space to store
bed linens, etc. I don't have an ironing board (and have no desire to
obtain one). And on the other side of the house we have a mudroom /pocket office that'll handle other needs that people often combine into a laundry room. This room JUST needs to handle laundry.
- Regardless of where the laundry room is, I'm definitely going to buy TWO of these large, rolling laundry carts: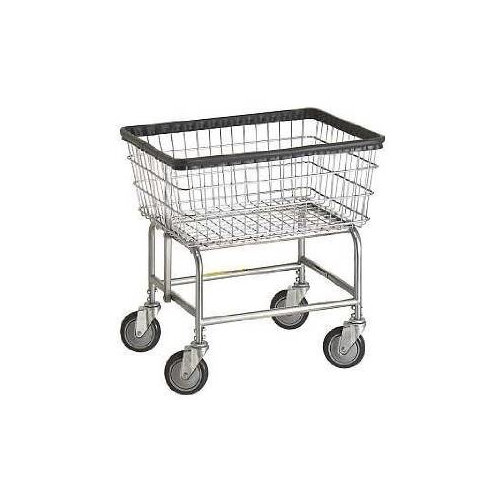 We're going to have a wall of built-ins in the master bedroom, and this cart will be "hidden" in a part of the built-ins ... and we'll use it as a hamper. Then I'll have a built-in spot in the laundry room for the other cart, and I'll "trade them out" when it's time to wash clothes. This is an aging-in-place item that I think is going to work well for us.
- In addition to the cart, I'd like to have something along the line of Elfa drawers for sorting loads in the closet -- or canvas bins on shelves to hold small loads that're waiting for the machine.
- The first thing that comes to mind is that we could stack the washer and dryer, something like this, though clearly this grid is overly simplified: Bifold doors come in 36", so this room could essentially "open completely up":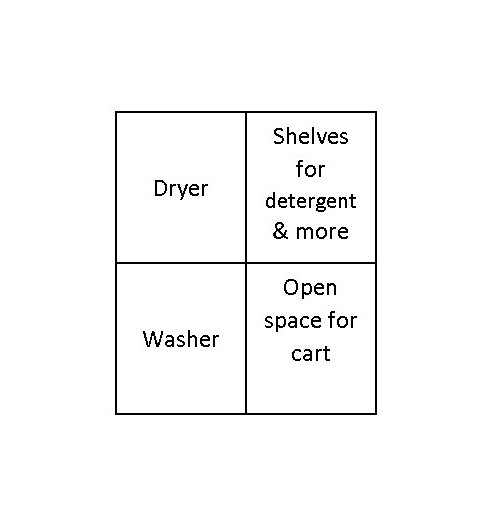 - OR we could steal the small coat closet, making the laundry room about 8'x3'6". I can easily give up the coat closet -- we're in the South, and I'd actually prefer a solid wall in that spot so that we can have a small table for guests' keys and purses. This would make the laundry room about 8' wide.
- However, if we widen the laundry room to 8', bi-fold doors won't do. The widest bi-folds are 36", so two of them would still leave a foot of unreachable space on each end of the laundry room -- no point in that.
I saw one example online (and you'd think I'd have saved it, but I didn't) of a standard closet scooted right up against the bifold doors -- if we steal the closet space, the regular door could go on either the left or the right: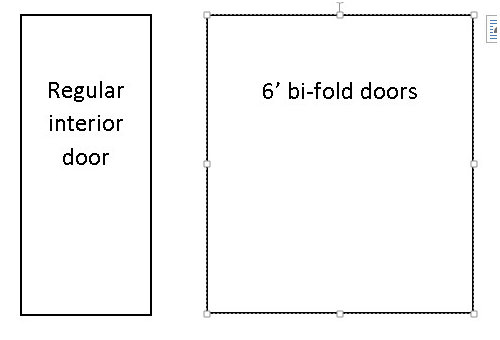 The example showed the washer/dryer stacked up in the regular closet ... and a spot for folding and storing items behind the adjacent bifold doors. Could be something like this: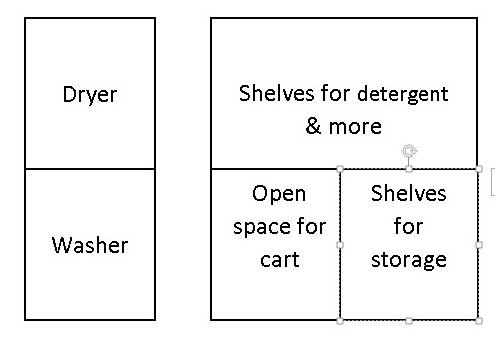 OR put both machines on the floor and keep the cart in the smaller room: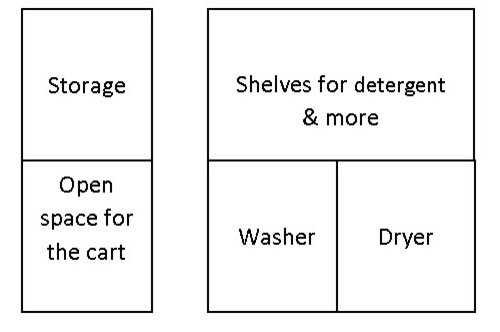 What thoughts do you have?
Supplier of High-End Design in Bathrooms, Tiles, Doors & Kitchens