Hi everyone,
I've not posted here before, but I have really enjoyed reading the discussions on this forum!!
We are in early stages of planning work on our kitchen, and I'm having trouble figuring out how to fit things into our space! We have a 1924 craftsman bungalow, the kitchen is small and has 3 doorways. The current cabinets and appliances are maybe 1990s era, except for dishwasher we replaced a few years ago. We want to change layout for better functionality, and at the same time we have a number of home-repair problems that need to be addressed (some outlets and lights don't work... old pipes need to be replaced... old water damage and mold visible in cabinet walls under sink... flooring is vinyl tiles with cracks between them allowing moisture to seep through to unknown layers below... etc.). Anyway I know it's going to end up being more involved than just replacing the cabinets! We do like the original layout of our house and do not want to move walls, as we want to preserve the original built-ins in the DR, and anyway prefer to keep the kitchen separate from the dining room (rather than removing the wall and having an open kitchen).
Our kitchen does not need to be fancy, but should basically fit into the style of our house. More important, we want the kitchen to be functional for us and encourage all family members to get in there and cook more. It should feel appealing, welcoming, and should make cooking feel fun and not intimidating. There are 2 adults and 2 kids in our house, we don't cook all of the time but our kids (especially the older one) are really interested in cooking and have been trying out recipes and experimenting a lot.
We have a big problem with the wall cabinets, as they were installed high: 20" above the countertops. None of us are tall people, I'm not quite 5'2", my husband is not tall either, and it will be years before the kids are even as tall as I am. I can use the bottom shelf of the wall cabinets but I have to use a step stool to reach even the 2nd shelf. I literally have to get a ladder to get to the highest shelves (which go all the way up to the ceiling). So the wall cabinets mostly contain stuff that we do not actually use (I am not even sure what is in the highest part of the cabinets)
The empty 5'5" wall in the kitchen used to have old shallow pantry cabinets, but these were in very poor condition and we removed them when we moved in. The angled doorway used to have a door which opened into the kitchen and really interfered with the space, we took off the door but left the doorway opening.
We need to install wall cabinets lower, but also need to make very good use of base cabinets/drawers, since high shelves are never going to be easy for me to reach. Probably want drawers/pullouts everywhere. Need at least one trash/recycling pullout. Also want to add a tall pantry cabinet with pullout shelves. (We are looking at IKEA cabinets.) Right now, I think the best place for a tall pantry might be in the corner of the kitchen (lower left in drawings) where we currently have counter space that we don't ever use. On the empty wall, we need to add counter space and drawer storage, however this shouldn't block the doorway....
I added drawings of current kitchen (I'm using sketchup) and vague idea of new layout, but my ideas are not coming together well and this doesn't solve all problems. (And I don't really know what I am doing!)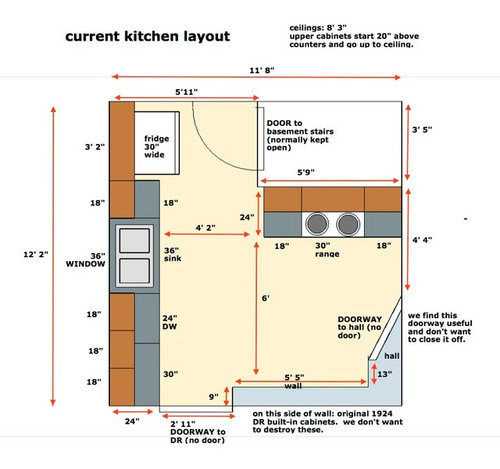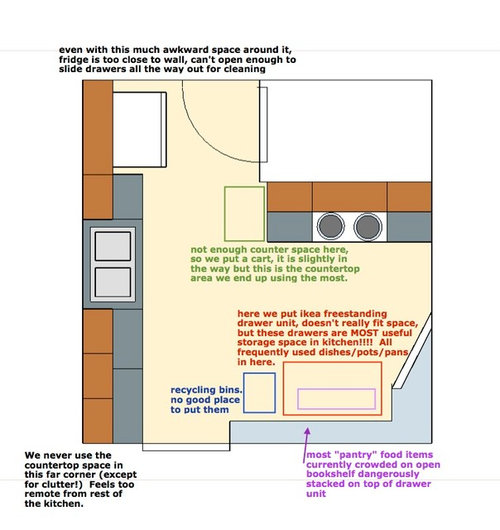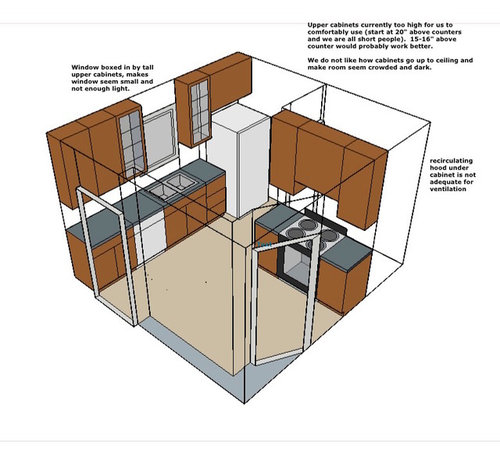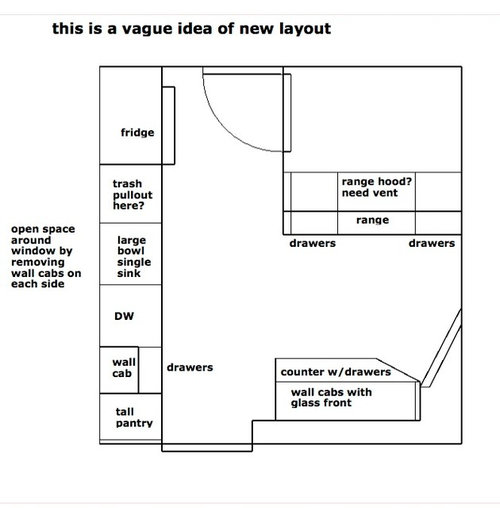 DC Area's Top Rated Kitchen & Bath Remodeling Experts