Amnesia and the haunting nursery woman (long)
L G
last modified:
7 years ago
So it was our wedding anniversary last week and, on Saturday, we dropped of our two tots at my sister's home and decided to just take a drive through the countryside. On our way between here and nowhere, I asked my husband if we could stop at small roadside rose nursery where I bought some interesting roses and a lot of lovely dahlias before. The nursery is managed by an elderly woman who was a refugee from Zimbabwe many years before and you can clearly see life has taken its toll on her. The small, hidden nursery is but a micro reflection of an era gone by when her father had a huge rose growing business in Zimbabwe many decades ago.
Anyway, I wanted to buy a Peace rose for sentimental reasons and I remembered that her nursery carried the loveliest Peace rose plants that I've ever seen and we decided to quickly hop in for a Peace plant before we continued with our journey.
The meandering path from 2 years ago quickly became an overgrown dirt track until we had to stop the car right before a huge muddy ditch right in the centre of the road. I then begged my hubby if we could do the last bit by foot but he took one look at the dilapidated greenhouse netting flapping in the wind, the rusted and collapsed poles, the overgrown building ruins, and gravely told me that he is 100% certain that the old lady's business must have closed down... Being the kind-hearted gentleman that he is, he eventually negotiated a way around the ditch and we continued on the bumpy track.
Once we reached the melancholy greenhouse skeletons gently swaying and whispering in the wind, my first observation was that the dahlias were gone, the next was the overgrown ramblers, and then the glorious rose scent wafting in the air... Next two huge dogs came rushing down the hill with boisterous leaps and bounds before the old lady herself made an appearance- skin leathery from many hours in the sun, shoulders stooped from carrying a lifetime on her shoulders, teeth missing from limited funds for healthcare, and eyes wizened from having seen too much.
Anyway. The nursery was still still open,, and of course we were the only customers, perhaps for weeks. I started talking to her about the drought, her dahlias that she no longer propagated, the dwindling business and then HER ROSES! The weight seemed to lift somewhat from the fragile shoulders and the lost sparkle in her eyes appeared to once again glimmer in full force as we walked amongst rows and rows of healthy, robust roses with a cacophony of intoxicating smells and a joyous riot of colour, all hidden underneath the groaning greenhouse structures. The roses were mostly all from another era, just as she is and were ridiculously low-priced.
I simply could not leave with one rose only, it would have been a crime against humanity. Eventually I got Peace, Elle (not knowing a thing about it), and then Pink Baby Romantica (I already bought the orange and yellow baby romanticas from her some years back).
As I was bending over the Baby Romantica bushes in order to choose the one I want, I saw it: an exquisite steel-grey, with lavender, and then, a deliciously brown centre! GASP!
What is that one? I asked, stopping in my tracks, all other things momentarily forgotten.
"Amnesia" she answered whistfully, with a far-away longing in her eyes. "Isn't it a lovely name? One of the most lovely names ever.".... I wondered what those eyes must have seen, what joys might have been undone in the past, what sadness she must have experienced to so envoiusly desire the anaesthetic pain relief that amnesia promises.
As I paid for my four roses she asked "Is there nothing else I can tempt you with today?" Pleadingly... hauntingly...
Unfortunately, my car was full by then and we still had to negotiate the ditch when we left, so I took nothing else. I took one look back at the greenhouse as I finished my payment, the dogs, the colours, the woman, and then... the silent witness to a rebellious, obstinate hope, clinging to the dream above all odds... newly grafted rootstock...
As we left, I watched the scene drifting away in the rear view mirror. The dogs once again disappearing behind the building ruins, the lady with her shoulders once again more stooped and fragile than before, the hidden rosy glory but a memory with netting flapping on the wind and metal skeletons dangerously croaking a forelorne and unknown melody.
As I unloaded the car when we returned home that night I once again had an unwelcome lump in my throat...Amnesia.. what breathtaking rose... and what a heart-wrenching, haunting name.
*** Afterthought: Can anyone tell me more about Amnesia (especially parentage etc.) As well as Elle? I would dearly love to know more about them.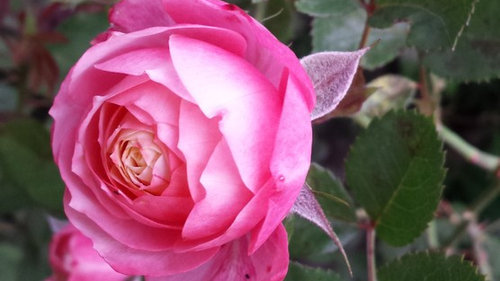 Baby Romantica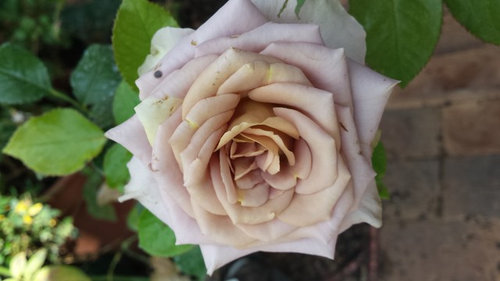 Amnesia

DC Area's Award-Winning Interior Designer | 12x Best of Houzz