Kitchen Renovation Reveal - many pics
brdrl
last modified:
8 years ago
Thank you GW - I wish I found you sooner!
Background: Our house was built circa 1835 (possibly around an older structure based on the tree plank framing behind 2 kitchen walls, picture below). There was one addition that extended the kitchen in the 1950's when the house was relocated from across the street. We purchased the home 13 years ago and did some cosmetic work only - painting the orangey veneer cabinets and changing hardware. There was a row of upper cabinets that cut the space in half and many of the cabinets were too small to hold large platters, roasting pans, etc.
It was a large kitchen but narrow and awkward so we extended 30 sq ft onto a never used porch. The space has 7 entryways/doors which poses a problem for an ideal design even with the additional square footage. The new space allowed for a larger sink, more cabinets and an island instead of peninsula for better flow. We were able to re-use the 2 large windows in the wall that was pushed out. We chose to keep the entry dutch door in the same place but with new outdoor walkway area (bluestone). This is the primary entrance to our home so we created a welcoming landing area with an old PB bench and shelf.
I know the color scheme of grey with white subway tile has been a hot topic - too plain, boring. My first inspiration photo was before I read it was trending! We wanted to keep it neutral with pops of color from fabric and accessories. We actually have a lot of color in the house but for this room kept it simple. I grew to hate the colorful hand painted back splash tiles that I thought were cute when we bought the house.
Cabinets: Custom shaker-style brought up to the 8.5' ceiling (color similar to BM Silver Chain)
Pulls: Atlas Fulcrum in brushed nickel
Countertops: Soapstone (Stormy Black variety) purchased and fabricated from M. Teixeira
Backsplash: White subway tile in 2X8
Grout: Laticrete in Silver Shadow
Sink: Whitehaus fireclay 30X18 (with recommended grate and no garbage disposal)
Faucet: Grohe K7 medium in chrome
Paint: BM Greytint (I'm actually not happy with this against cabinets but for now it stays)
Pendants: Quoizel Grant with brushed nickel trim
Floor: Tarkett Fiberfloor Magnitude Collection in Aged Barnwood (rustic brown)
We are deferring the purchase of new appliances but have my sights set on the black ice collection from Whirlpool. Except for the range. I think stainless is in order to go with the already installed stainless hood. I like the mix of black and stainless and the glass top will be black anyway.
Deciding on the floor was very difficult but once we saw the Tarkett there was no question it was perfect for us. We considered wood grain tile in long planks but this is so much warmer and softer and it matches the other floors so well. We were also worried about the plank tiles cracking in such an old house, even with a new sub floor.
I referred to this site so much during the renovation and used comments and photos to stand my ground with our contractor. Not to mention the hours of research I did on soapstone alone!
The space is so light and bright, although it didn't photograph well.
Exterior before/after: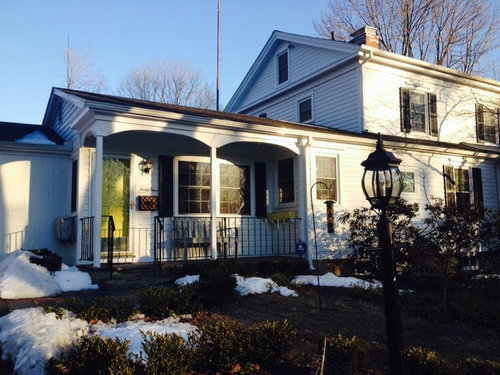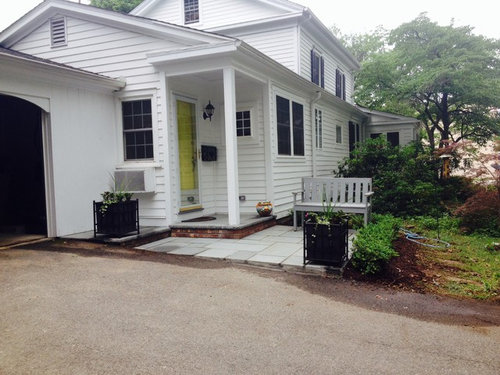 Before - disregard the clutter, it never looked this bad!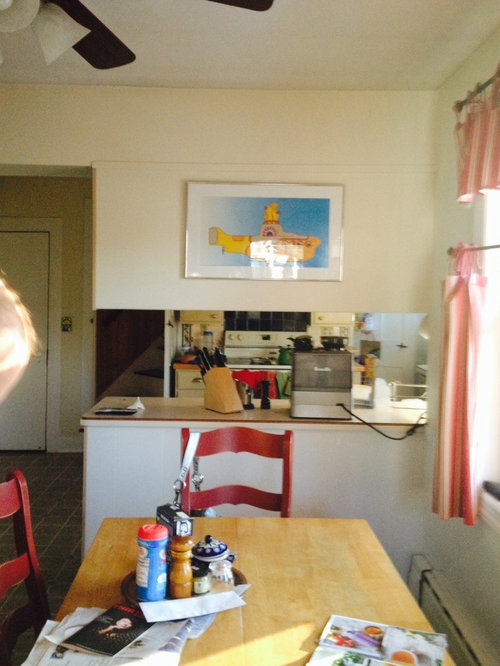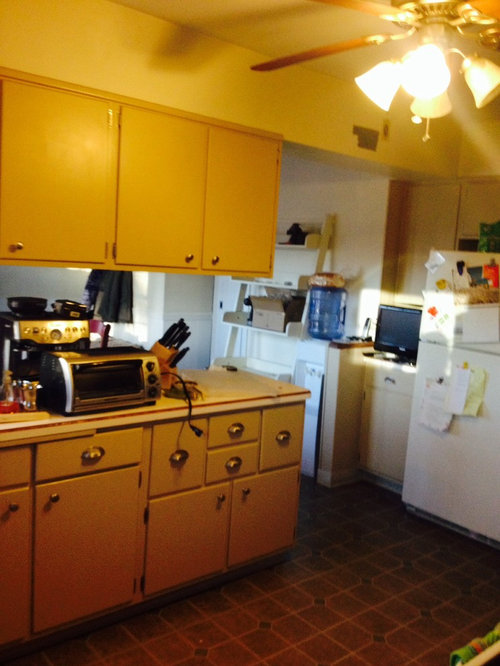 Framework behind the plaster.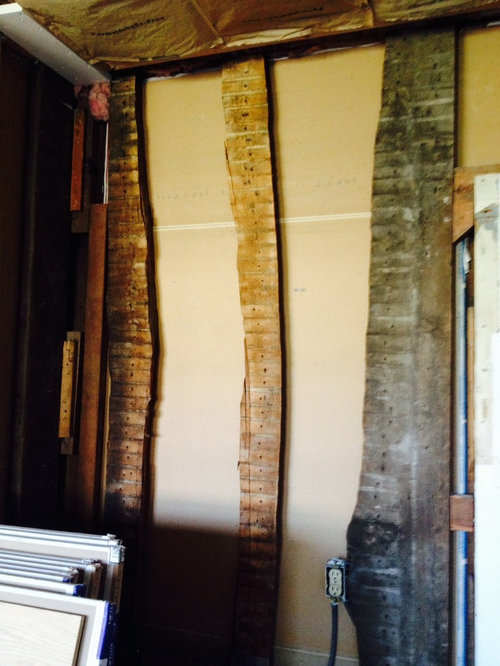 This busy corner had 18 inches between counter to basement stairs and do in room - now 25 which is still narrow but maximized the space well with shallow drawers and a unique angled cabinet. Nothing in our home is ADA compliant, downstairs bathroom has 24 inch door. The tall shallow cabinets under window contain my obscene spice collection, oils and vinegars.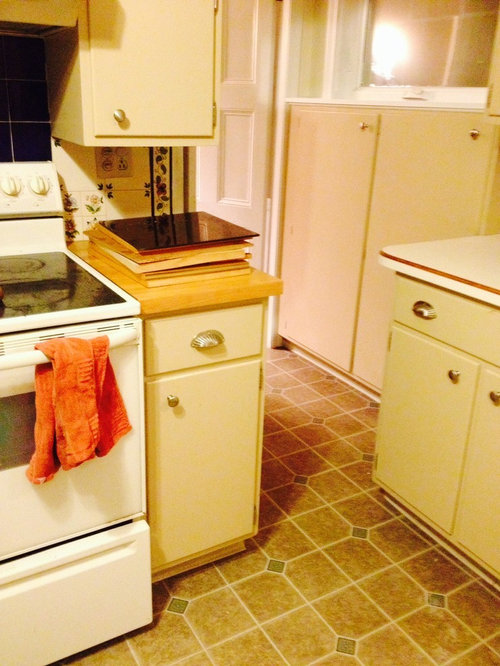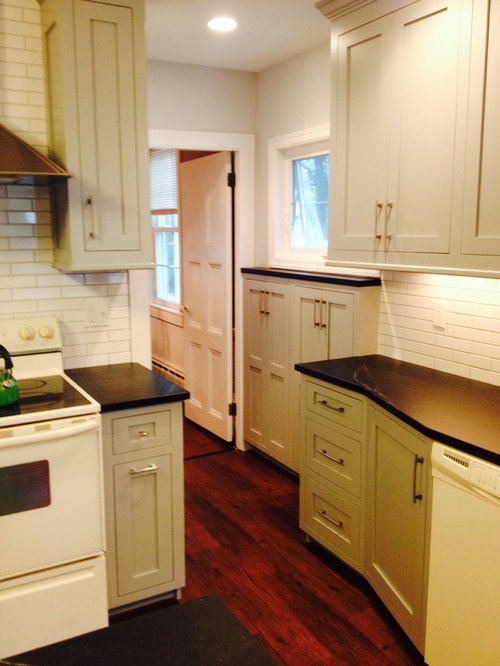 Front door entry area with cookbook shelf for separation from table.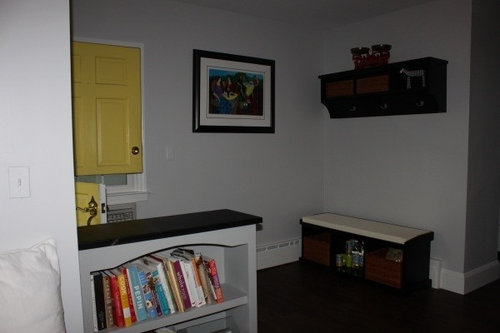 Built-in banquette - the perfect orange print fabric remains elusive! Favorite cat spot so we may upholster a box too.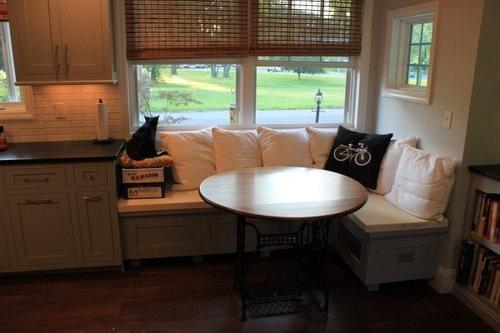 More to come.