What does *stratification* mean?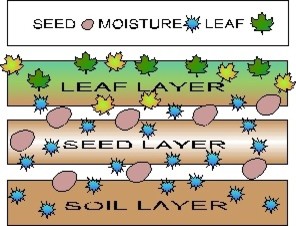 The Merriam-Webster definition of the VERB "Stratify" is:

to form, deposit, or arrange in strata.

How does it relate to seeds?
Please imagine that a plant has set seeds, and the seeds have matured and fallen onto the ground. Perhaps some leaves have fallen over the seeds covering them, or an animal has passed by and kicked up some dirt and sand covering them, or maybe just the frost has heaved the surface of the soil, it has melted back down, and the seeds have nestled into the mud. Eventually the seeds will be a part of the soil, layered into it.

As the season of Winter begins and autumn ends there will be repeated frosts and thaws, and eventually, the temperatures will become so cold that ground will be frozen for the long duration of the Winter season. During this time the seeds are at rest in the soil....they are (in effect) sleeping for the Winter.
At the end of Winter will be the same repeat process of thaws and freezes, but the days will get longer, and the air will get warmer, and eventually the ground will permanently thaw when the season of Spring has arrived.

It is this repeated thawing and freezing, with a period of dormancy (the sleep of the seeds), and then more thawing and freezing followed by warming sun that triggers the germination of the seeds. Mother Nature's seeds often need to "sleep before they wake" and natural stratification provides that.
Outdoor seedlings germinate at their own right time, they are not forced by the unnatural aspect of being germinated indoors. They are born hardy to their local climate and will thrive from the moment of germination.

Trudi