small ta-daaa (pic heavy)
This is one small step for some of you serial redecorators but it's a giant leap for me - I've been wrangling with re-doing my dining room chandelier as the first step in a whole room update.
The back story - bear with me please: This is the DR chandelier from the house I grew up in - my parents bought it in 1960, I've had it for 15 + years. It's silver plate and needs replating, badly, but it's not happening soon. The original shade was a drum, painted metal with silver plate edges and small vertical piercings in the top inch or so. When I got it, drum shades were oh-so-passe and I was CERTAIN always would be. I discarded (aarrgh!!!) the shade. I also discarded (shoot me now!) the supporting rods that connected the shade to the chandelier body. And with that I bought mini shades for each bulb. How clever. And I painted them to go with my decor du jour (oooooh, she's so cra-fty). A few years later I covered them with fabric to work with the decor of that moment (cra-fty on a whole new level). But that moment has lasted FAR too long and I need a new room. Did I mention I don't want to spend a lot of money?
To make this long story nauseating, I asked for help here a while back locating a large, shallow drum shade and did get great suggestions but couldn't come up with anything online under $250. Ouch. This is supposed to be a refresh with little financial outlay. Local stores would only do custom in the size I needed and that would push to $400. Double ouch. Sat down with Yellow pages online and started calling. Found a shop not too far away but would never have found otherwise, and they had the right size shade in stock, one left, 39.50. Now we're talkin!
DH had to do some retrofitting to make this work but gawd I love being married to an engineer!
Here's where I started (after the unfortunate discarding episode or UDE, which we will no longer mention, ok?)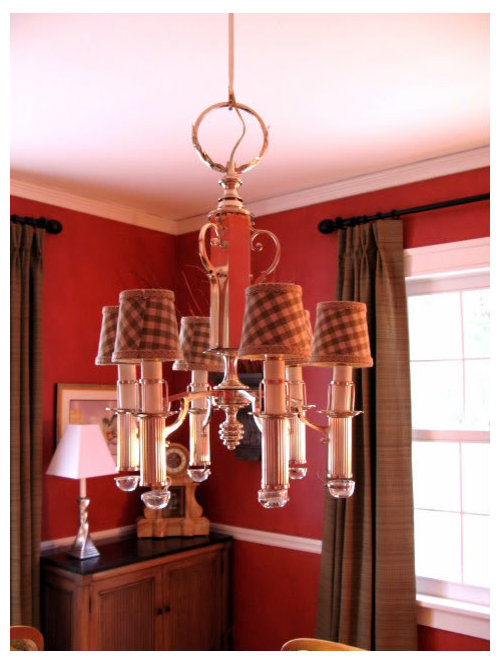 Here it is nekkid with the new supports DH made and threaded into the fixture. Yes those are paper clips hanging from them.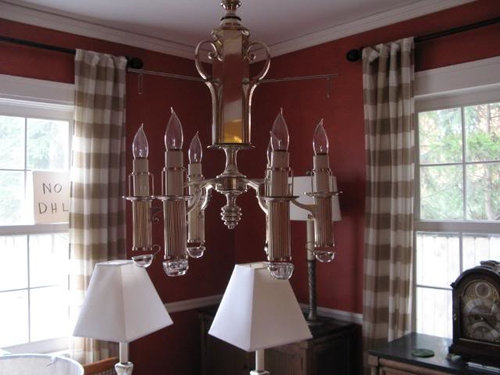 And here is my darling DH doing the cut-to-fit. Gotta love a man who doesn't go overboard with tools, huh? LOL!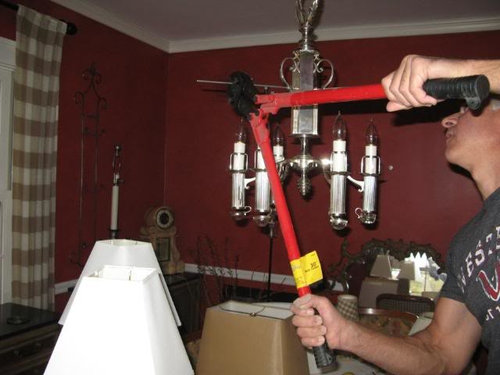 A close up of his handiwork - just like downtown!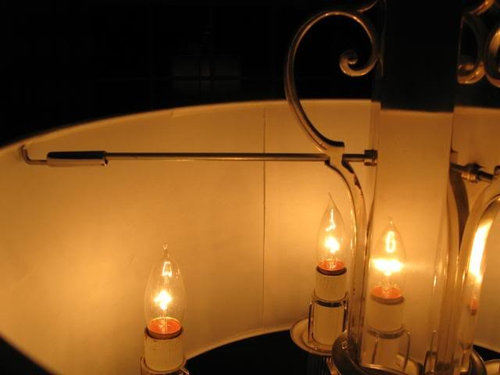 And here is the new shade - yes, I know it looks like the Clampetts live there - give me a break - I'm in process!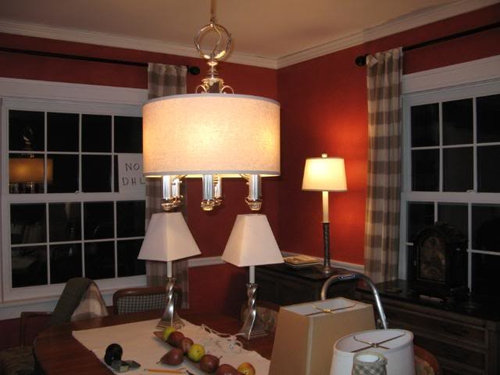 Geesh - it does look like a lamp shop exploded in there!! Fabric is backordered, of course, paint color is decided - more updates (and hopefully bigger ta-daaas) as progress happens!