Desperate for counter advice! Havent found The One. Thinking qua
edit to title - "thinking Quartz", not qua!
I cannot believe I still haven't chosen counter material. I have considered every single material out there. Any insight on helping me pin down a counter? I am exhausted, don't know why I cannot find something! I love marble and soapstone but don't want the maintenance or worry. I love Jet Mist granite, but don't want so much black. I love a few quartzites but too expensive. We almost did leathered Steel Gray bc its plain and cheap, but again I think too dark& it just doesn't excite me at all. There've been no other traditional granites that we like.
I. need. help.
I will have Dove White cabinets everywhere, with a small coffee stained cherry island/work table. I have golden oak floors. I have a whitewashed brick fireplace at the end of my now-open floorplan, which reads cool tones to me, but I crave a little warmth, I love white cabs with darker walls and ORB hardware.
I am drawn to these marble backsplashes but haven't committed to anything since counter needs to be done first.
So, I am now onto Torquay...what you think of it in my space? I think I really like it, but my DH isn't fond of it, doesn't like the idea of "fake" marble and would rather a quartz that is plainer so as not to "pretend"...I just like it and don't think it looks much like marble but I love that its light neutral and incorporates both gray and tan/taupe.
I do worry its too light and that the pattern might be too much with the pattern on the backsplash I like. Wondering if there's some other solid plain quartz that would look good around the perimeter, and then on my small island/worktable, I could use a marble or a quartzite remnant.
Any other ideas you may have I'd love to hear, I am going insane and its really time for me to choose the counter!
cambria torquay with honed marble backsplash and bm Coventry gray paint chip: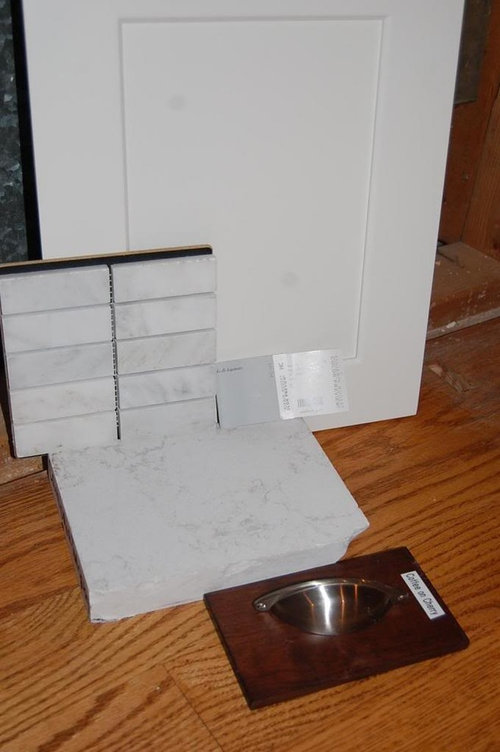 torquay with a darker gray paint chip and polished statuary marble backsplash: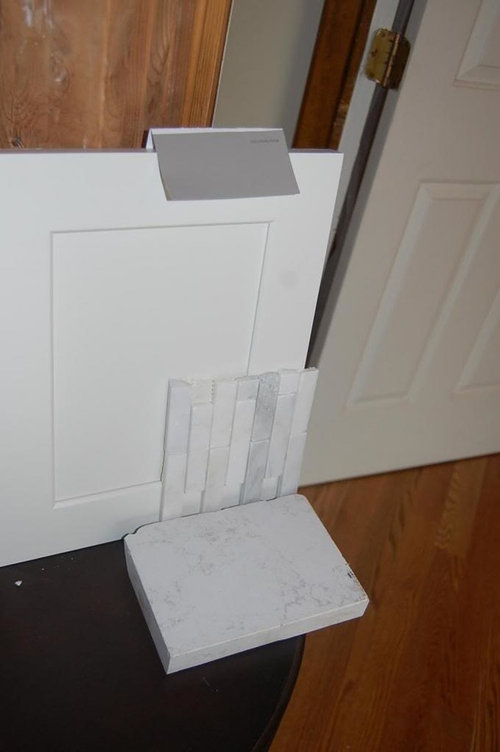 fireplace at far end of kitchen...hardwood is replacing carpet, ignore beams & sconces they're all ripped out, and we will be replacing mantle shelf, hearth stone & adding new screen...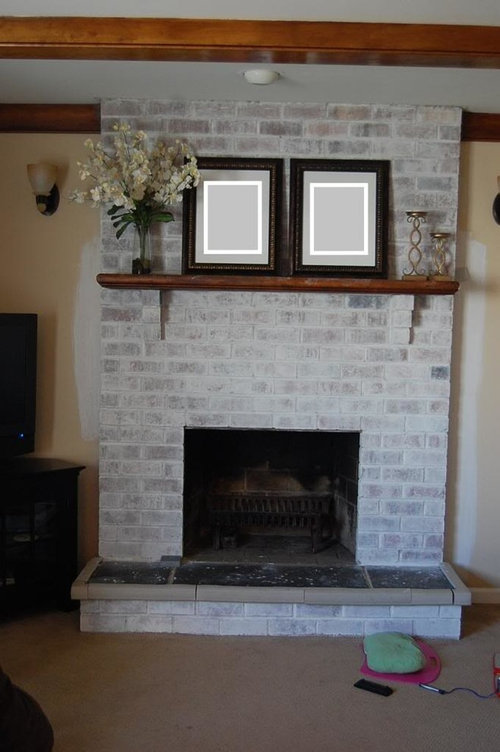 This post was edited by homebuyer23 on Tue, Aug 13, 13 at 3:21