Tiny '20s kitchen, big problem: Marcolo needs layout HELP!
So, Ive been piping in on your kitchen questions. Oh, and reading johnliu and wondering if I was sleepwalking and posting under another identity.
Well, now itÂs my turn.
I finally did it. I bought a house yesterday. With a kitchen that needs helpÂfast. Oh, and it has a layout problem that is going to stump even the best on this board. Are you up for it?
The rules:
- No moving walls
- No addition or expansion
- I really, really donÂt want to open the wall to the dining room for an island, but would consider it only if it solved all my problems, lowered the earthÂs temperature and provided an additional $750 billion in stimulus before Great Depression II sets in
- It must be eat-in, even if just a little. Aaaa! Nooo! Yeah, I donÂt really care about eat-in myself. There are just two of us. But in this rat-infested, um, I mean, family neighborhood, there is no way I am ever selling this house if the buyers canÂt see themselves with spit and sippy cups and spilt cereal all over the table/island/pig trough or whatever you guys come up with. Good news: It doesnÂt really need to be that practical. I donÂt care if some poor sucker comes in fantasizing she can put in a bigger table only to find that the corner of the fridge goes all up in her Spanx whenever she stands up. For us, I just want a place to chomp breakfast and also keep drunken dinner guests from falling over while they annoy me while I cook. Café table, fine.
- I want cabs to the ceiling (93", except for a beam at the end)
- I like the basic layout of the cab runs, which is landing->DW->sink->prep>range, EXCEPT the range area itself (youÂll see why in a second)
- The kitchen gets great light from the back. I like having two windows, and IÂd even consider keeping one over the range somewhere, but not an operable double sash window with inflammable window shades on it.
- Budget DNE infinity, but this WILL be a gut
So, hereÂs the layout: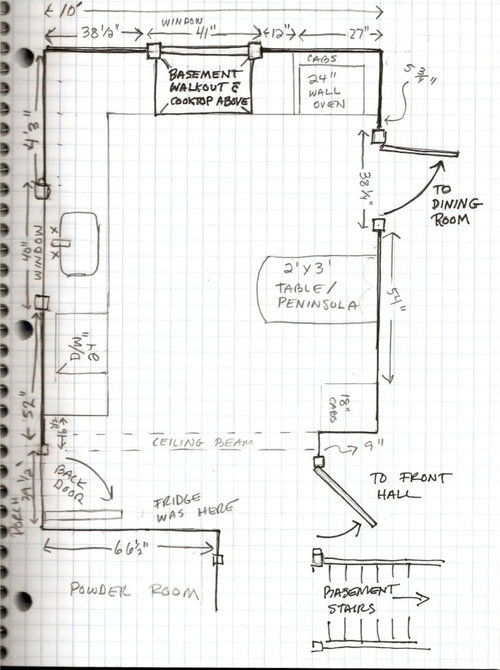 Here are some photos: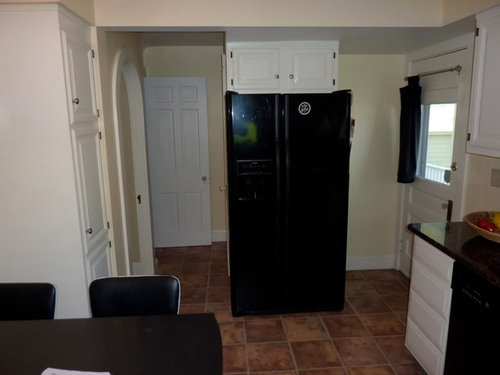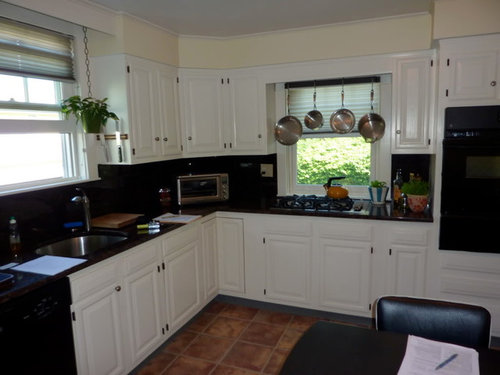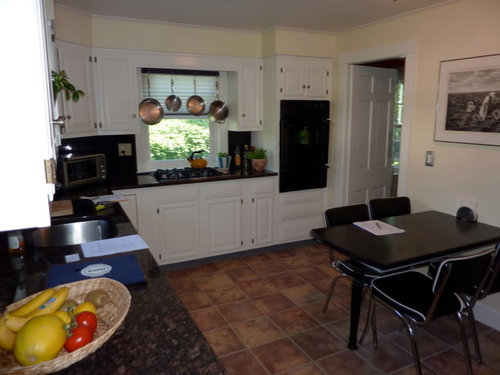 OK, hereÂs the problem thatÂs the killer. SO IÂm walking through the house with the real estate agent, and open the oven. ItÂs 24". Basically, an Easy Bake. Well, we say, no problem, just take out that cooktop and slide in a range, then IÂve got two ovens. Right? Um, look under the cooktop: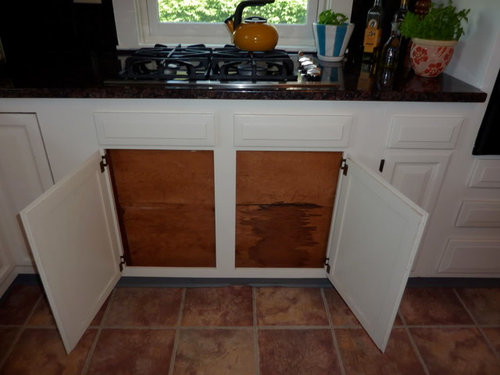 THATÂS THE WALK-UP EXIT FROM THE BASEMENT. WHAT WAS I THINKING?!??!
Yes, it may be possible to get rid of it. We havenÂt gotten firm quotes yet; for various reasons, itÂs not an easy job.
Even so, though, what do I do with this kitchen? Can I lay it out to avoid moving the basement walkout? Should the fridge and wall oven go where the "peninsula" is nowÂand will I have room for a cute café table or something near the door? A banquette, maybe? Or should I keep seating and (counter-height) workspace near where the peninsula is now, blocking the flow out the back with another big, ugly fridge?
HELP!

Virginia's Top Rated Kitchen & Bath Renovation Firm I Best of Houzz