Would love to see some window treatment pictures & get advice!
I'm FINALLY down to the finishing touches of my pathetic 2-year-long PARTIAL kitchen remodel. Hahaha. Have been going for a mostly period look in a 1913 craftsman house, with some modern touches. No nice stove or fridge yet and no tearing out the space-hogging chimney or tearing down the wall to the mudroom to expand the kitchen and take it out to the back yard. That comes as soon as I win the lottery...any day now!
The house next door is right there and we can see into each other's kitchens. I'm dying for some privacy. I'd like to find something that's appropriate for an older house or else could be a nice, subtle modern touch if need be.
Here's a list of what I'm afraid may not work, whether because I'm tired of the look or because it's too high-maintenance e.g. hard to clean or won't function well in that space:
- venetian blinds

- most roman shades - they stick down to far over the window when fully open and are hard to clean

- anything too frilly

- anything too ubiquitous/trendy although I don't really know what is (!)
Some ideas I was thinking might possibly work (?):
- There are some typical old-fashioned roller shades with ring pulls? Maybe with a simple scalloped edge?

- simple, solid-colored curtains, e.g. white, w/ no valance? I suppose lace would be too much - especially with a stainless counter (much as I try to pretend it's zinc)? ;) Too much if both? What else have I forgotten?
Oh and last thing - should I consider something that still lets in light when it's closed, though private enough that the neighbors can't see us? I'll be very tempted to have the shades/curtains (whatever) closed anytime I'm in there including during the day - just to have the sorely lacking privacy - so something that lets in some light might be a great solution in such a dark room? I don't know. I'd love your advice!
Here's a pic to show you the space and I apologize to those of you who've seen this one zillion times by now. I'm sick of it myself at this point. Thank you!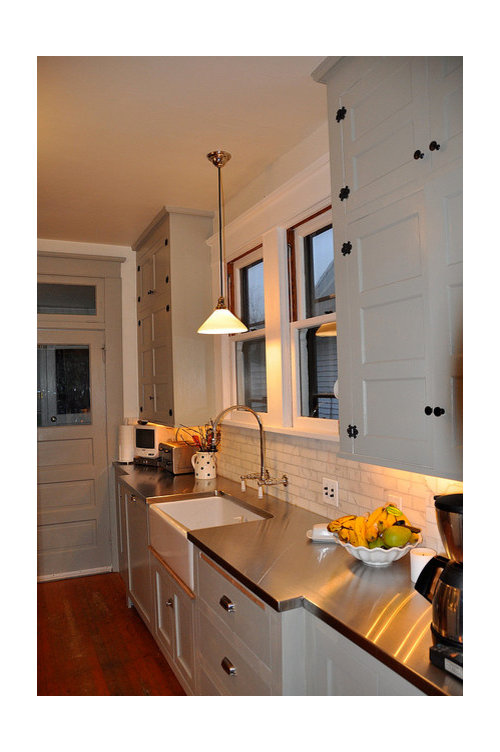 p.s. by next week those two upper cabs will be white and the window is now the gray-green color like the rest of all the woodwork. But you get the general idea.