Weird section of wall - paint it ceiling, wall, or trim color?
After 6 years of living with test splotches on just about every wall, I finally picked a color and am having a painter come in next week and paint - yahoo!!! But I have a dilemma about a weird little section of wall and I just know that all the great minds here are going to know the right answer!
Our front stairwell has this odd section of wall and I'm wondering whether it should be wall color (kind of a yellowy beige), ceiling color (which is just a lighter version of the wall color) or trim color (white).
I'll attach some pics of the area in question at the end of this post. It's the small section of wall that bands the second floor floor joists. At the top of this section(below the bullnose hardwood flooring) there's a piece of molding (sort of like a small crown molding, I guess). At the bottom, there's an L-shaped corner molding that's also wood. In between is drywall. Currently it's all painted builder's white paint, so there's no help there!
Now - should I highlight any of this molding by painting it trim color or should I just paint it whatever color I paint the drywall area? And what color should the drywall area be? It directly flows into the ceiling above the stairs but it's vertical like a wall. So I'm confused!
I'm thinking it would make the most sense to do the drywall here the wall color, highlight the "crown" molding by painting it white, and paint the L shaped molding the wall color where it's vertical and the ceiling color where it wraps around to the 1st floor ceiling. But is that too goofy? I didn't think I'd want to paint the L shaped corner molding white, because it would sort of look too stripey, wouldn't it -- like this small stripe of color between two white racing stripes.
Another option would be to paint the whole darn thing (crown molding, drywall, and corner molding) white like a big band of trim molding but then what do I do with the vertical part that is right in front of you as you come down the stairs -- would that look stupid white?
Somebody help!
Oh, if it makes a difference, the painter is only going to do walls and ceiling - his quote for the trim was unaffordable (because we have so.much.trim and it's currently oil paint so it all needs to be primed before painting) so I'm doing it myself. So anything that makes for less edging for me gets bonus points! (Also, that's why the "crown molding" part looks kind of discolored in the pics - I had started to prime it, then wondered if I should be painting it the wall color or the trim color and then I just got more confused the more I looked at the whole area!)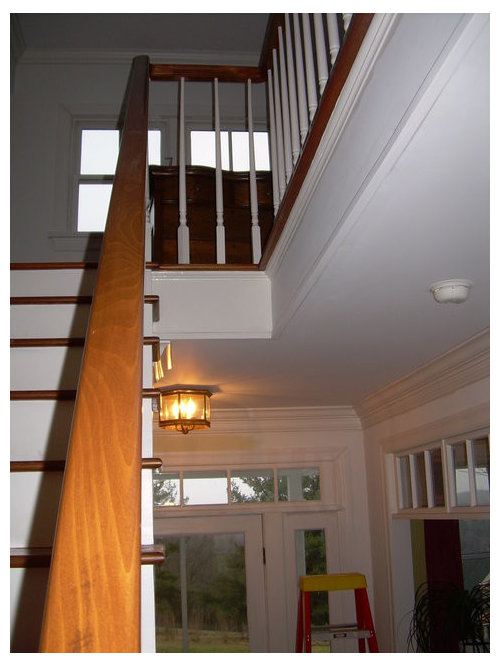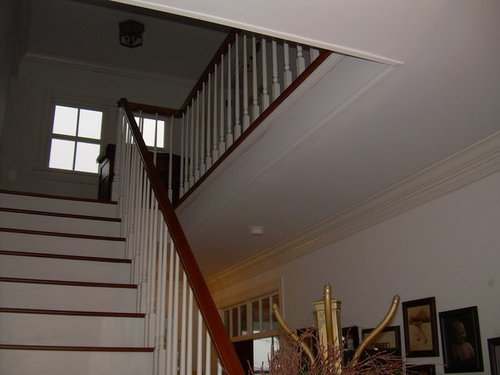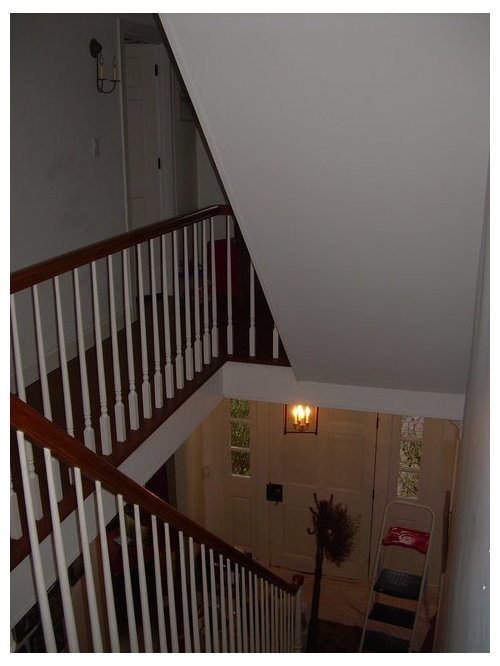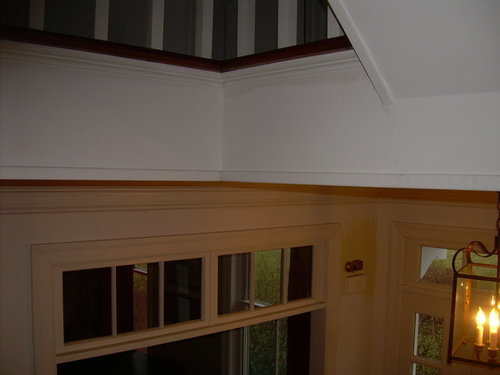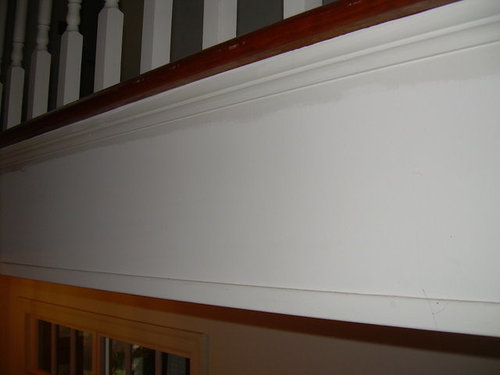 Loudoun County's Custom Kitchen & Bath Designs for Everyday Living