MOPTOP / Mop Top - Robinia Umbraculifera Dying or Stres
Hi!
I have 3 Mop Top trees. One seems to have given up on life. I'm not sure what has happened as I was not home Christmas Day, but noticed on Boxing Day that one of my trees was not well. I have taken the following pictures of it's progressive deterioration (link at bottom).
What I want to know, do you think it has been poisoned or does it look stressed? Not that I can do much now, but try and care for it the best way possible.
I thought if it had been sprayed with poison, that the surrounding plants and grass would have some sort of deterioration too from wayward drops or something. I have noticed that the stake has signs of disturbance too (pic 05) so I don't know if someone has maybe tried to pull it or have fallen against it...
I have been watering it day and night since it happened with a bucket of water in hope that it will pull through. :(
It was looking so luscious too!!! It's all happened within a few days too...
TIA
Loz
Image link: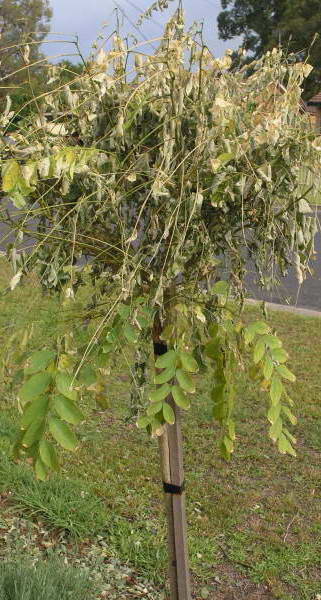 Here is a link that might be useful: Progressive Deterioration Pix