Bleeding Heart Vine location
Hello all,
I have a bleeding heart vine which I purchased about 6 weeks ago, and it doesn't seem to be doing well. Its planted at the bottom of the trellice, and I had high hopes of it eventually climbing up it. The area in question gets very hot as its enclosed by high walls on 3 sides, but despite its openness, all along the bottom of the chocolate wall is permanently in the shade.
I also want to cover that rusty hideous clothes line, so yesterday I put 2 planter boxes up there, but was looking at suggestions of what to put in the to cover it up. I had envisioned some colourful trailing plants, that have nice flowers that flower every year and can stand hot ambient temps, but virtually in shade all day.
I'm not much of a Gardener as this is the first attempt at creating one :-) Any suggestions for the planter boxes would be appreciated.
Thanks Chris Morgan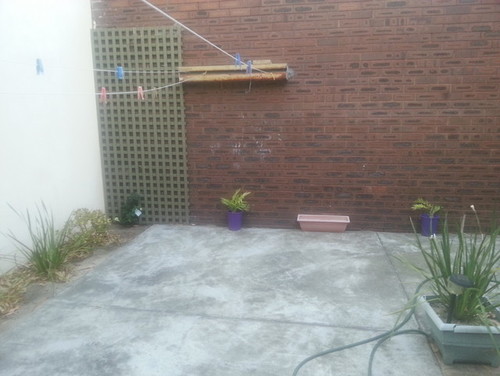 This post was edited by monarols on Tue, Jan 7, 14 at 4:37