My sad bleeding heart vine
Hi all. I bought this Bleeding heart Vine plant from a well known nursery about 6 weeks ago. Despite being full price, it was the best of a bad bunch, in that they all looked liked they had been eaten. Being attracted to the plant, I asked if it would grow in shade, and according to the sales lady, she said it would. Its been in the ground about a month, has had red and off white flowers on it, but it doesn't seem to be growing and the chomp marks seem to be getting worse. So to my question, is it not growing because the poor thing is being eaten alive? or is it because of its location? or am I being impatient?
I will post another pic of where it is in my (developing) garden in a post above as I had another question :-) Thanks for any help!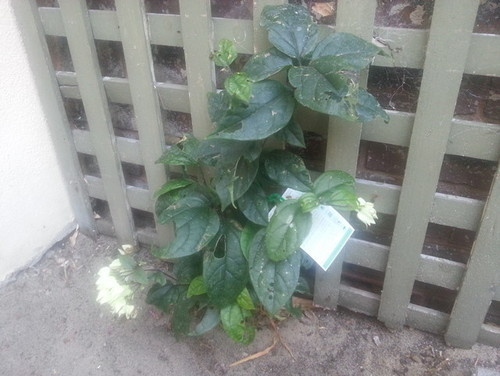 This post was edited by monarols on Tue, Jan 7, 14 at 4:36