Welcome to vjhale's Member Page
See my Clippings See my Journal See my trade list Send me an email
My husband and I purchased 12 acres on a small lake in Michigan in the fall of 2001. Were working on incorporating some trails and "park areas" into the natural beauty of the wooded property. Up until then we had only done "urban" gardening and now we find ourselves up to our armpits in a HUGH project.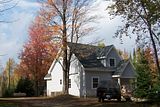 Its hard to believe weve been working at it for 5 years already. Weve been slowly adding a view of the lake, the cottage is up and were working on the interior. The first of several planned flower beds is in and we have a path to the dock. Weve added blueberry, raspberry and blackberry bushes and apple trees (one of which was chewed down by a beaver), and started grooming an area for a future vegetable garden. Just a tiny project for our retirement - HA! What were we thinking! Lots of fun AND lots of work!


PERENNIAL PLANT LIST - Rose Lake
Updated 6-25-07 (this is not a trade list - its just for me to keep track of whats growing)
Someday Ill finish the list, fix the mistakes and add the latin!
ADENDAFOLIA CONFUSA

AGASTACHE
Giant Purple
Anise Hyssop
Golden Jubilee

AMSONIA

AQUILEGIA
Winky
Unknown-several
Granny Bonnets-pink
Purple
Nora Barlow-pink

BALLOON FLOWER
White
Blue

BERGENIA
Redstart

BIG BETONY

BLOODROOT

BUTTERFLY BUSH
Purple

CAMPANULA
Glomerata
barbata
carpatica - blue clips
punctata-wedding bells
--white w/maroon spots, dbl
punctata-cherry bells
punctata-deep purple 2" bell takesimani
--white w/maroon spots
percicafolia
thrysoides

CATNIP
Lemon scented
Unk

CHECKER MALLOW

CHELONE
Pink

CLEMATIS
Purple?

CLETHRA
Hummingbird Daisy or Rosea?


DIANTHUS
Pinks
Unk-several

DICENTRA
Exima - king of hearts

DIGITALIS
Grandflora-yellow
Snow Thimble
Shirley
Purpurea-mix
Unknown-several
Lutea-straw

DASISTOMA MACROPHYLLA

DUTCHMANS PIPE VINE

ECHINACEA
Simulata-cream
Hula Skirts
--2 colors
White Swan
Purple
Ruby Star
Prima Donna
Kims Knee High

GOATSBEARD

GOLDEN MARGUERITE

HELIOPSIS
Summer Sun

Lorraines Sunsine - vareigated HENS AND CHICKS
2 unknown

HIBISCUS
unknown

HUECHERA
Palace Purple
Coral Bells/green leaf
--long stem light pink flwr
Coral Bells/green leaf
--short stem bright pink flwr

HYDRANGEA
Oakleaf

IRIS-psudocorus (yellow)
Native Blue
Siberian
Blue

JACK IN THE PULPIT

JACOBS LADDER
White
Yellow


LADYS MANTLE

LAMIUM
Yellow

LAVENDER
Vera
English
Lady

LIGULARIA

LILY
Candy
Tiger

LILY OF THE VALLEY

LOOSESTRIFE
Variegated leaf yellow "Alexander"

LUPINE
Sunrise
Unknown pink

LYCHNIS VESUVUS

MAYAPPLES

MINT
English

MONARDA
Pink
Red
Lambda

NINEBARK

OBIEDENT PLANT
pink and purple

PAINTED DAISY
James Kelway

PAPAVER-Oriental
Royal Wedding
Orange
Pizzacato
P. Icelandic
Orange
yellow w/red specks

PEARLY EVERLASTING

PENSTEMON
Hirtus Pygmaus
Digitalis
Digitalis "Husker Red"
Violet Dusk

PHLOX-Creeping

PLUME POPPY


SAGE
salvia officinalis

SEA HOLLY
Unknown

SHASTA DAISY
(2) Unknown

SOAPWORT

SOLOMONS SEAL

SPIDERWORT
Purple

STRAWBERRY PLANT

RED HOT POKER

TOVARA

THYME
creeping (thymus serpyllum)

TRICYRTIS
hirtus
h. moonlight
?. white towers
maculata

WILD GINGER

YARROW
Apple Blossom
Cherise Queen

WILD NATIVES
Pink Ladies Slippers
Yellow Ladies Slippers
Rattlesnake Orchid
Bunchberry
Trillium-white/yellow/red
White Baneberry
Low Bush Blueberries
Birds Foot Trefoil

TREES/SHRUBS ADDED
Beechnut
Cherry Birch
PawPaw
Ninebark
Button bush
Apples (2)

PERENNIAL PLANT LIST - Hazel Park
Updated 6-25-07 (this is not a trade list)
ACONITUM
Several unk

AGASTACHE
Cana - red
Sunset hysop

AQUILEA
Flatabella alba
Roman Bronze
Purple
Yellow Star
Woodside Var
Beidemeier
Maroon Granny Bonnets
Blue&White
Long spur all white
Medium spur creamy white
Nora Barlow-double pink

BALLOON FLOWER
Sentimental Blue
White
Blue
Dwarf
Pink
Double

BAPTISTA AUSTRALIS
Blue False Indigo

BLEEDING HEART

BLUE EYED GRASS

BUTTERFLY BUSH
Purple

CAMPANULA
Persicafolia Blue & White
Carpatica - blue
Collina
Trachilium
Takesimani
Punctata

CHELONE lyonii
Pink

CHRYSANTHEMUM
purple
Pink single




CLEMATIS
Viticella type - purple
Sweet Autumn

COMPASS PLANT

DAYLILY
Barbara Mitchell
Avant Gardener x ?
Miss Jessie x ?
Unk.
High on Purple

DELPHINIUM
Magic Towers - white/black bee & violet-blue/white bee

DIANTHUS
Carnations - pink and salmon
Double Gaiety - mix
Sooty
Bath Pink

DIGITALIS
Straw lutea
Grandflora-yellow
Purpurea

ECHINACEA
Simulata
Hula skirts
White Swan
Ruby Star or Magnus
Sunset
Purple

EGYPTIAN WALKING ONIONS

GAS PLANT

GAURA
Whirling Butterflies

GERANIUMS
Visions
Night Reuter
Brookside
Claridge Druce
Johnsons Blue
Bill Wallis
Unk. Red


HEUCHERA
Amythest Mist
Pink Lipstick
Green Spice
Velvet Midnight
Sioux Falls
Dales Strain

HOSTA
Large Blue
Variegated
several others

HYDRANGEA
Nikko Blue

IRIS-Bearded
Maroon
Yellow
Maroon/yellow
Blue
Purple/white
Water
Yellow

LIATRIS
Purple

LILY
Orange
Orangy-red

MALLOW
Unknown - mauve

MONARDA
Wild Bergamot
Red - Jacob Cline?
Pink
Spotted
Citrodia

MORNING GLORIES
Purple and Magenta
Milky Way

PENSTEMON
Hirtus Pygmaus
Barbata (elfin pink?)
Smalli
Strictus
Dwarf pink
?


PEONIES
White double
Deep Pink double
Single Light Pink

PHLOX-pink

POPPIES-ORIENTAL
Deep Orange
Pizzacato - mix
Royal Wedding
ICELANDIC
Soft Orange
Yellow

PRIMULA
Vulgaris-Brown
Veris (cowslip) Yellow

QUINCE
PINEAPPLE
American

RED HOT POKER

RUDBECKIA
Goldsturm
Triloba

SEDUM
Golden Acre
Spurium

SCABIOSA
Butterfly Blue

SCUTELLARIA
Orientalis-yellow

TELLIMA

THYME
Creeping

TRICYRTIS
hirtus
h. moonlight



GROWING OUT IN POTS
Updated 10-25-06 (this is not a trade list)
ANDROSACE

CLEMATIS
Freemonti

DODECATHEON

HOLLY
Merry Berry


LILY
Oriental
Asiatic
Other

PAW PAW TREES

PLATYCODON
Axminster Streaked


RATTLESNAKE MASTER

POLEMONIUM
Stairway to Heaven
Purple Rain


SPRUCE TREES
Black
Blue
Red
White

WISTERIA

Winter sowing milk jugs without tape - they stay shut by themselves!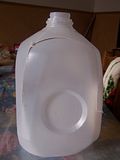 I live in: United States
My zone is: z5 MI
First registered on September 14,2001.