Welcome to todd_in_texas's Member Page
See my Clippings See my Journal See my trade list Send me an email
Page Updated 6-14-08: USDA Zone 8A.
I grew up in the frozen tundra of Wisconsin "Ja Der Hey" and truly miss good "squeeky" Wisconsin cheese curds. However we still enjoy beer-boiled brats grilled on the Weber from time to time.
Ive also lived in Kansas, Ohio and beautiful mountainous Colorado before moving down here to hot and humid Texas. In addition to my family, our home and our yard, I enjoy SCUBA diving, downhill skiing, four-wheeling in our modified Jeep and smoking meats with pecan and hickory woods.
We work in downtown Dallas but currently live in Mesquite in far east Dallas County. When we bought our first house June 2003 our Bermudagrass lawn was thin, bare in some places and riddled with about every weed in the book. I wish I had a "before" picture.
Some of the products we apply to our lawn and garden are:
* Corn Gluten Meal (preemergent & fertilizer)
* Cornmeal (fungicide & fertilizer)
* Cottenseed Meal (fertilizer)
* Cracked Corn (fungicide & fertilizer)
* Alfalfa Pellets (fertilizer)
* Dried Molasses (instant microbe food source and fireant deterrent)
* Greensand (iron, potassium & trace minerals)
* Soybean Meal (fertilizer) not pictured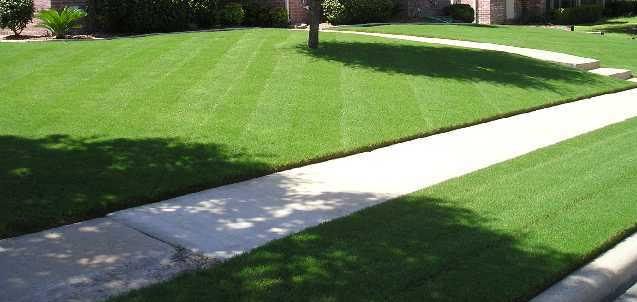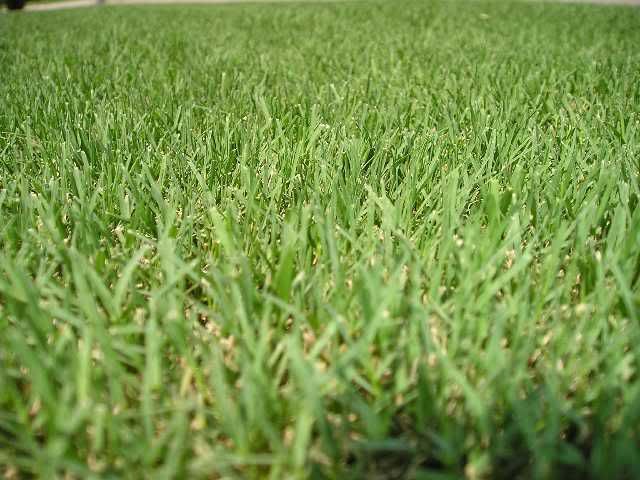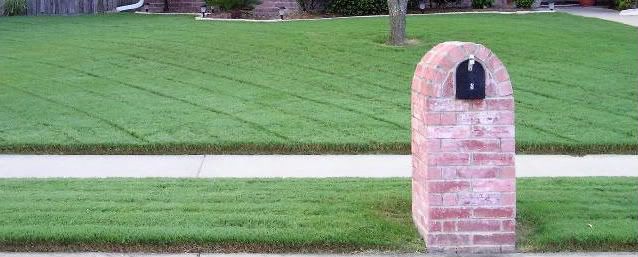 I enjoy taking care of our lawn and have had some decent luck with it thanks to the wealth of information provided by members of GardenWeb. In addition to the protein based feeds we use on our lawn/soil, weve had good results with Corn Gluten Meal preemergents, Cornmeal fungicides and Molassess to get the soil going and to deter fireants. Thanks.
Weve also been growing 4 palms trees, 2 cycads, several banana trees (musa) and some flowers in our front and back yards which Ive detailed some below.
Weve just planted our first set of banana trees this past Spring which are cold-hardy Japanese Fiber Bananas (Musa basjoo) and are identified here in a July 2005 image below. I made a mistake and planted them in mid March and we were hit with a 30F degree night 3-17-05 which has really stunted their growth this year. The pups are almost bigger than the original pseudostems. Next year I hope they fill in. (August 2005 image):

Some Cannas (Canna x generalis?) with a Musa basjoo on the far left in August 2005:

This is our first Sago Palm. (Cycas revoluta) This hardy Sago spent its first 4-5 years with us unprotected in a small pot on our 2nd story old apartment balcony. It survived there almost unwatered through hot summer droughts, 4" snow storms, several ice storms and many hard freezes. I even tried to kill this cycad by cutting off all its fronds and storing a small round Weber grill ontop of it for several months but the Sago just grew around the grill and kept growing. In Spring of 2004 we planted it in our front yard in our first house where it has since grown considerably. Im sure its much happier now planted in the warm earth as compared to the unprotected exposed soil in the pot. We have two planted outdoors. (August 2004):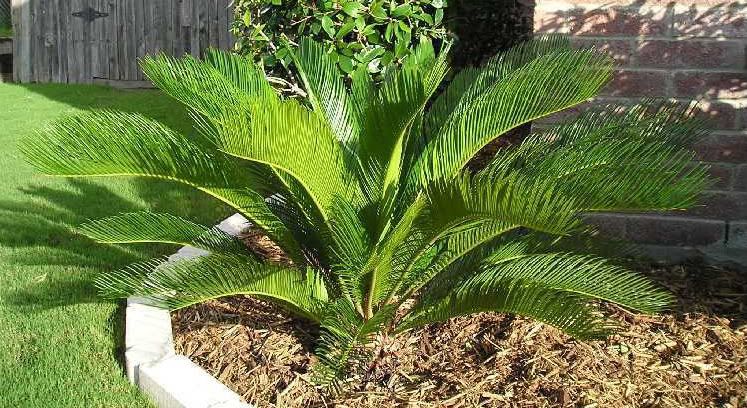 A picture of two Trachies we have in the back yard. (June 2008):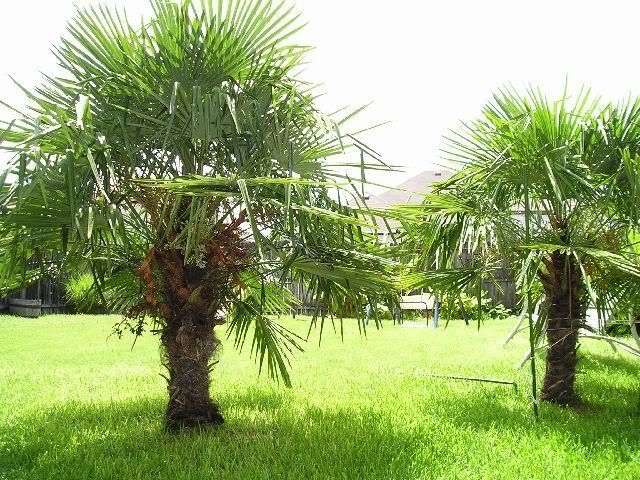 One in the front yard. (June 2008):

Weve also finally started a garden and are growing hot peppers such as long red cayennes, jalapenos, red chilies, and habeneros. We love spicy food and nothing beats a fresh hot pepper from your own garden. (Its small but its a start!... Aug 15, 2005)

Some peppers I picked recently:

We also have a few Blood Bananas (Musa zebrina) which we used to keep in pots. When "winter" came around the zebrina leaves turned brown so wed chop them off and store the pseudostems in the garage for the winter. This spring we planted the main pseudostem in the front yard and placed the potted ones nearby. (September 2005):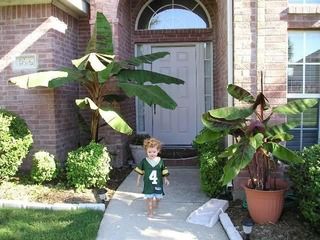 We also have a Bird of Paradise Palm (Strelitzia nicolai) that we keep in a pot so we can bring it indoors during the winter. Its not very hardy at all.
Our first official freeze last winter here in Mesquite TX was 12-1-04 at 30F. The coldest nights here were on 12-23-04 and 12-25-04 when it got down to 19F degrees both nights. However, we did have 21 total nights where the temperature was 32F or below.
Lastly... heres our favorite thing growing... (May 2008)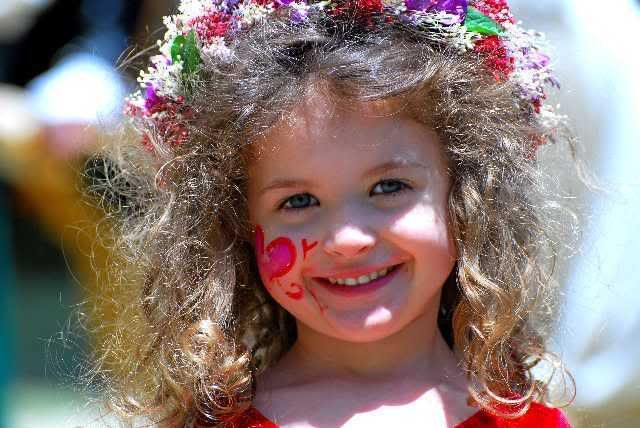 Feel free to drop me an email using the link at the very top left of this page.
-Todd
My zone is: Zone 8A Dallas
My Birthday is November 23 .
My favorite forum 1 is Lawn Care.
My favorite forum 2 is Palms & Cycads.
First registered on November 08,2003.