Welcome to texaspuddyprint's Member Page
See my Clippings See my Journal See my trade list Send me an email
** PLEASE DO NOT REPRODUCE OR USE ANY OF MY PHOTOGRAPHS WITHOUT MY WRITTEN PERMISSION **


Most of my free time is spent outdoors either in my backyard or out at the ranch. I like trading for plants or seeds of larval host plants to attract moths and butterflies to my backyard as well as the ranch. I occasionally raise butterflies and moths from eggs or caterpillars I find.
Most weekends will find me out at the ranch spending time with my elderly parents, BBQing and enjoying a game of domino or playing cards with relatives who also come spend the weekend at the bunkhouse to get away from the hustle and bustle of the city.


I often walk or putter around on the golf cart - looking over about 200 hundreds acres of native brushland in search of butterflies and birds to photograph as well as check over the native plants and weeds that are larval hosts looking for butterfly eggs or caterpillars.

I also enjoy doing international trades for plants and seeds I cannot find in the United States.
I have several albums of butterfly and moths photographs showing the adult plus some eggs, caterpillars and chrysalids/cocoons. Also have an album dedicated to miscellaneous caterpillar cages and reptariums for those interested in raising and releasing butterflies and moths. Please have a look-see at my Community Webshots page:

http://community.webshots.com/user/TraylorCatPuddyPrint


A REAL LIFE SUNCATCHER: This little hummie likes to perch on the copper wire/colored marble suncatchers I have hanging from my backporch eaves. Am trying to catch it perched on an 'angel' decoration I have...hopefully I will get that photo soon.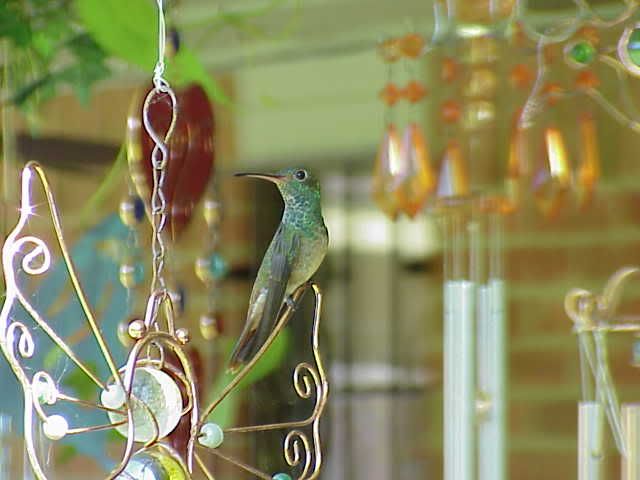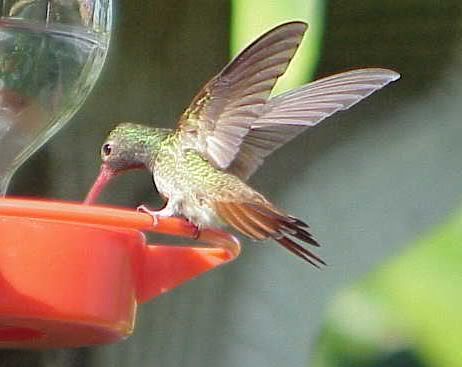 * * I HAVE MORE PHOTOS OF HUMMINGBIRDS AND FEEDERS I MADE AT THE BOTTOM OF THIS PAGE * *
Howdy Ya'll,
First off: If you don't get email back from me or haven't received my trade - PLEASE email and remind me!!! :o) I make a shipping label when I get your address - and I write your want list on the back of that so I know what to pack (I also keep an notebook of all my transactions by email address and I also save emails records on my computer) - but on some days I don't even turn on the computer. Sometimes I work graveyards and snooze during the day (that means I'm not getting out of the house to drive to the post office) or I pull double shifts - it might take me a couple of days to get back to you.
Just please, PLEASE...remind me and I'll do my best to make sure the trades go smoothly. Oh, and I recycle bubble padded envelopes for my seed trades.
Now, secondly...here's a few cute pics of my furry kids. The two smaller ones are very lovable rescue dogs. TESSYMAROO, a Cocker Spaniel Lhasa Apso mix, is always running around with dirt on her nose that shouldn't be there. "TIPSTER" is a "Terrahua" (American rat terrier and chihuahua mix) who is extremely sneaky! Tipster seems to enjoy hiding toys and dog chewies from Tess and stealing tennis balls from Jack.
The big one was "JACK" - a narcotic detector dog from work. Jack's life was complicated by medical problems. He had several bouts with cancer and kidney complications but he always managed to pull through. He spent his "working years" in a stuffy kennel with about twenty-five other dogs. When our agency retired Jack I brought him home with me. He loved tennis balls and usually had 15 or so strewn all about the house. His eyesight and his health deteriorated but he was always ready to greet me each morning with doggy breath or he'd be at the door when I came home from work with a tennis ball in his mouth :o)
Jack was a great dog and many times I swear he could read my mind. It was hard to let him go but I know he is now free of pain and all the health complications that wore him down. All good dogs go to Heaven...and Jack was one of the best!!!
Jack - 12/27/92 - 05/02/05
-------------------------------------
WE'RE INNOCENT!!! ------------------------------- HMMM, I SMELL LEATHER!!!
Tessymaroo...letting all that fur fly :o)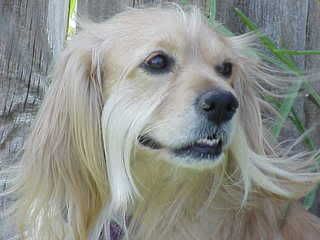 HEY! QUIT IT WITH THE CAMERA ALREADY! I FEEL NEKKKKID WITHOUT MY FUR!!! Tessymaroo with a summer buzz cut -- hard to imagine this is the same dog! :o)

JACK - he loved doing his doggy break-dance routine with a tennis ball in his mouth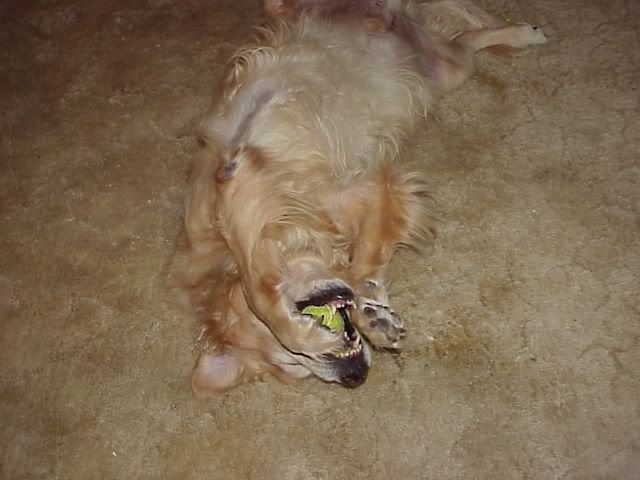 JACK - grinning for the camera

JACK (in his hey days) - collector card edition hero

I live wayyyyyyyy down in the south tip of Texas and recently purchased a home in Edinburg and have been collecting native plants and flowers that will attract hummingbirds and butterflies or are larval hosts. However, I'm always on the lookout for something rare or exotic that will survive in zone 9...that means 100+ degree weather during the summers.
By the way, I'm only 15 miles from the Mexican border. (Yes, they sell liquor with a worm in it and lollipops too! UGH!!!)
I love any flower with huge blooms and also enjoy growing vines. I always try to keep at least a couple of the "rare" yellow morning glory vines (ipomoea ochracea) in the ground. Have been growing those on and off for the several years (No thanks to the fur-faces (dogs) that dug them up numerous times when I planted them in the ground or my lawnmower man who whacked many vine-lings with the weedeater too!)
For now, the vines are very colorful and work great at covering up the security bars on the windows (of my house, that is...No, I don't live in jail! HA! HA!)
If anyone in the area wants to paint a garden mural on the inside of my backyard cedar fence - email me!
Please look at my exchange list if you're interested in trading.
Remember, I am always on the lookout for larval host plants and rare morning glories and anything with big blooms or something unusual (that will survive in zone 9) or plants with huge leaves.
~ Cat ='..'=


Some hummie photos
Cooling off under the sprinkler in the south Texas heat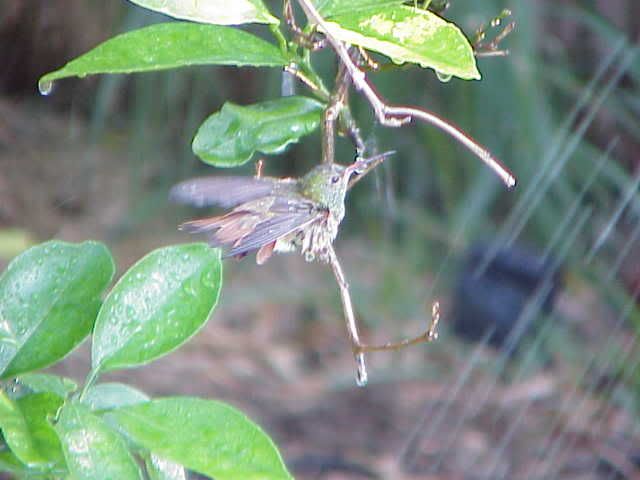 * * * * * * * * * * * * * * * * * * * * * * * * * * * * *
* * * * * * * * * * * * * * * * * * * * * * * * * * * * *
HERE ARE SOME SMALL HUMMINGBIRD FEEDERS I MADE OUT OF RECYCLED INSULIN BOTTLES. THESE HOLD ABOUT 10 ML OF NECTAR AND I HANG THEM FROM TRELLISES AND SOMETIMES SMALL BRANCHES
Here's a hummie guarding the feeders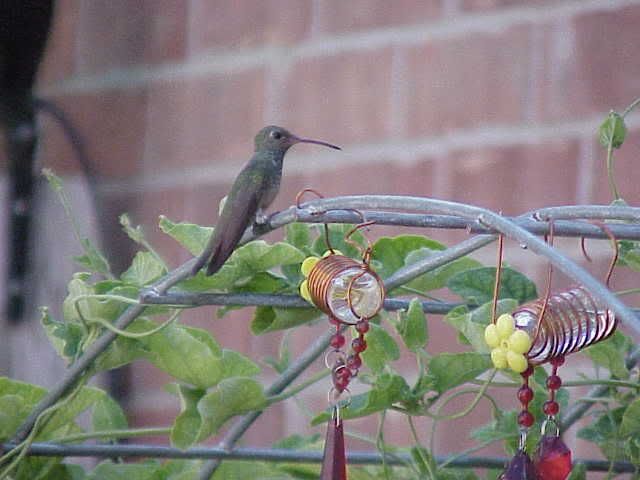 Some photos of hummies feeding from them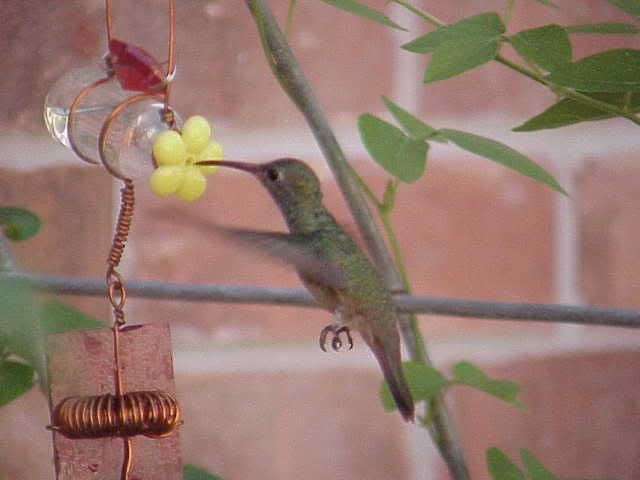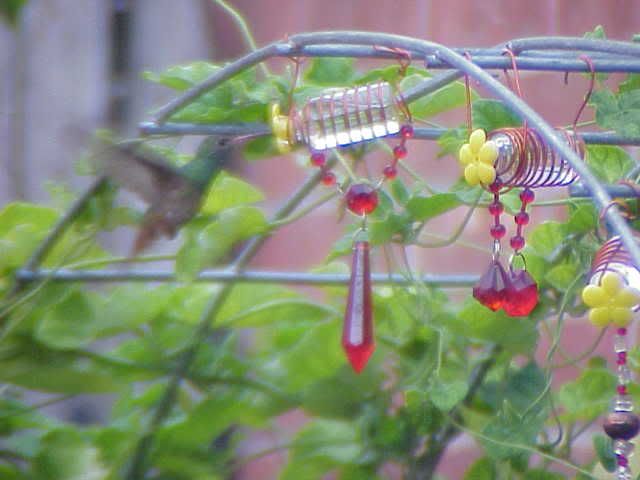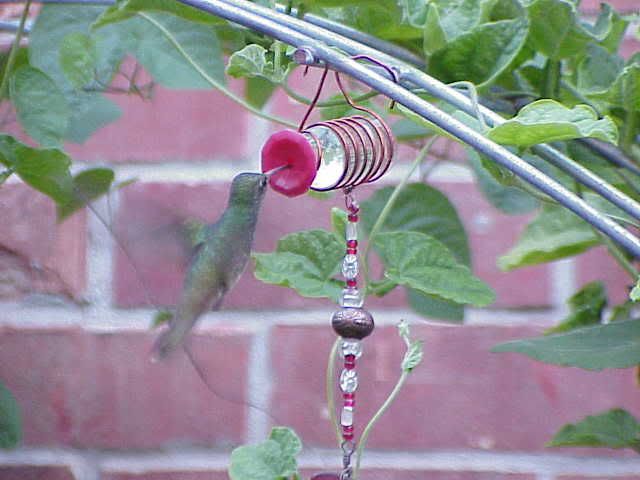 PHOTOS OF HUMMIE FEEDER I MADE FROM A TEST TUBE.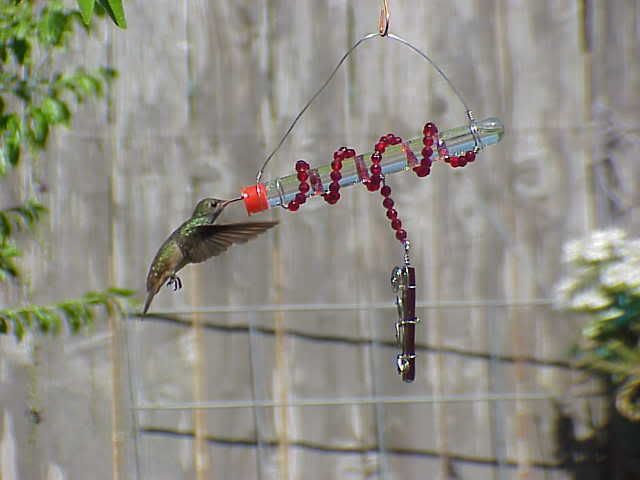 =========================================================
SOME PHOTOS OF THE CATS AND RANCH DOG
PATCHES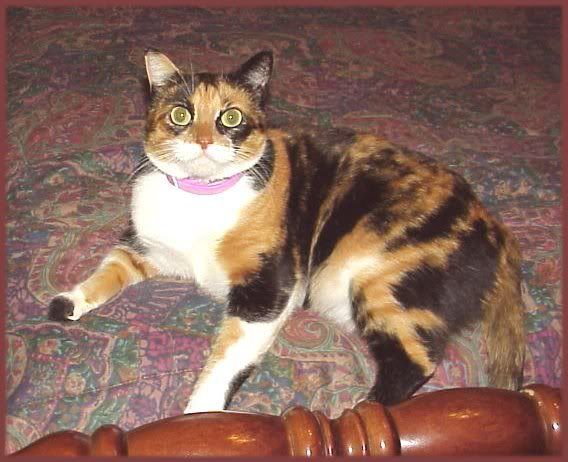 RAGS - fixated with the tub faucet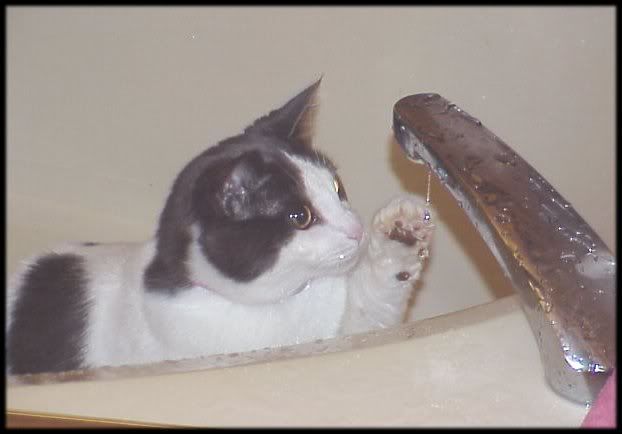 PEPPER - the ranch dog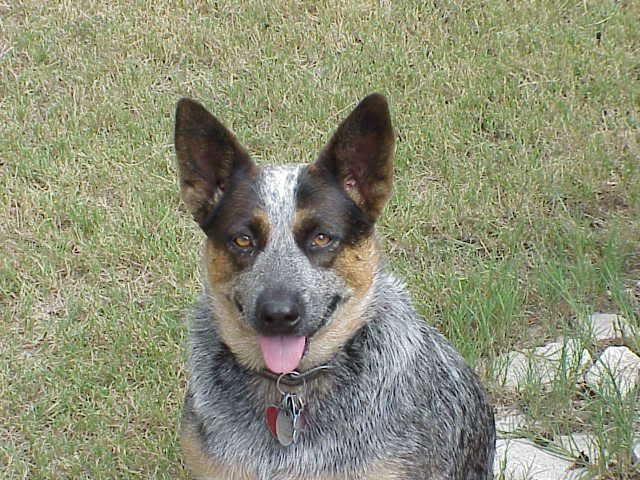 =========================================================

I live in: United States
My zone is: Z9 S Tip of TX
My favorite forum 1 is Butterfly Garden.
My favorite forum 2 is Garden Junk.
First registered on March 16, 2004 .