Welcome to sqlguy's Member Page
See my Clippings See my Journal See my trade list Send me an email
I'm a novice gardener and good amature photographer north of Atlanta Georgia. I first started about 5 years ago. I hauled in some railroad ties to make a little terrace in the front of our very steep sunny hill. I hauled in some topsoil/manure, and mixed it in. It was much better, but not big enough. I ripped out the ties, built a much bigger terrace, and moved the largest plants to the back of the terrace, giving more room next to the walkway. Now I added railroad ties to terrace the back yard, and am also planning to add a second small terrace to the front yard. I prefer bushes, trees, and perenials. (splng optnl on intrnet.) I am trying for as many native plants as feasable, supplimenting with non-natives at times. I prefer plants which will do well without any watering whatsoever, and I have eliminated most of the grass in the front yard, and can't wait to kill all the rest. My goal is to have a pretty much self-maintaining garden by the time I retire, in about 10 years. About the only annual I use is Cardinal Vine. I like sedums, prickly pear, firethorn, yucca of several kinds, Iris, Azaleas, Hollies, daffodils, day lilies, viburnum, bee balm, red sage, blue (fill in blank later.) It's time to decide if I should kill or move my "tame" trumpet vine, and my yellow Carolina Jasmine vine needs to be move somewhere more suitable, perhaps back into the woods or build a trellis. I've got some lady's slippers under a pine tree, and a plum tree, and some western perinals. (I need to learn to spell that word!) I forget all their names. Is there a cardinal sage? I hate my Ornamental Pears. (I forget their name) Their white flowers smell just like rancid grease, to my senses, anyway. I love my beautyberry and my butterfly bush, and wish my blueberry would hurry up and get big, but I won't water it. I have a few other things that are really good for my "lazy" approach, but I can't remember the names now. My main goal is to attract birds, and especially hummingbirds, with a zero maintenance garden. My yard is way too small already, and all my things haven't matured! Sorry, few garden photos at my web site, but hopefully soon.
Here's my favorite photo to date, unfortunately taken on vacation in Arizona. Wish I had broadbills at home!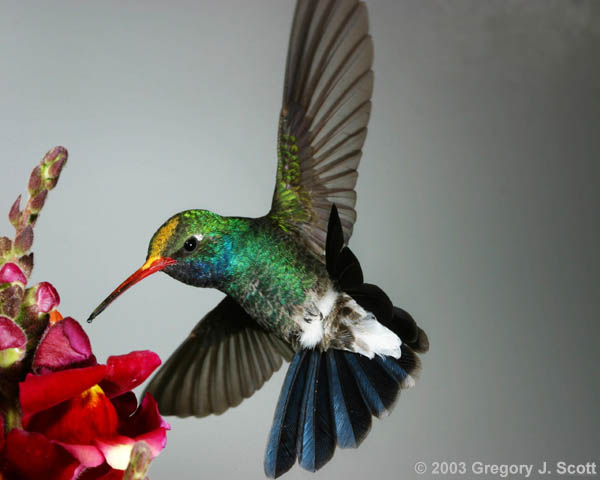 Here's a link to the same bird at much higher resolution. To see it at full resolution, you'll have to click on the "hidden button" in the lower right hand corner of the image, and scroll the window to see various parts of the photo. Check out the eyelashes.
High Resolution version of same photo.

I live in: United States
My zone is: z7 GA
My favorite forum 1 is Garden Photo Gallery.
My favorite forum 2 is Hummingbird Garden.
First registered on December 14, 2003 .