Welcome to skoot_cat's Member Page
See my Clippings See my Journal See my trade list Send me an email
Im a Florida Cracker (or Native) and have been taking care of my lawn without the use of pesticides, herbicides, fungicides, chemicals or synthetic fertilizer since 2005.

I cut out the existing lawn which was a mix of bahia, bermuda, All kinds of weeds and some St. Augustine. We then brought in 6 yards of compost/topsoil mix and spread it about 2" thick over 2000sqft. I broadcasted 100lbs of alfalfa pellets and about 70lbs used coffee grounds. I watered the amendments in for 7 days, 1 hour each evening. Then installed 4 pallets of St. Augustine Floratam, which took about 4 hours with 3 people. A week after the sod was laid I broadcasted 20lbs per 1000sqft of and Organic Fertilizer (Bradfield) which is alfalfa based.


My lawn has been maintained 100% organic every since. I mulch mow at 4.25", Calibrated my sprinklers to apply between 3/4 to 1" of water about every 5-7 days in the middle of summer. I spray Liquid Seaweed monthly and Feed microbes with Alfalfa, Soybean Meal and Corn Meal during the growing season


Ripping out the old stuff.


Had a little helper to spread the compost


And Here it is Today?


4.25" Mowing Height.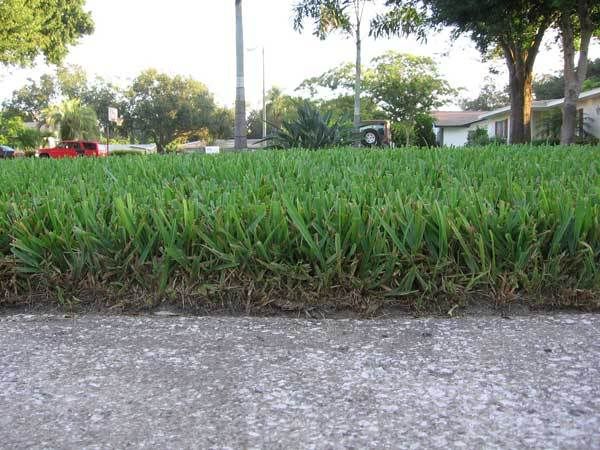 ---
Follow-Up Postings:
I live in: United States
My zone is: Clearwater, FL.
My favorite forum 1 is Organic Lawn Care.
My favorite forum 2 is Lawn Care.
First registered on April 19, 2007 .