Welcome to mwedzi's Member Page
See my Clippings See my Journal See my trade list Send me an email
Everything I grow, I grow indoors because I live in an apt. There is a west-facing stairwell that I could put plants on, but people steal things outside (isn't it awful?), so everything just stays indoors. I have many houseplants and a 4-foot long, 21-inch high glass aquarium that doubles as a terrarium and a coffee table. I also grow under flourescents.
I've started a Yahoo group for houseplant lovers in the Chicago area, so that I have other plant people to do plant things with. It is called the Chicago Houseplant Society. Please check the link below.
I live with a fish (usually called "Fishy"), and a grey (blue otter, technically) rabbit named Enif (usually called "Bunny"). I know have another bunny. This one's a girl and she's named Toki (which is just "Rabbit" in Korean). Hey, I'm not very creative with pet names.
Bunny under scheffelera: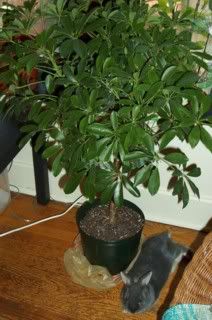 I live in: United States
My zone is: chicago
My favorite forum 1 is House Plants.
My favorite forum 2 is Gesneriad.
First registered on March 24, 2003 .