Welcome to michiganalice's Member Page
See my Clippings See my Journal See my trade list Send me an email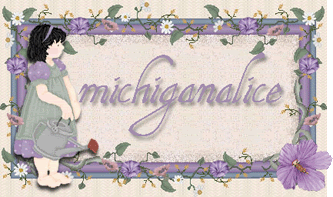 Of all my many hobbies, GARDENING IS #1.
I'm a true SEED-A-HOLIC, always looking at plants for any ready seeds.
I have really enjoyed trading, everyone is so nice and willing to share.
The most important things I've learned here, besides how to properly ship a plant cutting, is
1) To "pay it forward." Everytime a member does something nice for me, I turn around and do something nice for another member. Or, I just do something nice on my own.
2) To carry ziploc baggies in my purse.
3) To ask for help.
I accept trades and SASBE (if I have enough of the seed)....
That's about it from here in Michigan.



I live in: US
My zone is: Z5 MI
My favorite forum 1 is Seed Exchange.
My favorite forum 2 is Round Robin Exchange.
First registered on April 13,2004.