Welcome to lilaclily's Member Page
See my Clippings See my Journal See my trade list Send me an email
2009 marks our 6th year in our new home. Well, I guess its not so new now! To think that when we first moved here, all I had was 2 rosebushes and some tall garden phlox. There used to be nothing but lawn and now there is hardly any lawn left, and that suits me just fine.

Im a very patient gardener, and I actually prefer growing most everything from either seeds or cuttings. I especially love it when people share their plants with me, and can remember from who and where most every shared plant came from! I think sharing is awesome because you not only inherit a plant but a piece of its history. For example, I love sharing my forget-me-nots because it originated from my mothers house, where it has been growing for over 30 years.

To say I am passionate about gardening would be an understatement. My brother jokes that its because we come from peasant stock who have tilled the soil for many generations back. That may very well be, however my ancestors grew potatoes whereas Im a sucker for an English rose, an Oriental lily, and an overall cottage garden theme!!
A few pictures of some of the wonderful things I grow:
A color riot!!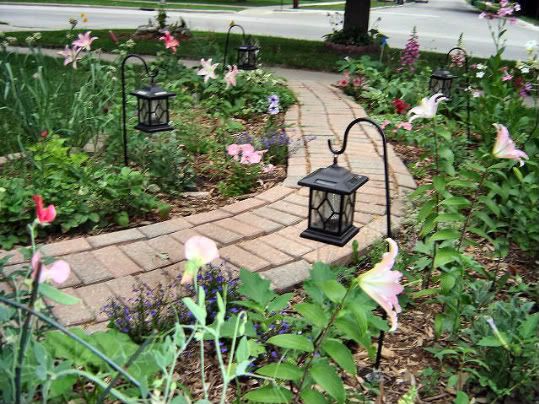 This (above) was the front walkway in 2007. The path and edging were done with bricks that were being given away for free. The grass you see on either side is now gone and both sides are great big garden beds. Here they are at the end of April 2009, when things are just starting to wake up:
My brindle pug Fatty stopping to smell the flowers:
I only have room to overwinter 2 brugs, but this is Cuba, in only his 2nd year of flowering:
A better shot of my $2 Wally World clematis:
My favorite pink lupine growing next to an Eglantyne rose:
This is my favorite English rose - Crown Princess Margarita. She loves to bloom!
I once asked RaggedyAnn161420 "Why do you collect hostas, dont they look all the same?" She was quick to set me straight! I have to say that almost every hosta in my hosta bed has come from her:
Another shot of Annies hostas, happily living with me!


My favorite thing about gardening? The vases full of bouquets, of course!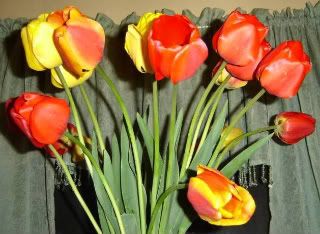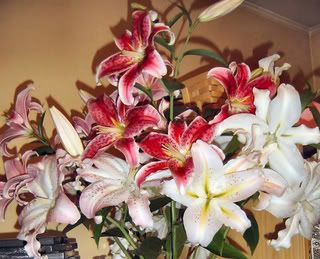 I live in: United States
My zone is: z5IL
My favorite forum 1 is Roses.
My favorite forum 2 is Rose Gallery.
First registered on April 24,2004.