Welcome to krensgarden's Member Page
See my Clippings See my Journal See my trade list Send me an email
Hello! I'm Karen and along with my husband Carl, our sons, Joel and David, we are addicted to gardening. We live in Wisconsin on a ten acre lot on the family farm which I grew up on. Our gardens are varied; we have 500+ varieties of hostas, (that was the first addiction), and a formal sunken garden with a homemade gazebo. We also have many daylilies, perennials, trees, too numerous to mention. I am an annual nut and start around 2000-3000 annuals from seed every spring. Included in this eclectic garden is a quarry garden we've been working on for the last 3 years. This has been our largest project to date, involving over 500 tons of very large limestone and more blood, sweat and tears than any other thing we've tackled.
We operate on a shoestring budget, I am a stay-at-home mom. As a family, we work on the gardens and do all of the work ourselves except for the pond excavation which we bartered for. The quarry garden is still in progress; we figure about another year or two might get the rocks in place. Our equipment consists of two small vintage tractors and a tiny antique 1920's car wrecker remodeled into a little crane for lifting the stone. Final placement of stone is done by hand with crowbars. When (and if) this job is done we will feel a let-down, it was the most fun so far.
Carl is a metal fabricator and loves to collect junk. He can always see another use for scrap metal as material for garden art or equipment. As the piles increase, I sometimes have trouble envisioning why we keep it all, which sometimes leads to loud discussions here! He does have a gift of foresight, though. Our sons are both teenagers and we owe them a great debt of gratitude for their hard work. Carl and I are both in our late 40's and hope to live long enough to see the gardens evolve. (and the piles of junk diminish!)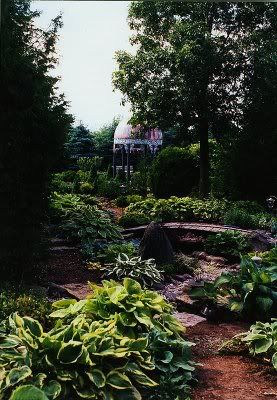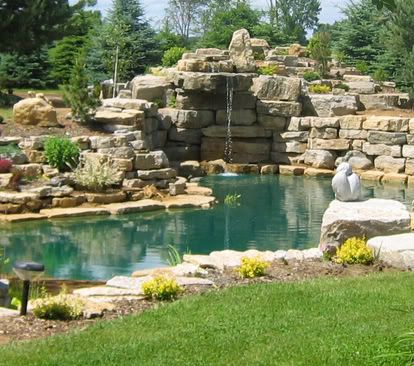 A link to more photos below:
http://community.webshots.com/user/krensgarden
I live in: United States
My zone is: z4 WI
My favorite forum 1 is Gardening with Stone.
My favorite forum 2 is Ponds & Aquatic Plants.
First registered on September 21, 2004 .