Welcome to hostabuff's Member Page
See my Clippings See my Journal See my trade list
I am a converted hosta Lover. Once upon a time I did not like hosta (I know, can you believe it?). Then I went on a garden tour and one of the homes featured about 150 varieties. I spoke to the owner that day and she invited me back. Three days later I visited again with paper and pen in hand. I made my first list of must haves and she suggested all the "great" spots to shop for hosta throughout New England. I was off and running.
My new home was a bare canvas when I arrived seven years ago. The first year I built a large perennial border which includes my poppy, daylily, and allium collections. These pics were taken in June and August:
In year two the shade gardens began to evolve and grow...and grow. I hit 104 hosta in September 2006! Here is an overhead view of some of the hosta gardens: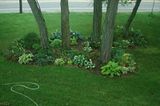 I love hunting for the unique hostas on my "must have" list. My favorite hostas are all the blues, plus I love the minis. This year I am adding smaller hosta and ruffled edges.
I am on a mission to educate the world about Hosta Virus X. I keep plenty of handouts in the car when I travel to garden centers...just in case I see....which is becoming more frequent of late.
I have two children in college and a husband that digs garden beds, does laundry and cooks. Life is good!
I live in: United States
My zone is: Zone 6a MA
My favorite forum 1 is Hosta.
My favorite forum 2 is New England Gardening.
You can visit my home page at http://www.incitegardening.com.
First registered on January 05, 2006 .