Welcome to down_and_dirty's Member Page
See my Clippings See my Journal See my trade list Send me an email
I passionately grow roses, daylilies, clematis, perennials and annuals. Many of the flowers I grow I use for cutting. I have over 4000 bulbs planted, and I add a few every year. I am a dedicated square foot gardener and also grow a small orchard--9 fruit trees espaliered (4 apples, 1 pear, 3 peaches and a sweet cherry) I have a 6 1/2 x 11 foot pond with a waterfall--goldfish and plants. I compost :').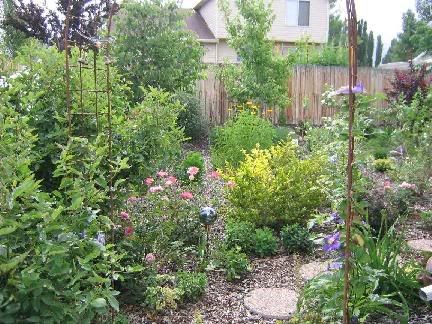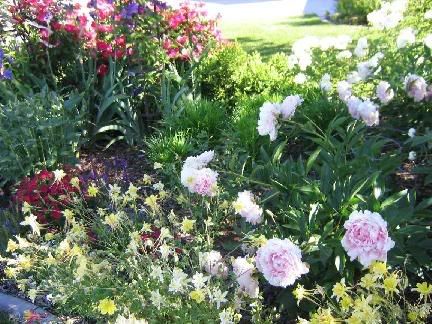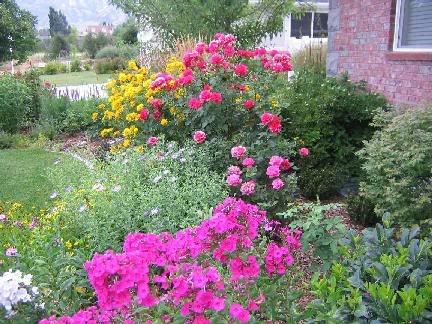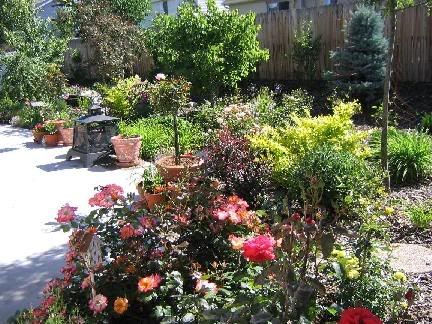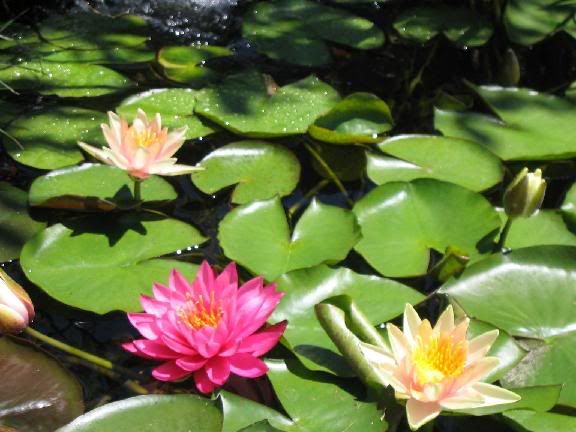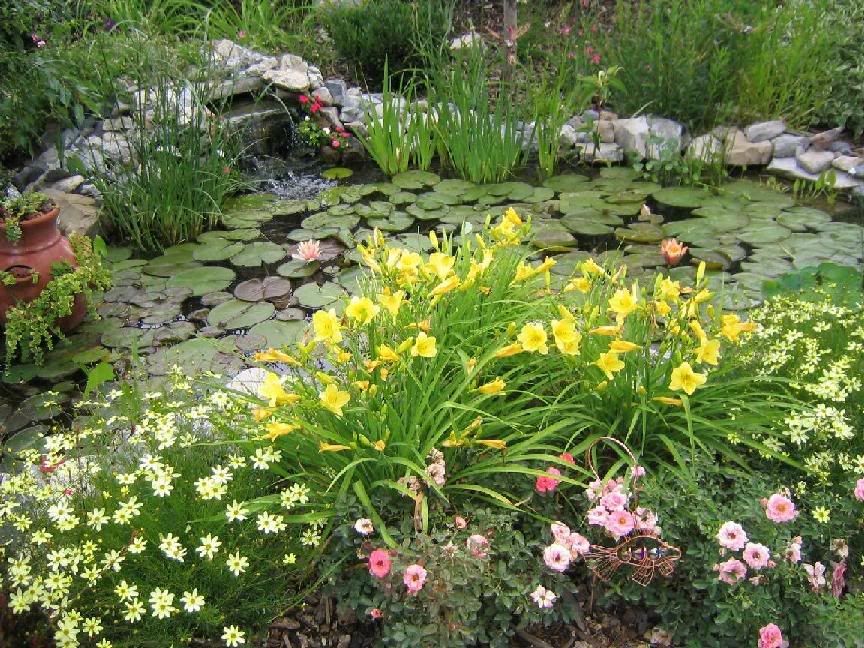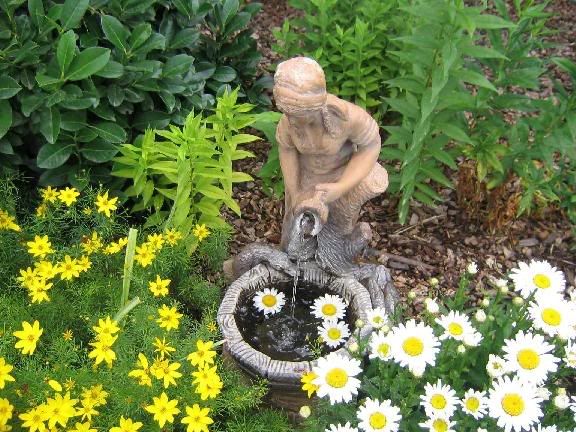 Rose List--I get away with having a completely no spray garden because I live in a hot, dry, climate. All my roses are watered with an underground drip system. I alternate feeding with Ortho rose food and alfalfa tea. No winter protection.

To see my latest rose pictures use this link: http://photobucket.com/albums/v117/downanddirty/Roses/

Hybrid Teas:

Brides DreamHybrid Tea20048.1 ARS
CabanaHybrid Tea2004-7.4 ARS
Chicago PeaceHybrid Tea20017.6 ARS
Chrysler ImperialHybrid Tea20057.5 ARS
Dainty BessHybrid Tea20038.5 ARS
Diana, Princess of WalesHybrid Tea20037.6 ARS
Double DelightHybrid Tea20048.5 ARS
Elle-Hybrid Tea-2005
Fragrant CloudHybrid Tea20018.1 ARS
GeminiHybrid Tea20018.0 ARS
HeirloomHybrid Tea20016.9 ARS
Jadis (Fragrant Memory)Hybrid Tea20017.1 ARS
Just JoeyHybrid Tea20048.0 ARS
Lemon SpiceHybrid Tea20047.3 ARS
Love and PeaceHybrid Tea2003--7.6 ARS
Mister LincolnHybrid Tea20018.6 ARS
PeaceHybrid Tea20038.2 ARS
Pink PeaceHybrid Tea20037.0 ARS
Radiant PerfumeHybrid Tea2004
TiffanyHybrid Tea20017.8 ARS
Touch of ClassHybrid Tea20019.0 ARS
TropicanaHybrid Tea20057.7 ARS
Voodoo-Hybrid Tea-2006-7.2 ARS
WhisperHybrid Tea2003
Yves PiagetHybrid Tea20047.8 ARS

Floribundas:

Angel Face-Floribunda-2003-7.8 ARS
Betty BoopFloribunda20018.1 ARS
Betty PriorFloribunda20048.2 ARS
Bill WarrinerFloribunda20017.8 ARS
DisneylandFloribunda2005
EurekaFloribunda2005
Grand PrizeFloribunda2004
Honey PerfumeFloribunda2004
Hot CocoaFloribunda2003
IcebergShrub/Floribunda20008.8 ARS
Julia Child-Floribunda-2006
Marmalade SkiesFloribunda20017.7 ARS
Miss BehavinFloribunda20017.2 ARS
Nearly WildFloribunda20037.6 ARS
NicoleFloribunda20048.9 ARS
Our Lady of GuadalupeFloribunda20048.1 ARS
Purple Tiger--Floribunda-2006 Sexy RexyFloribunda20018.7 ARS
Simply Marvelous!-Floribunda-2003-7.2 ARS
SunspriteFloribunda20038.5 ARS
ValentineFloribunda2004-6.3 ARS

Grandifloras:

About FaceGrandiflora2005
ArizonaGrandiflora20037.8 ARS
Crimson BouquetGrandiflora20017.9 ARS
Fame!Grandiflora20008.1 ARS
Queen ElizabethGrandiflora20037.7 ARS
SolitudeGrandiflora20007.2 ARS

Shrub Roses:

Belindas DreamShrub2005-8.4 ARS
Bonica 82Shrub20008.5 ARS
Distant DrumsShrub/Buck20048.0 ARS
KnockoutShrub20008.6 ARS
Lady Elsie MayShrub2005
Out Of YesteryearShrub2004

David Austin English Roses:

Abraham DarbyEnglish20037.8 ARS
Belle StoryEnglish20048.6 ARS
Cottage RoseEnglish20007.2 ARS
FalstaffEnglish2004-7.4 ARS
Gertrude JekyllEnglish2003
Graham ThomasEnglish20038.2 ARS
HeritageEnglish20038.3 ARS
Jude the ObscureEnglish20038.0 ARS
L. D. BraithwaiteEnglish20037.9 ARS
Lilian AustinEnglish20048.4 ARS
Mary RoseEnglish20048.3 ARS
MolineuxEnglish2003
Pat AustinEnglish20037.7 ARS
Pretty JessicaEnglish20048.0 ARS
Sharifa AsmaEnglish20047.9 ARS
Sophys RoseEnglish20048.0 ARS
TamoraEnglish2003
Tess of the DUrbervilles-English-2005-8.2 ARS
The HerbalistEnglish20048.0 ARS
William Shakespeare 2000English2004-7.7 ARS

Climbers:

Dream WeaverClimber20047.9 ARS
Fourth of JulyClimber20038.0 ARS
Josephs CoatClimber20037.4 ARS

Miniatures:

Alfie (Elfin)Miniature19997.9 ARS
Candy SunblazeMiniature20048.4 ARS
Cherry SunblazeMiniature2005
Childs PlayMiniature20058.0 ARS
Crackling FireMiniature2005-7.5 ARS
DebutMiniature2004-7.6 ARS
Hot TamaleMiniature20058.2 ARS
Lavender SunblazeMiniature2004
JeslynMiniature2005-7.1 ARS
OdessaMiniature2005-7.9 ARS
Rainbows EndMiniature2005-7.9 ARS
Raspberry Punch-Miniature-2006-7.9 ARS
Raspberry Sunblaze-Miniature-2006-7.5 ARS
Ruby RubyMiniature2005
Soroptimist InternationalMiniature2005-7.9 ARS
Sun SprinklesMiniature2005-7.7 ARS
Sweet SunblazeMiniature2004
Tropical Twist-Miniature-2006-7.8 ARS
Wild PlumMiniature2005-8.0 ARS

Other Roses:

BallerinaHybrid Musk/Antique20018.7 ARS
Louise OdierBourbon20048.5 ARS
Lovely FairyPolyantha2003
Marie PaviePolyantha20048.9 ARS
Reine des ViolettesHybrid Perpetual20048.2 ARS
Souvenir de la MalmaisonBourbon20038.7 ARS
The Fairy-Polyantha-2006-8.7 ARS
HOW TO COUNT ROSES -- Kim_SC at Gardenweb

1. Mini roses dont count.
2. Floribundas because they are not full-fledged hybrid teas count as half.
3. Shrubs, Climbers, Ramblers, Old Garden Roses, etc. dont count because they can be considered "landscaping."
4. Roses not planted or in pots dont count. (See the "Territory" Clause).
5. Roses that were discounted count as half.
6. Roses received as gifts dont count.
7. Odd numbers must always be rounded offif youre out of room, round the number down. For every one-hundred, divide by two. This is known as a "stock split."
8. Roses whose names you dont know or cant remember obviously dont count.
9. Roses that are on Shovel Prune Watch dont count; the roses that replace them also dont count as they cancel each other out.
10. Duplicate/multiples count as one as they are considered a set.
11. Roses that are not planted in a bed dont count. (See the "Landscaping" Addendum).
12. Bare roots dont count because they are dormant when they arrive; once you plant them and they start to bud outwell, youve already done your count, so you will just have to wait until next seasonby which time youll be sure you already counted them.
13. Mislabeled roses dont count because you probably already have one of them somewhere, which has already been counted onceprobably.
14. Anything less than Grade 1 counts only a fraction, and since fractions are not whole numbers they can be rounded off (remember the rounding off rule).
15. Roses that you think you might give away can be excluded from the countmakes it easier to part with them; if, by some chance you wind up keeping them, welloh well.
16. Hybrid teas that get huge and wind up taking more than one space should be counted twice, but remember the duplicate rule.
17. Nowif, after counting, you have under a hundred roses, you must immediately place some ordersand they dont count because theyre in transit and therefore not in the ground.
18. Roses ordered on a whim really dont count because they were never on a list. (This is known as the list rule: If its not on a list, it doesnt existmost likely).
19. If you cut many roses and give them away, this is considered Charity, and everyone knows that you get special allowances for Charitywhich brings us to
20. Tax Deductions (See Claiming Roses as Dependants).
See? You really didnt have as many as you thought you didtime to go order some more.

Clematis List (and other vines):

Comtesse de Bouchaud
Doctor Ruppel
Ernest Markham
Etoile Violette
General Sikorski
Jackmanii
Madame Eduard Andre
Mevrouw Le Coultre
Nelly Moser
Niobe
Pink Perfection
Polish Spirit
Ramona
Rouge Cardinal
The President
Ville de Lyon
Will Goodwin

Lonicera japonica Halliana
Lonicera sempervirens Gold Flame (Lemonade Honeysuckle)

Hemerocallis (Daylilies):

To see my latest Daylily Pictures use this link: http://photobucket.com/albums/v117/downanddirty/Daylilies/

1. Along the Way -- Stevens 1980 peach with darker eye DOR TET 30" scape 5.5" bloom ML
2. Artistic Masterpiece -- Brown B 1987 cream edged purple with dark purple eyezone EV DIP 25" scape 5.5" bloom EM RE
3. Aten -- Kraus EJ 1951 golden orange/yellow self DOR DIP 30" scape bloom ML
4. Autumn Minaret -- Stout 1951 light peachy yellow with subtle rosy eye DOR DIP 60" scape 5" bloom ML
5. Barbary Corsair -- Hudson E 1980 violet purple self lime green throat DOR DIP 20 scape 5.5 bloom EM
6. Beautiful Edgings -- Copenhaver 1989 cream with rose edge SEV DIP 30" scape 7" bloom EM RE
7. Becky Lynn -- Guidry L 1977 rose blend green throat SEV DIP 20" scape 6.75" bloom EE RE VFRA
8. Best Kept Secret Kirchhoff D 1990 rose pink with coral rose wm EV TET 28 scape 5.5 bloom M RE EXT
9. Better Believe It -- Hall DF 1968 pink with rosy red eye DOR DIP 24" scape 7" bloom M
10. Bitsy -- Warner 1963 trumpet-shaped butter yellow SEV DIP 18" scape 2" bloom E RE
11. Black-Eyed Stella -- Roberson 1989 yellow gold with a red eye DOR DIP 13" scape 3.125 bloom E RE
12. Calyn And Caitlyn Arnold L+M 2003 pink bitone with white midrib gold edge EV TET 26 scape 5.5 bloom EM RE
13. Catherine Woodbury -- Childs 1967 pale lavender/orchid self with chartreuse throat DOR DIP 30" scape 6" bloom ML EX FRA
14. Cedar Waxwing Griesbach R-Klehm R 1979 pink blend DOR TET 34" scape 6" bloom M
15. Chorus Line -- Kirchoff 1981 peachy pink with rose band and green throat EV DIP 20" scape 3.5" bloom E
16. Cleo -- Hayward 1938 red/mauve/purple polychrome EV DIP 48" scape 5.5" bloom ML
17. Court Magician -- Munson 1987 rich lavender w/ whitish lavender eye, yellowgreen throat EV TET 26" scape 5" bloom ML RE
18. Daring Deception -- Salter 1994 pale lavender pink w/ black purple edge and eye SEV TET 24" scape 5" bloom EM RE
19. Daring Dilemma -- Salter J 1992 cream tinted pink with plum edge, plum eyezone, green throat SEV TET 24" scape 5" bloom M DIURNAL
20. Eenie Allegro -- Aden 1981 light apricot edged w/ rose w/ chartreuse throat DOR DIP 13" scape 2.5" bloom M EXT
21. Eenie Weenie -- Aden P 1976 yellow self with green throat EV DIP 10" scape 2" bloom EM EXT
22. Evelyn -- Emigholz 1949 orange red self DOR DIP 36" scape bloom ML EXT NOCTURNAL
23. Eye-Yi-Yi -- McCroskey VE 1988 bronze bi-tone with red eye EV TET 30" scape 5.5" bloom E RE
24. Flutterbye -- Childs F 1981 lavender self, green throat DOR DIP 26" scape 6" bloom E RE FRA SPI
25. Frankly Scarlet -- Calhoun H 1997 scarlet red self with yellow throat EV DIP 24" scape 4" blooom EM RE
26. Frans Hals -- Flory WB 1955 bright rust and orange bicolor DOR DIP 24" scape ? bloom ML
27. Gordon Biggs Crochet CJ 1981 raspberry red bright red eye zone green throat DOR DIP 24 scape 3.5 bloom E EXT
28. Halls Pink -- Hall DF (NA) rosy salmon with darker halo, yellow throat DOR DIP 28" scape 4" bloom ML
29. Happy Returns -- Apps 1986 lightly ruffled yellow self DOR DIP 18" scape 3.25" bloom E RE
30. Heart Song Benz J 1994 bright pink rose halo SEV TET 21 scape 6 bloom M EXT NOC
31. Hearts Afire -- Connell 1953 dark red EV DIP 36" scape 4" bloom EM
32. Hyperion Mead FB 1924 light green yellow self DOR DIP 40 scape ? bloom M EXT FRA
33. Ice Carnival -- Childs F 1976 near white self, green throat DOR DIP 28" scape 6" bloom M RE FRA
34. Into the Mystic -- Morss M 1990 medium orchid edged gold lavender violet halo EV TET 26 scape 5.5 bloom E RE EXT
35. Janice Brown Brown EC 1986 bright pink with rose pink eye zone green throat SEV DIP 21 scape 4.25 bloom EM
36. Jedi Free Spirit -- Wedgeworth 1987 pink bi-tone SEV DIP 25" scape 5.5" bloom M FRA
37. Jerome -- Spalding 1979 orange w/darker eye EV DIP 22" scape 6.75" bloom EM
38. Joan Senior -- Durio K 1977 near white self, lime green throat EV DIP 25" scape 6" bloom EM RE EXT
39. Jolyene Nichol Spalding M 1984 rose blend green throat EV DIP 14 scape 6 bloom M EXT
40. Jovial -- Gates L 1986 wine red self with chartreuse green throat SEV TET 20" scape 5" bloom E RE EXT FRA
41. Judith -- Harris 1977 pink with rose eye DOR TET 26" scape 5.5" bloom EM RE
42. Karen Sue -- Roberts ER 1975 rose and cream bicolor DOR DIP 23" scape 5.5" bloom M
43. Lady Lucille -- (?) bright orange self, darker orange throat EV TET 24" scape 6" bloom ML RE
44. Lavender Dew -- Spalding W 1976 lavender blend, green throat EV DIP 23" scape 5.5" bloom M EXT
45. Layers of Gold -- Kirchhoff 1990 medium gold, green throat EV TET 24" scape 5.5" bloom EM RE EXT DOUBLE
46. Leebea Orange Crush -- L. Gates 1978 cream orange w/ red eyezone & yellow throat SEV TET 18" scape 6" bloom EM RE
47. Lilac Snow -- Munson RW 1977 pale lilac self cream green throat SEV TET 28 scape 6 bloom M RE
48. Linda Guidry Guidry L 1975 magenta/purple blend, green throat EV DIP 26" scape 7" bloom EE FRA
49. Little Bee -- Viette 1984 tangerine rose apricot blend DOR DIP 17" scape 2.5" bloom ML
50. Little Business -- Maxwell TB 1971 red self green throat SEV TET 15" scape 3" bloom EM RE EXT
51. Little Print -- Salter L 1992 cream with magenta eye SEV DIP 16" scape 2.75" bloom M RE
52. Lullaby Baby -- Spalding 1975 light pink/white SEV DIP 19" scape 4" bloom EM RE
53. Mae Graham -- Spalding W 1977 rich pink blend, green throat EV DIP 18" scape 6.5" bloom M EXT
54. Making Whoopee -- Gates L 1989 silvery purple with dark purple eyezone EV DIP 20" scape 6" bloom E RE EXT FRA
55. Mardi Gras Parade -- Kroll 1998 rose/lavender DOR DIP 24" scape 3.75" bloom M
56. Mary Todd -- Fay 1967 golden yellow SEV TET 26" scape 6" bloom M
57. Miss Mary Mary -- (?) golden yellow DOR DIP 17" scape 3" bloom EL RE DBL
58. Nashville Star -- ? strawberry red with yellow throat ? TET 16" scape 3.5" bloom E RE EXT
59. Nell Dean -- Joiner 1996 coral/apricot DOR DIP 24" scape 5" bloom M RE
60. Persian Market -- Munson RW 1969 deep rose with gold throat EV TET 27" scape 7" bloom M RE
61. Pink Panoply -- Millikan B 1989 deep pink bitone, green throat SEV DIP 28" scape 6" bloom M
62. Plum Perfect -- ? indigo-purple petals with a golden throat DOR TET 24" scape 3.5" bloom M RE
63. Prairie Blue Eyes -- Marsh 1970 lavender SEV DIP 28" scape 5" bloom M
64. Prairie Moonlight -- Marsh JE 1965 creamy yellow self, green throat SEV DIP 34" scape 8" bloom M EXT FRA
65. Purple Pinwheel -- Kennedy 1985 deep black/purple white dusted bi-tone DOR DIP 22" scape 4.75" bloom EM
66. Raspberry Pixie Williamson WG 1969 raspberry blend EV DIP 12 scape 1.5 bloom M EXT VFRA
67. Razzamatazz aka Razzmatazz -- Belden 1986 dark red DOR TET 26" scape 5" bloom M
68. Red Volunteer -- Oakes W 1984 red self, golden yellow throat DOR TET 30" scape 7" bloom M
69. Romantic Rose -- (?) pinky red with yellow throat SEV TET 28" scape 3" bloom M DIU FRA
70. Rosy Meyer -- Alexander JW 1957 red self EV DIP 32" scape " bloom E RE
71. Sallie Farley -- Hayward M 1980 pink self with chartreuse throat DOR DIP 27" scape 6" bloom M NOC
72. Sammy Russell -- Russell 1951 dark rusty red self DOR DIP 30" scape 4" bloom L
73. Scatterbrain -- Joiner 1988 light peach self, light green throat SEV DIP 28" scape 6" bloom M RE DOUBLE
74. Shari Harrison -- McKinney JF 1976 violet purple with dark purple eyezone SEV DIP 22" scape 5.5" bloom EM RE
75. Silken Touch Stamile 1990 rose pink self green throat DOR TET 23 scape 6 bloom EM EXT
76. Siloam June Bug -- Henry 1972 gold with maroon eye, green throat DOR DIP 23" scape 2.75" bloom EM
77. Simply Pretty -- Sellers V 1979 persimmon self green throat DOR TET 31" scape 6" bloom M
78. Starstruck -- Yonski 1990 yellow green self DOR TET 26" scape 7" bloom ML FRA
79. Stella de Oro -- Jablonski 1975 masses of small golden flowers DOR DIP 11" scape 2.5" bloom EM RE FRA
80. Storm of the Century -- Carr R. 2000 purple with gold edge, yellow/green throat EV TET 28" scape 5.75" bloom EM RE
81. Strawberry Candy Stamile 1989 strawberry pink blend rose red eye zone SEV TET 26 scape 4.25 bloom EM RE EXT
82. Strutters Ball Moldovan S 1984 black purple silvery white water mark DOR TET 28 scape 6 bloom M EXT
83. Trahlyta - Childs F 1982 greyed violet with dark purple eye zone DOR DIP 30" scape 6" bloom EM RE VFRA
84. Unchartered Waters Moldovan S 1996 orchid red violet blend deeper halo SEV TET 28 scape 6.5 bloom M RE EXT
85. Vera Biaglow -- Moldovan 1984 rose pink with lemon green throat DOR TET 28" scape 6" bloom ML EXT
86. Wanda Fay -- Webster 1974 bright yellow SEV TET 26" scape 6.5" bloom EM
87. Whimsical Wild A 1980 lavender with raised lighter midrib pale yellow green throat DOR DIP 27 scape 5 bloom M
88. Whooperee -- Gates 1988 rose red, darker eyezone, with chalky green throat EV TET 24" scape 6.5" bloom E RE
89. Wine Delight -- G. Lenington 1972 red with purple cast, green throat SEV DIP 18" scape 3.5" bloom M EXT
90. Zimbabwe Sunset -- Hansen RA 1993 hot pink & coral blend red veins SEV DIP 2" scape 5.25" bloom ML RE EXT NOC

Perennials:

Achillea Moonshine -Yarrow
Achillea Weiser River Sandstone -Yarrow
Achillea millefolium Summer Pastels -Yarrow
Agastache Desert Sunrise
Agastache neomexicana New Mexico Hummingbird Mint
Agastache rugosa x foeniculum Blue Fortune
Aquilegia flabelleta Nana Alba -Columbine
Aquilegia hybrid McKanas Giant -Columbine
Aquilegia hybrid Origami Mix -Columbine
Aquilegia hybrid Music Mix -Columbine
Aquilegia hybrid Songbird Mix -Columbine
Arabis blepharophylla Spring Charm -Rock Cress
Astilbe hybrida
Athyrium felix-femina -Lady Fern
Athyrium nipponicum Pictum -Japanese Painted Fern
Baptisia australis -False Indigo
Campanula carpatica Blue Clips -Bellflower
Campanula carpatica White Clips -Bellflower
Campanula persicifolia Peach-leaved Blue -Bellflower
Campanula persicifolia Peach-leaved White -Bellflower
Campanula persicifolia Tellham Beauty -Bellflower
Campanula x portenschlagiana Birch Hybrid -Bellflower
Campanula rotundifolia Olympica -Bellflower
Chrysanthemum Dreamy Tracy
Chrysanthemum Taffy
Chrysanthemum maximum Snow Lady
Convallaria majalis -Lily of the Valley
Coreopsis verticillata Zagreb
Coreopsis verticillata Moonbeam
Dicentra spectabilis -Old Fashioned Bleeding Heart
Dicentra spectabilis Alba -White Bleeding Heart
Digitalis purpurea Foxy -Foxglove Biennial Reseeder
Dryopteris erythrosora -Autumn Fern
Echinacea purpurea -Purple Coneflower
Echinacea purpurea Magnus -Purple Coneflower
Frikarts Aster Monch
Gaura lindheimeri Siskiyou Pink
Geranium cinereum Ballerina
Geranium himalayense x wallichianum Rozanne
Geranium magniflorum La Veta Lace
Geranium viscosissimum x protense Johnsons Blue
Helleborus Royal Heritage
Heliopsis Summer Sun
Heuchera americana Dales Strain
Heuchera americana Palace Purple Select
Heuchera hybrid Amber Waves
Heuchera hybrid Dolce Peach Melba
Heuchera micrantha Palace Purple
Heuchera micrantha Plum Pudding
Heuchera micrantha Stormy Seas
Hosta Albo-marginata
Hosta August Moon
Hosta Aureo-marginata
Hosta Christmas Tree
Hosta Francee
Hosta Frances Williams
Hosta Gold Standard
Hosta Golden Fanfare
Hosta Golden Tiara
Hosta Halcyon
Hosta Honeybells
Hosta Krossa Regale
Hosta Pacific Blue Edger
Hosta Patriot
Hosta So Sweet
Hosta Sum and Substance
Hosta Wide Brim
Hosta Zagers White
Iberis sempervirens Snowflake
Iris germanica Batik
Iris germanica Breakers
Iris germanica Hankerchief
Iris germanica Immortality
Iris germanica pallida Variegata
Iris germanica Pink Horizon
Iris germanica--many unnamed varieties, all beautiful
Iris hollandica Blue Magic
Iris hollandica Silvery Beauty
Iris siberica Ruffled Velvet
Iris siberica Snow Queen
Iris siberica Sparkling Rose
Iris siberica
Lavendula augustifolia -English Lavender
Lavandula augustifolia Hidcote -English Lavender
Lavandula augustifolia Mitcham Gray -English Lavender
Lavandula augustifolia Munstead -English Lavender
Liatris spicata Alba -Gayfeather
Liatris spicata Kobold -Gayfeather
Lilium orientalis Barbaresco
Lilium orientalis Bergamo
Lilium orientalis Casa Blanca
Lilium orientalis Marco Polo
Lilium orientalis Olivia
Lilium orientalis Paramount
Lilium orientalis Pink Pearl
Lilium orientalis Rose Elegance
Lilium orientalis Stargazer
Lilium orientalis Tom Pouce
Limonium latifolia Sea Lavender -Sea Stattice
Lupinus Gallery Mix -Lupine
Paeonia lactiflora Bowl of Beauty -Peony
Paeonia lactiflora Dancing Butterfly -Peony
Paeonia lactiflora Double Pink -Peony
Paeonia lactiflora Dr. Alex Fleming -Peony
Paeonia lactiflora Festiva Maxima -Peony
Paeonia lactiflora Karl Rosenfield -Peony
Paeonia lactiflora Sarah Bernhardt -Peony
Paeonia lactiflora Sorbet -Peony
Penstemon Prairie Dusk
Penstemon barbatus Coccineus
Penstemon pseudospectabilis Desert Beardtongue
Penstemon strictus Rocky Mountain
Perovskia atriplicifolia -Russian Sage
Phlox paniculata David
Phlox paniculata Mt. Fuji
Physostegia virginiana Vivid -Obedient Plant
Platycodon grandiflorus Sentimental Blue -Balloon Flower
Rosemarinus officinalis
Rudbeckia Goldsturm -Black Eyed Susan
Salvia Blue Hills
Salvia East Friesland
Salvia May Night
Sedum Autumn Joy
Sedum reflexum Stone Orpine
Sedum spurium Dragons Blood
Sedum spurium Tricolor
Sempervivum Pekinese -Hens and Chicks
Scabiosa columbaria Butterfly Blue
Scabiosa columbaria Pink Mist
Sidalcea hybrid Partygirl
Solidago hybrid Crown of Rays -Goldenrod
Stachys byzantina -Lambs Ear
Thymus citriodus
Thymus vulgaris
Veronica repens
Veronica longifolia Sunny Border Blue
Veronica spicata Royal Candles
Vinca minor Illumination

Ornamental Grasses:

Calamagrostis x acutiflora Karl Foerster -Feather Reed Grass
Calamagrostis x acutiflora Overdam (Variegata) -Feather Reed Grass
Carex flagelifera -Copperleaf Sedge
Festuca ovina Glauca -Blue Fescue
Helictotrichon sempervirens -Blue Oat Grass
Pennisetum alopecuroides Hameln -Dwarf Fountain Grass
Pennisetum orientale Karley Rose -Fountain Grass
Pennisetum Setaceum -Fountain Grass
Stipa tenuissima -Mexican Feather Grass

Shrubs:

Berberis thunbergii Aurea -Golden Barberry
Berberis thunbergii Crimson Pygmy -Red Barberry
Buddleia davidii Black Knight -Butterfly Bush
Buddleia davidii Nanho Purple -Butterfly Bush
Buddleia davidii Pink Delight -Butterfly Bush
Buxus Green Velvet -Boxwood
Caryopteris x clandonensis Blue Mist
Caryopteris x clandonensis Dark Knight
Cornus sericea Bailey -Dogwood
Cornus sericea Isanti -Dogwood
Cornus sericea Variegata -Dogwood
Euonymus alata Compacta
Euonymus fortunei Emerald Gaiety
Euonymus fortunei Emerald n Gold
Euonymus japonica Green Spire
Euonymus japonica Microphylla
Hibiscus syriacus Aphrodite -Rose of Sharon
Hibiscus syriacus Diana -Rose of Sharon
Hydrangea macrophylla Lady in Red
Hydrangea macrophylla Nikko Blue
Ligustrum x vicaryi -Golden Privet
Philadelphus x virginalis -Mock Orange
Picea pungens Mrs. Cesarini -Dwarf Pine
Pinus mugo pumilio -Mugho Pine
Prunus cistena -Sand Cherry
Prunus laurocerasus Nana -English Laurel
Prunus laurocerasus Otto Luyken -English Laurel
Spirea x bumalda Gold Flame
Spirea x bumalda Gold Mound
Spirea x bumalda Lime Mound
Spirea japonica Shirobana
Syringa x prestoniae James Macfarlane -Lilac
Syringa vulgaris Sensation -Lilac
Thuja occidentalis Little Giant -Dwarf Arborvitae

Trees:

Acer rubrum Red Sunset -Maple
Apple Golden Delicious
Apple Jonagold
Apple Scarlett Gala
Cercis canadensis -Eastern Redbud
Cercis canadensis (multi-stemmed) -Eastern Redbud
Fraxinus americana Autumn Purple -Ash
Laburnum x watereri Vossii -Golden Chain Tree
Magnolia stellata Royal Star
Malus Prairifire -Crabapple
Malus Red Jade (weeping) -Crabapple
Peach Elberta
Peach Redhaven
Peach Redskin
Pear Bartlett
Picea pungens Baby Blue Eyes -Dwarf Blue Spruce
Picea pungens Hoopsi -Dwarf Blue Spruce
Prunus calleryana Red Spire -Flowering Pear
Prunus cerasifera Purple Pony -Purple Flowering Plum
Prunus serrulata Kwanzan -Flowering Cherry
Sophora japonica Halka -Japanese Pagoda Tree

Pond Plants:

Acorus gramineus Ogon--Golden Variegated Sweet Flag
Botomus umbrellatus--Flowering Rush
Hydrocotyle verticillata--Water Pennywort
Iris Black Gamecock
Iris pseudeoacorus Flore Plena
Iris versicolor Blue
Juncus patens--Blue Spreading Rush
Lysimachia nummularia--Creeping Jenny
Nymphaea Perrys Baby Red
Nymphaea Colorado
Nymphaea Chromatella
Nymphaea Mayla
Oenanthe javanica Flamingo--Variegated Water Celery
Pontederia cordata--Purple Pickerel Weed
Sagittaria latifolia--Arrowhead
Saururus cernuus--Lizards Tail

Gardening Quotes:

"God made rainy days so gardeners could get the housework done."

"Live as if you are going to die tomorrow. Garden as if you are going to live forever." -- J. Rudyard Kipling

"Gardening is the only unquestionably useful job." -- George Bernard Shaw

"You can have either a great garden or a clean house." -- (I cant remember who said this, but I think it is the motto of all great gardeners)

"Dull women have immaculate houses."

"If you are a gardener, you can always put Plant Manager on your resume."

"Do not squander time, for thats the stuff life is made of." -- Benjamin Franklin

"I live in the garden; I just sleep in the house." -- Jim Long

"There is a fine line between "hobby" and "mental illness." -- Dave Barry

"Your first job is to prepare the soil. The best tool for this is your neighbors garden tiller. If your neighbor does not own a garden tiller, suggest that he buy one." -- Dave Barry

"Those who labour in the earth are the chosen people of God." -- Thomas Jefferson

"Time began in a garden"

"You can bury a lot of troubles digging in the dirt"

"We come from the earth, we return to the earth, and in between we garden."

"Bloom where you are planted." -- Mary Engelbreit

"The love of gardening is a seed once sown that never dies." -- Gertrude Jekyll

"A garden is a friend you can visit any time."

"Cares melt when you kneel in your garden."

"To boldly grow where no one has grown before."
"Whats in a name? That which we call a rose By any other name would smell as sweet." -- William Shakespeare

"Earth laughs in flower." -- Ralph Waldo Emerson

"Friends are flowers in lifes garden."

"Id rather be a garden angel than a kitchen witch."

"Gardeners know all the best dirt."

"My Garden of Weedin"

"The garden that is finished is dead."

"A garden is an expression of your soul--a landscape is an expression of your checkbook."

"A landscape is something you maintain--a garden is something you nurture."

"A garden is a labor of love--a landscape is just a labor."

"When your garden is "done" you must either move or die."

"You cant have everything--where would you put it?" -- Ann Landers

"The single most important element in gardening is water, 90% of which is in the form of perspiration."

"If you have two loaves of bread, sell one and buy flowers--for the bread will nourish your body, but the flowers will nourish your soul."

"Plant on a whim. Lay the footpath where your heart says it should be. Change things because you feel like it. Garden for the love of it." -- Lindley Karstens, American poet

"An hours hard digging is a good way of getting ones mind back in the right perspective." -- Richard Briers, British actor

"Gardening by its very nature is humbling. It has a way of keeping you on your knees." -- JoAnn R. Barwick

"Frog Parking--All Others Will Be Toad"

"If I ever go looking for my hearts content again, I wont look any further than my own back yard, because if its not there, I never really lost it in the first place." -- Dorothy in "The Wizard of Oz"

"I consider every plant hardy until I have killed it myself."

"If you are not killing plants, you are not really stretching yourself as a gardener." -- J. C. Raulston

"Adversity seldom makes plants stronger or roots deeper--it usually stunts or kills them."

"Gardeners are like doctors . . . they both bury their mistakes."

"If you have a garden and a library, you have everything you need." -- Marcus Tullius Cicero (He died 43 B.C.)

"With fronds like this, who needs anemones?"

"Dont make your garden too large if your husband tires easily."

"The Shortest Path To Heaven Is Through The Garden Gate."

"Compost! Because a rind is a terrible thing to waste."

"Leave room in the garden for the fairies to dance."

"I cleaned my house yesterday; I wish you could have seen it!"

"Training is everything. The peach was once a bitter almond; cauliflower is nothing but cabbage with a college education." -- Mark Twain

"If your reaction when your four-year-old brings the rose she has picked just for you is that she spoiled the appearance of the bush--you truly need to rethink your priorities." -- Ray at Gardenweb

"I hate the crowded town,
I cannot breathe shut up within its gates.
Air - I want air & sunshine & blue sky,
The feeling of the breeze upon my face,
The feeling of the turf beneath my feet -
And no walls but the far off mountain tops." -- Henry Wadsworth Longfellow

"Forgiveness is the fragrance of a violet, on the heel of the one who crushed it"

"One who plants a garden works hand in hand with God."

"Nobody sees a flower -- really -- it is so small -- we havent time -- and to see takes time, like to have a friend takes time." -- Georgia OKeeffe

"A flower is an educated weed" -- Luther Burbank

Are you a real gardener? Take this simple test and find out (with apologies to Jeff Foxworthy).
If you can identify every plant in your yard by its scientific name, but cant recall the name of your brothers firstborn child ... you might just be a gardener.
If you have ever felt a pang of pride when someone pointed out the fact that "those grass stains will never come out" ... you might just be a gardener.
If you have ever tried to transplant a shrub larger than a Volkswagen Beetle ... you might just be a gardener.
If youve ever bought a piece of garden equipment that cost more than your daughters braces ... you might just be a gardener.
If you have ever approvingly compared the texture of your wifes chocolate cake to well-rotted compost ... you might just be a gardener.
If your arms have more scratches than the cat wrangler at the free spay clinic ... you might just be a (rose) gardener.
If your car has a bumper sticker that reads "Ill give up my hoe when they pry it out of my cold, dead fingers" ... you might just be a gardener.
If you believe that the best part of your family vacation to Disney World was the tour of the hydroponic greenhouse ... you might just be a gardener.
If you have ever missed a wedding because you were in the garden and lost track of time ... you might just be a gardener. (Bonus points if it was your own wedding.)

"The foolish man seeks happiness in the distance; the wise grows it under his feet." -- James Oppenheim

"Id rather have roses on my table than diamonds on my neck." -- Emma Goldman

Every flower blooms three times: first in your imagination, then in your garden, then in your memory.

"So long as we are dirty, we are pure." -- Charles Dudley Warner, "Summer in a Garden"

I live in: United States
My zone is: 6/7 UT
First registered on April 01,2002.