Welcome to bears15ne's Member Page
See my Clippings See my Journal See my trade list Send me an email
******************************
Labeling your WS Containers
******************************
I have an engraver- 2 actually(1 electric 1 rechargeable)
old window blind from 2nd hand store work great

engrave on them and they last for years

******************************
Handy Dandy DeChaffer
******************************
hubby heard me complaining-(magine that)
I hate seperating seeds from all the chaff-hulls whatever it is
I've tried screen, water strainer, anything I thought a seed would fall out of
and nothing worked.
So he made me 4 handy little shakers
took 4 tall plastic spice containers that were empty
drilled holes in each top
one size hole per lid
about 10-12 holes per lid
fill them up with your seed and chaff
and shake away- works like a charm
seeds fall out and chaff stays in.
INSTRUCTIONS
remember to drillholes inside to outside
otherwise you'll have burrs
the hole sizes
1/32" 1/16" 3/32" 1/8"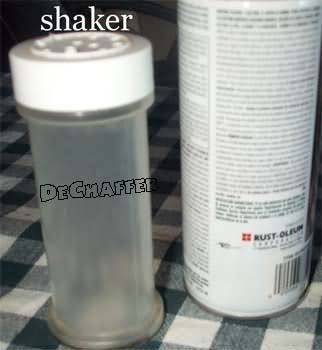 tested and works with these plus more
4 oclocks
bee balm
bell flower
clarkia
coreopsis
delphium
heuchera
Morning glory-or put dried chaff & seeds on plate and blow gently
nicotiana
poppy
snapdragon
tested and doesnt work with
cosmos
marigold
zinnas
Patent Pending


**********************************
Work like you don't need the money.
Love like you've never been hurt.
Dance like nobody's watching.
Sing like nobody's listening.
Live like it's Heaven on Earth.



I live in: United States
My zone is: Zone 5 NEBR
My favorite forum 1 is Seed Exchange.
My favorite forum 2 is Winter Sowing.
First registered on March 29, 2001 .