Welcome to barb422's Member Page
See my Clippings See my Journal See my trade list Send me an email
I've been growing roses since 2000, learning a little more each year, but still a newbie!
Notes below are based purely on my experience. The roses I have currently are...
Planted in 2000...
BETTY BOOP-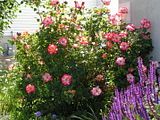 New foliage red, semi-double bloom opens yellow with red edges, fades to pink and white, the blooms keep coming until frost
MARTHA'S VINEYARD- Hot pink sprays of small blooms, pale green small leaves, rounded well shaped prickly shrub 2ftx2ft. Fades to pale pink, no scent.
GREEN ICE- Mini with pale green to cream color sometimes with a pink tinge. Small old fashioned type blooms
Planted in 2001...
EDEN- big full scentless blooms that last forever cut or on the bush, pink to white with tinge of green on buds. Hard time getting good repeat on this one- droops from weight of blooms
CONSTANCE SPRY*-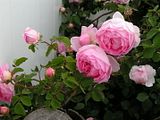 big arching bush, pure pink cupped blooms. Blooms for two weeks around Memorial Day, beautiful while in bloom. No scent for me, but DH thinks it's the best smelling rose we have.
GRAHAM THOMAS*-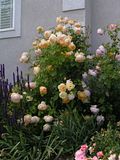 starts deep yellow, fades to perfect creamy butter yellow. Very upright, nice lighter green color. Nice scent, though not strong to my nose
Planted in 2002...
ABRAHAM DARBY*-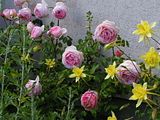 Took a year to settle in, but last year blooms were huge, with fruity rose scent. Tie for my favorite rose so far with RdR
SOMBREUIL*-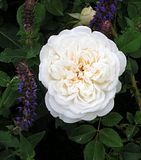 Hoping will leap this 3rd year 2004. Blooms are perfect swirls of white though.
DR. J.H. NICOLAS*-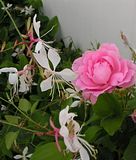 Still small own root, hoping will also leap 3rd year 2004. Another pure pink, nice scent
ELECTRON- Nice fragrance, HT non stop hot pink blooms, evil thorns! New foliage burgundy/red.
CHARLES DARWIN-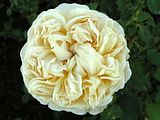 Nice lighter green foliage, AWESOME scent, orangey buds to yellow blooms that don't open fully, then turn dirty dishwater color. I'll probably give it another year, move it, or maybe it'll get the shovel- I moved it. We'll see if it improves.
Planted in 2003 are...
Zephirine Drouhin- Dogs ran over and it's dead I think- NOT DEAD It's putting up basal breaks! Don't have anything planned for the spot, so I'll just let it go and see what happens.
Rose de Rescht*-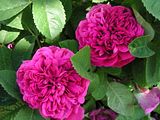 Awesome rose in it's 1st year. Hot pink/red color. Great rosy scent, hard to describe, non stop bloomer- Tied with Abraham Darby as my favorite rose so far.
Antique Artistry-

love these flowers yellow w/ apricot reverse
Portlandia-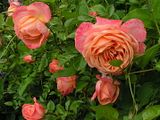 great growth first year from small band, lots of branching. Striking color. Deep green foliage
Madame Alfred Carreire- some dieback spring of 04, but rebounded with a vengeance- Huge !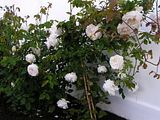 Jude the Obscure-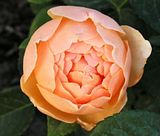 Ambridge Rose-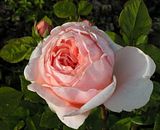 William Shakespeare 2000-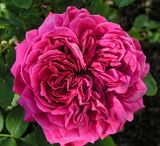 Great fragrance, lovely form, hard to get accurate color in a picture, excellent rebloom.
A Shropshire Lad-
Eglantyne- move over Abe, after 2004, my favorite Austin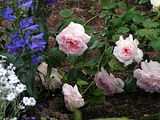 Baronne Prevost*- Great bloom form, great fragrance. After deadheading, my dog takes the blooms of this one and burys his nose in them.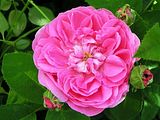 NEW FOR 2004
Joseph's Coat-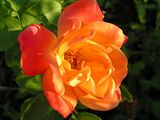 Crocus Rose- love it!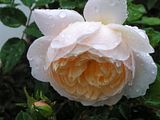 Maggie- vigorous grower, great color(but hard to capture w/ camera) and form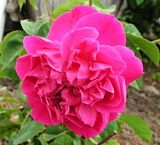 Mme Isaac Pereire
Emmanuel-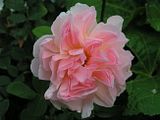 color changeling, looking forward to 2005 performance.
Reine des Violettes
Out of Yesteryear - Pure white, I liked it and so did the thrips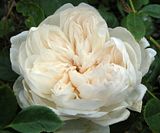 Lady Angela-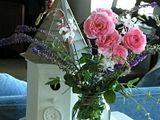 Vigorous grower, great color
Felicia- Yummy scent
Variegata di Bologna -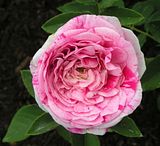 one of the few 2004 blooms, looking forward to the 2005 show
Louise Odier- Has bloomed nonstop since putting in the ground, slowed down late summer

Valentine- Just look at all those red velvet blooms

Cl. Souvenir de la Malmaison- grew well, had a few perfect blooms! Hurry up June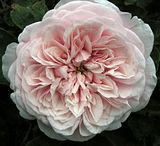 The Prince-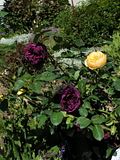 with Golden Celebration
Golden Celebration-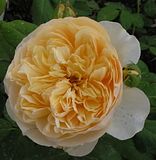 Norwich Sweetheart-pinky purple mini-smells wonderful
Picotee- mini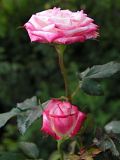 Merlot-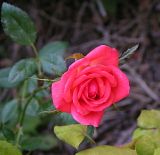 Looks more like watermelon koolaid to me. mislabeled maybe?
Pat Austin -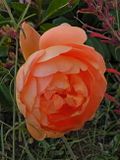 John Davis-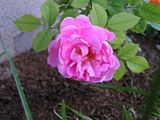 Gifts from a garden web friend, transplanted successfully- Thanks D&D
Mr. Lincoln-

looks great with Russian Sage
Tropicana-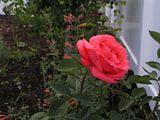 Bonica-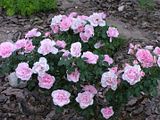 On order for 2005...
Jaune Desprez
Celine Forestier
Star of the Republic
Lady Moss
Eugene de Beauharnais
Gift from rose society friend, Bob
Auguste Renoir
I live in: United States
My zone is: z6 UT
My favorite forum 1 is Antique Roses.
My favorite forum 2 is Roses.
First registered on April 15, 2003 .